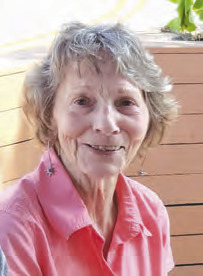 Obituaries
November 15, 2023
Nancy Kimble
Nancy Girard Kimble (warmly known as Nan and Granny), age 78, passed away in King George, Va., on Friday, November 10, while resting comfortably. Born in New York City, she was raised in Westfield, N.J., by Virginia and Maurice (Mike) Girard, along with her two sisters, Judy and Carol. She graduated Westfield High School in 1963 and continued her studies at Colby College in New Hampshire, graduating in 1965. She returned to Westfield after graduation and married her high school sweetheart, Fred Kimble (WHS '61), moving back to Westfield in 1971 to raise their son and daughter, Mike and Trish.
Nancy worked as a bookkeeper for two local doctors' offices for a number of years before retiring. Nancy and Fred eventually moved to Clinton, N.J., for a number of years, and then retired to King George, Va., to be closer to their two grandchildren, Tyler and Drew, who live in Virginia with her son, Mike, and his wife, Abby. Granny never missed a grandchild's birthday and frequently attended their various sports games throughout the seasons. She loved her grandchildren very much and was very proud of their accomplishments. She was an excellent babysitter and dog sitter, spoiling both equally.
Nancy loved the ocean and beach, spending a lot of time at the Jersey Shore soaking in the sun and eating seafood. In retirement she traveled along the East Coast shoreline with her son's family as well as with her
Nancy Girard Kimble, Beloved
Wife, Mother and Grandmother
sister Judy and her husband, Roger, particularly enjoying Hilton Head and Cape Cod. She especially enjoyed the occasional trip to St. Maarten, sitting on the beach and staring at the ocean with a piña colada in hand. She loved dogs, seemingly the bigger the better. She treated dogs like her children, with love and with a little treat always nearby. She also enjoyed horseback riding on trails in New Jersey and Virginia, and volunteered with Fred at Lord Stirling Stable in New Jersey to help in some of their adult and youth programs. She always loved seeing horses on farms as she drove by and got excited when spotting deer. She was a lover of wildlife, except for snakes.
Nancy was an active member of the Holy Trinity Catholic Church in Westfield before moving to St Helen's, and then became involved with St. Mary's Church in Fredericksburg, Va., after relocating to Virginia.
Nancy is survived by her husband of 57 years, Fred Kimble; their son, Mike, and his wife, Abby; her grandchildren, Tyler and Drew, and her oldest sister, Judy. Nan was preceded in death by her daughter, Trisha, and her sister, Carol.
Arrangements are being handled by Dooley Colonial Funeral Home in Westfield, N.J., with viewings on Friday, November 17, from 2 p.m. to 4 p.m. and 7 p.m. to 9 p.m. The burial at Fairview Cemetery in Westfield will be on Saturday, November 18. For details, please visit https:// www.dooleycolonialfuneralhome.com/ .
November 16, 2023