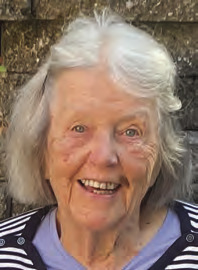 Obituaries
November 15, 2023
Carolynn Pulliam
Carolynn Pulliam, Beloved Wife, Mother,
Grandmother and Great-Grandmother
Carolynn Carlson Pulliam, 88, passed away peacefully on Sunday, November 12, 2023, at home surrounded by her loving family in Westfield. Born in Chicago, Illinois, she was a resident of Westfield for over 50 years.
Carolynn worked professionally as a special- education teacher in both Maryland and with the Westfield school system, where she worked with developmentally- disabled kids. She was very active in the community, as a member of the Friends of the Library, Habitat for Humanity, League of Women Voters, The Rake and Hoe Garden Club of Westfield, the Westfield Daycare Center, and was also an after-school volunteer tutor. In her spare time, she loved to garden, read, sew, solve crossword puzzles, and was an avid tennis player. Surviving are her devoted husband of 66 years, James; her beloved children, Barry and his wife, Joanie, Patricia and her husband, Serge, and Brad and his wife, Penny; her loving grandchildren, Kimberly, Megan, Thomas James, and Benjamin; and her greatgranddaughter, Bridie Jean.
In lieu of flowers, donations can be made in her memory to Center for Hope Hospice, at www.cfhh.org.
November 16, 2023