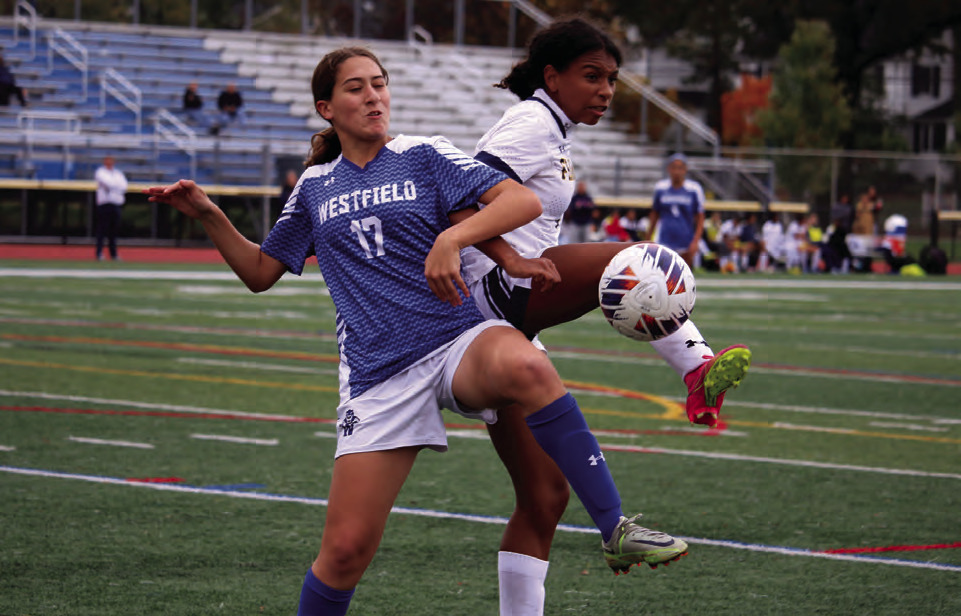 Blue Devils Shut Out Franklin Warriors In North 2, Group 4 Soccer Quarter, 3-0
CADIGAN STRIKES FOR 2 GOALS; MORRISON GOAL, ASSIST
Prepared by DAVID B. CORBIN
Senior co-captain/striker Ella Cadigan was heads up and head on as the top-seeded, 14-1, Westfield High School girls soccer team dominated the eighth-seeded, 8-8-2, Franklin Township Warriors from the start in the quarterfinal round of the North Jersey, Section 2, Group 4 playoffs at Gary Kehler Stadium in Westfield on October 30. Cadigan scored twice in the first half and junior midfielder Brooke Morrison added the icing in the second half for a 3-0 victory.
Ella Cadigan finished with two goals, while Morrison added an assist to her goal. Senior Rebecca Xiong and junior Audra Toth each contributed an assist. Sophomore goalkeeper Sofia Buoscio recorded six saves and Warrior goalkeeper Mailyn Ceveda also made six saves.
With few exceptions in the first half, the Blue Devil forwards and attacking midfielders constantly pressured the Warriors' defense and Ceveda. Four minutes into the game, Blue Devil Erin Hazard ripped a left side corner kick into the box and it was eventually turned away by the Warrior defenders. But just a little later, Morrison hit a looper into Cadigan, who headed the ball past Ceveda for a 1-0 score with 24:33 left in the half.
Midway through the half, Toth drilled a shot that Ceveda stopped. Within two minutes Ella Cadigan launched a long shot that forced Ceveda to make a diving save. About 30 seconds later, the Warriors got a breakaway on the left side and the shot slanted to the right of the Westfield net.
In the 25th minute, Hazard took another left side corner then moments later, sophomore midfielder Callie Schmidt set up for a free kick from nearly 35 yards out. Instead she slid the ball to Cadigan, who got another chance, but it was turned back.
The Warriors got another minor chance with a free kick from the left side but within a few seconds, Blue Devil senior Kate Giglio got control and lofted a long shot that was knocked away. The first real chance that the Warriors actually got in the half came with 8:33 showing on a long shot from the center of the field that caused Buoscio to make a leaping save. With seven minutes left, another Warrior beat a Blue Devil defender and drilled a right-to-left shot that deflected off the left post. Buoscio quickly smothered the ball.
With 5:14 left in the half, Xiong crossed to the center where Cadigan tapped the ball past Ceveda for a 2-0 lead.Aminute later, sophomoreAndie Janota got the ball to Cadigan, whose shot missed to the right. Just before the half, Morrison took a right side corner kick that was deflected out of the box. In the second half, Morrison settled any doubts with her goal.
The Blue Devils advanced to the semifinal round on November 2 to host the 12th-seeded Bridgewater-Raritan Panthers, who shocked fourthseeded Elizabeth.
Photos at goleader.com Ballyhoo Sports