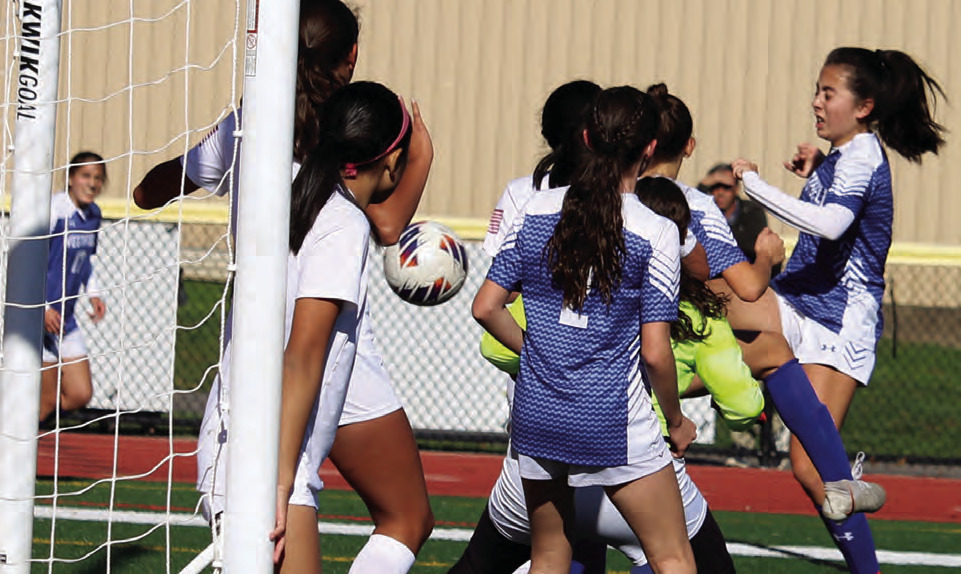 Blue Devils Rout BrH2O, 4-0, In North 2, Group 4 Semifinal
CADIGAN SCORES TWICE; YENAWINE, GIGLIO 1 EACH
Setting the tone was the key for the top-seeded, No. 14 Westfield High School girls soccer team in its North Jersey, Section 2, Group 4 semifinal game at Gary Kehler Stadium in Westfield on November 2 against the 12th-seeded Bridgewater-Raritan Panthers, who were fresh off a stunning, 2-1, victory over fourth-seeded Elizabeth. The 15-1 Blue Devils did just that with a pair of goals in a dominating first-half performance en route to a 4-0 victory.
Although two more goals were also scored in the second half, Blue Devil Head Coach Alex Schmidt pointed out, "One of our goals in the game was setting the tone. I don't think we've ever had a full game yet where we played great from start to finish. Halftime, we talked about how good that first half was. That was probably the best half we've played soccer but, hey listen! We have a whole another half. I don't think that second half was as good as the first half, so that gives us things to work on."
After the Panthers controlled the tempo for the first two minutes, the Blue Devils took over and exercised a strong front push led by seniors Ella Cadigan, Rebecca Xiong, Marisa O'Connell and Sophia Gesser, junior Brooke Morrison and sophomore Ashley Yenawine. With 32:30 left in the half, Ella Cadigan took a cross fromYenawine on the right and tapped the ball into the lower right corner.
"The first one, I got the ball on the right side. Beat one girl, pushed off the ball. Saw the shot was open. Got it in the bottom right corner," Ella Cadigan described.
The second goal came with 10:02 left in the half and it was initiated by O'Connell, who slid a low corner kick close to the out-of-bounds line. Ella Cadigan came zooming in and
Photos at goleader.com Ballyhoo Sports ripped it to the right of Panther goalkeeper Sophia Mendoza and it lodged into the center netting.
"It's a play we work on. We have girls going near post, we have girls going to the far post depending on what the kicker chooses to do. Marisa's was a pretty corner kick to the near post and that's what Ella is supposed to do. Cover the near post. Great flick and Ella caught fire. Coach Schmidt described. "Another two goals for her! It's like two goals the last six games for her."
"My run is always front post, so I am always looking for there if the ball goes low. Marisa hit it low and I was able to sneak it past the goalie," Ella Cadigan recalled.
The Blue Devils needed another insurance goal and it was a result of a sister act of freshman midfielder Emilie Cadigan and Ella Cadigan, along with Yenawine. Emilie crossed to Ella, who took a shot that was tipped to the right where Yenawine tapped it in for a 3-0 lead with 24:03 remaining.
"My sister found me through. I was playing up top. I made it to the ball. I beat one and luckily there was a deflection and Ashley finished," Ella Cadigan described.
Four minutes later came what seemed to be a fourth goal forWestfield and a third one for Ella Cadigan. Sophomore midfielder Callie Schmidt slid a deceptive free kick to the right where Cadigan drilled a slanted shot that hit the far post and goal line turf at the same time. The line ref ruled that it did not cross the goal.
"Weird triangle! The ref had no idea about how it bounces out that way if it didn't go in. It was a great pass by Callie, a good finish to Ella. Unfortunately when you have sideline refs, this is our fourth or fifth goal called back this year because of the sideline ref. Same thing in the county semifinals, which is frustrating. We didn't need it today but if we did need it, it would have been more frustrating," Coach Schmidt said.
Additional icing came with 10:43 remaining when Giglio won a scramble with the help of Xiong, and struck gold.
"Two nothing at halftime, we talked about getting another goal. Two-one is very different. Don't give Bridgewater any help and I think the girls did that. Two goals in the first half, two goals in the second half and move on to the finals for the third year in a row. We are looking for better results than last year," Coach Schmidt said.
The Blue Devils would host second- seeded, eighth-ranked Hunterdon Central for the title on November 6.
"Obviously we are really excited but we are going to focus a lot this weekend, making sure we are practicing hard, keeping our intensity up preparing for the state game. We are excited," Cadigan said.
Coach Schmidt expressed, "It was a dominant win. We talked about sending a message to the next game, which is Hunterdon Central. Let's send a message in this game that we are ready for them in the finals."