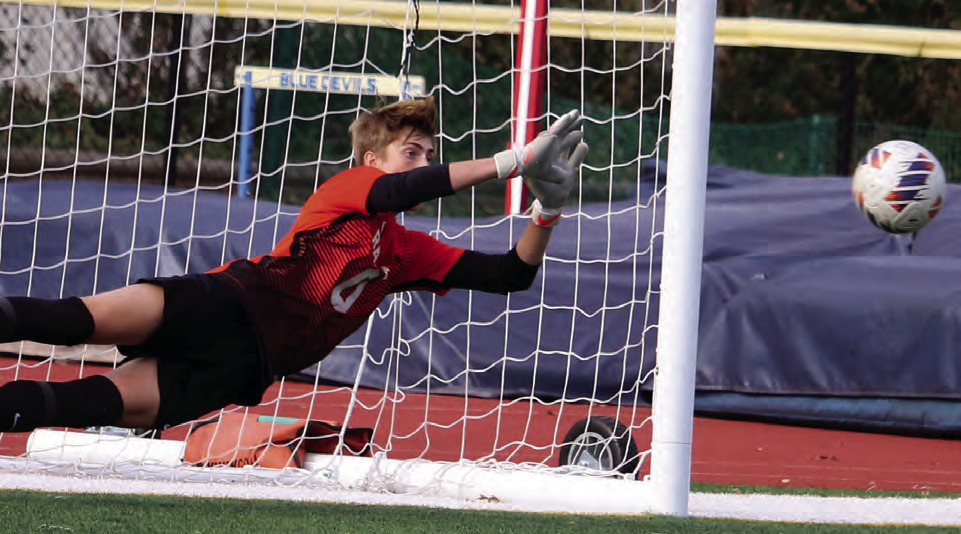 Blue Devils Earn Section Title In 3-2 PK Edge Over Raiders
PIERCE, ROKHSAR, WADE, L PASSUCCI, RAI SINK PK'S
"Redemption Week" for the thirdseeded Westfield High School boys soccer team ended in a "flash" when the Blue Devils hosted the fifth-seeded Scotch Plains-Fanwood Raiders for the North Jersey, Section 2, Group 4 Championship at Gary Kehler Stadium in Westfield on November 4. Of course, it took 100 minutes of scoreless soccer and nine penalty kicks (PK) before the "flash" actually happened when junior Niko Pierce fired his PK past Raider goalkeeper Jeff Dietrich for a 3-2 PK edge to award the Blue Devils with their second sectional title in a row.
The idea of the term "Redemption Week" came to mind when the Blue Devils had to knock off two teams, Union and Elizabeth, that have beaten them earlier in the season, in the tournament to reach the finals against the Raiders, who battled them to a 0-0 tie at Red Bull Arena on October 4.
"It's not an easy sheet winning this. Especially with Scotch Plains, who we play day in and day out. And Elizabeth, Union. You look at our tournament. It was Union County. If you look at our board, it was called 'Redemption Week.' I give a lot of credit to our team because I left during the Union game because my dad's sick and we have confidence in everybody in the program," Blue Devil Head Coach Eric Shaw explained.
Both teams had some, but not many, chances to score in regulation and several of the Blue Devils' chances came off right-side corner kicks launched by the left-footed co-captain Dave Savransky, whose hooked shots always created havoc in the box.
"A lot of our goals over the years have come from set pieces, from a corner kick, free kick, free start. It's a really important part of our game. You have to be able to be dangerous from those areas. We know teams we play against may not be able to live with those corner kicks. That's a big part of my game as a left-footed player. It's kind of rare. The left foot comes in useful," Savransky explained.
The Raiders did have their opportunities with the occasional forward push of co-captains midfielder Luca Passucci and forward Aaron Casterlow, along with sophomore forward Jayvon Young, who would most likely bring the ball down the right side to set up the attack. Luca Passucci took three corner kicks in the first half. – two from the left side and one from the right. Blue Devil senior goalkeeper Luke Tennant was credited with four saves. The Blue Devils' best opportunity in the first half came with senior forward Benedict Nematadzira breaking down the left-center, beating a defender and getting off a low shot that was deflected.
But the Blue Devils really controlled the tempo in the second half with fine side-to-side passing and effective footwork. The Blue Devils also took another five corner kicks in the half but the Raider defenders and goalkeeper Jeff Dietrich (8 saves) were able to stave off the assaults. The Raiders pressed the attack for the first four minutes of the first overtime but the Blue Devils shifted the majority of the momentum for the remainder of the overtime sessions. With four seconds remaining, Blue Devil senior Adam
Photos at goleader.com Ballyhoo Sports Tukaczynski took a shot that slid past the goal just after the buzzer.
According to Coach Shaw, "I don't think it was just the second half. I think it was the whole match. It's the end result. It's the hardest thing when you have teams that are sitting in deep areas. Just trying to find those little moments, and it never really came. I will be quite honest. We played some good soccer. It's just about finding that final moment and we had one in the first half when we had Ben (Nematadzira) and the late one when we were off by a second or two."
The PK shootout came. Coach Shaw brought in senior Lucas Gunzberg to handle the PKs.
"We noticed through training and Lucas was just a little bit better and a little bit more distance in terms of covering the corners, and it paid off. It's always a gamble because you have someone sitting on the bench but he also knew mentally that if it came down to this, it's something that he knew that in every tournament match, that Lucas was going to go on the PKs," Coach Shaw explained.
Luca Passucci scored first with a lower left-corner shot. Dietrich tipped Blue Devil co-captain Zach Preucil's shot then Young's PK hit the upper right post. Blue Devil Alex Rokhsar knotted the score, 1-1, when his shot lodged in the left corner. Raider Massimo Passucci's PK missed right then junior Ethan Wade gave the Blue Devils a 2-1 advantage with another shot into the lower left corner. Raider Sohem Rai retied the score with his successful shot to the left. Nematadzira's shot was too high but Gunzberg managed to tip Casterlow's shot to keep the PK score 2-2.
Pierce stepped to the line, considered his possibilities then drilled in the winner.
"It was a great game. They played really well. Towards the end we were all thinking that it all comes down to taking some deep breaths, doing the same spots that you have been doing. We have been practicing our PKs for a while now. It's going out with confidence and knowing your spot. Hit it where you are most confident," Pierce explained. "It's one 'heck' of a feeling. Definitely a lot of stress."
Coach Shaw expressed, "The pressure! The pressure! I've been in those as a player and coach.All the pressure is on the shooter. Not the goalkeeper. Give Niko credit. A lot of confidence and he is one of our big time players. Two in a row!"
"It's just everything that we've done. Everything from the biggest tweaks to the smallest adjustments. The summer this program has been working together countless hours to get everything working together and I think that is why we are shaping into such an effective team. Now we finally have something to prove for it as a successful team. It's fighting for each other, building not only friends but building a family here. That's what allows us to be so cohesive when we play," Preucil said.
Coach Shaw commented, "We knew there's always the possibility that it's coming down to PKs. I would so much rather have a winner or loser than that."
The 13-4-4 Blue Devils would play in the Group 4 semifinals on November 8 against North 1, Group 4 champions Kearny, 3-1, winners over Clifton. The winner would advance to face either Washington Township (South 4 winner) or Princeton (Central 4 winner)/ "The job isn't finished. It's whoever is next," Savransky said.
Pierce added, "Like Dave just said. The job isn't over. We have at least one more game a head of us, so we will enjoy it tonight."