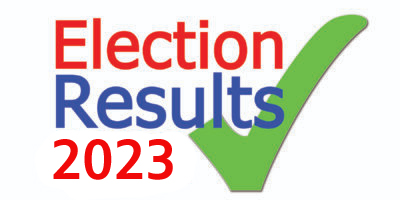 Dems Have Narrow Lead In Garwood Election
GARWOOD — In Garwood, the three Democrats running for council seats had slim leads on Tuesday night, before all the mail-in and provisional ballots had been tallied.
Incumbent Vincent Kearney led with 592 votes in his bid for a second term, while his running mate, Karina Boto, had 577. They led Republicans Michele Capobianco, who received 573 votes, and Shannon Anwander, who garnered 561. In the race to fill out the remainder of an unexpired term, Democrat Sean Keagan Foley led Republican incumbent Rachel Herz by a 587-to-573 margin.
Garwood Democratic Club President Andy Blumenstock told supporters at The Station that, despite the narrow margins, he was "very, very optimistic" about the ultimate outcome, adding that the vote-bymail margin is "insane" for his party's candidates.
Mr. Foley told Union County HAWK he was "honored" to run and was "really hopeful that the numbers come in my direction."
Mr. Kearney said that, despite it being "a nail-biter," the numbers look favorable for his team, which "ran a hell of a campaign."
Ms. Boto told HAWK that, "we worked hard and are hoping for the best."
The Garwood Board of Education race was uncontested, with Christine Guerriero, Albert Del Conte and Kristin Meza seeking the three available seats.
In Clark, the three incumbent members of the board of education easily won re-election, with Steven Donkersloot, the board's president, receiving 1,990 votes, Robert Brede winning 1,935 votes, and Megan Harrison awarded 2,076 votes. Newcomer Rob Curry-Patel received 863 votes.