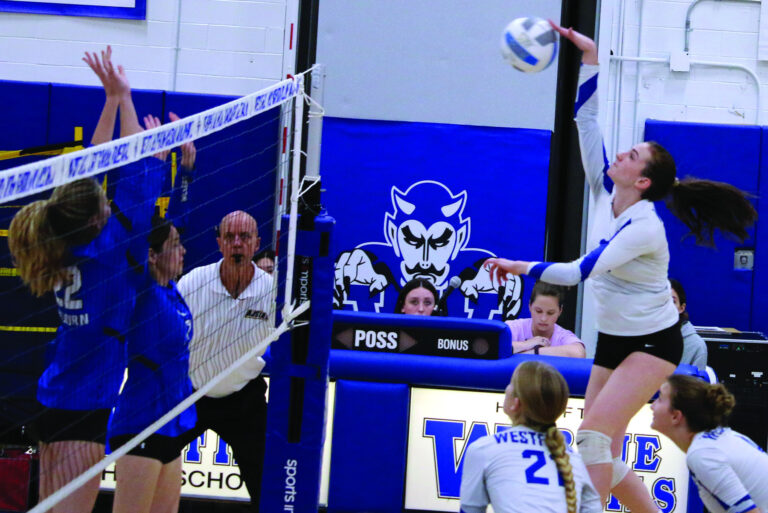 Blue Devils Defeat Millburn, Roll Over Ridge in Volleyball
A regular-season girls volleyball game against the visiting Millburn Millers resulted in a 25-15, 25-22, victory for the 17-4 Westfield High School Blue Devils on October 24. Two days later, the top-seeded, 18-4 Blue Devils rolled over the 16thseeded Ridge Red Devils, 25-17, 259, in the first round of the North Jersey, Section 2, Group 4 playoffs in Westfield.
Against the 17-6 Millers, Caitlin Cabrales recorded four kills, two blocks, 13 digs and four service points with an ace. Abi Pevzner notched seven kills and scooped a pair of digs. Giuliana Gallo recorded 12 digs, two assists and five service points. Chloe Wiedman recorded seven service points with an ace, and five digs. Olivia Calandra had 10 assists, a service point, four kills, a block and four digs. Ava Gaspard had four kills and two digs. Karolina Bonn notched four kills. Keira Deignan had a kill, a block and a dig. Genevieve Gauthier recorded eight assists, seven service points with an ace, and four digs. Grace Kim and Sabrina Muller each contributed a dig and Gabby Flannery had two assists.
Miller Annika Treve dished out 19 assists, four digs, a kill and two service points. Lily Philipov recorded three kills, five digs and three service points with a pair of aces. Ela Cayirli scooped nine digs and had two service points. Sadie Campbell had three service points, nine digs and an assist. Raneem Samain recorded six kills, four blocks, three digs and five service points with three aces. Divya Issac notched four kills and added two digs.
Pevzner notched nine kills against Ridge and Cabrales had three kills, four digs and eight service points. Gaspard had six kills and a block. Calandra recorded five kills, four digs, 13 assists and two service points. Gauthier scooped a dig and had seven assists. Bonn notched a pair of kills. Deignan had two blocks and three digs. Wiedman had 10 service points with four aces, eight digs and an assist. Gallo had a dig. Kim had six service points with four aces, two kills and a dig. Libby Verga notched a kill and Flannery had three digs.
Esha Kakkar recorded three digs and four assists for Ridge. Gaby Rivadeneyra had four digs and a kill. Laura Lemgruber had two blocks and two kills. Stella Qu scooped six digs. Steffi Liu had three assists and a dig.