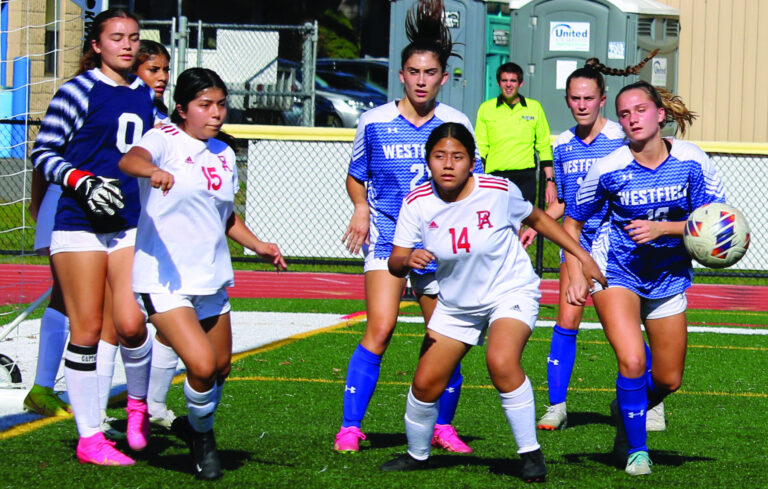 Blue Devil Soccer Girls Daze Perth Amboy in Sectional, 7-0
CADIGAN 2 GOALS, ASST; LANE, O'CONNELL GOAL, ASST
Unrelenting forward pressure by the top-seeded, No. 14-ranked Westfield High School girls soccer team was just too much too early for the 16th-seeded Perth Amboy Panthers, who remained in a dazed state for the remainder of the North Jersey, Section 2, Group 4 first round game at Gary Kehler Stadium in Westfield on October 26. The 13-1 Blue Devils scored six goals within the first 14 minutes then touched it off with another goal before halftime to cruise to a 7-0 triumph.
If there was a Mercy Rule in soccer, the Blue Devils began to demonstrate a type of their own just after the score reached 6-0 by working the ball from side to side without any real attempt to penetrate the Perth Amboy danger zone. If necessary for practice purposes, the Blue Devil girls would work a smooth cross into the box and take a shot.
Three minutes into the game, Blue Devil junior Erin Hazard took a left side corner kick that was rejected by the defenders. One minute later, cocaptain Ella Cadigan came in from the right-center and tapped the ball to junior midfielder Brooke Morrison, who slid the ball past Panther goalkeeper Madyline Lora for the first score of the game.
Less than a minute later, Ella Cadigan ripped another shot that was deflected resulting in a right corner kick taken by Morrison. Her hook into the box created a scramble and another rejection. Senior midfielder Rebecca Xiong got into the attack act and ripped a shot that Lora tipped over the crossbar, giving Morrison another right side corner kick. With 31:31 showing, Hazard launched a right-side corner kick into the box where junior Audra Toth lifted the ball to senior midfielder Sofia Gesser, whose header just missed.
Next came a left-side corner kick by Hazard that got into senior Kate Giglio, who upped the score to 2-0 with 30:32 left in the half. Thirty seconds later Cadigan launched a long shot from 30 yards out that sailed over Lora's head and into the net for a 3-0 lead. Less than a minute later at 29:08 showing, the score became 4-0 when sophomore midfielder Ashley Yenawine set up Ella Cadigan for her second goal.
The shelling continued and this time sophomore Andie Janota fed sophomore Mary Lane for a 5-0 lead. Next, a shot that was deflected by Lora came to freshman midfielder Emilie Cadigan, who tapped it in for a 6-0 score with 25:59 still left in the first half. The game of keep away followed but eventually the Blue Devils added their final goal when senior striker Marisa O'Connell rippled the net.
Ella Cadigan finished with two goals and an assist. Mary Lane and O'Connell each had a goal and an assist. Morrison, Emilie Cadigan and Giglio each finished with one goal. Hazard, Yenawine, Janota and Xiong each finished with an assist.
The Blue Devils would host the eighth-seeded Franklin Warriors, who were 2-0 victors over ninth-seeded Newark East Side, in the quarterfinal round on October 30.