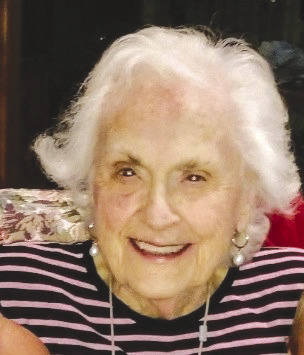 Obituaries
November 1, 2023
Mary Kathleen Duff
Mary Kathleen Duff, longtime resident of Scotch Plains, N.J., died on Thursday, October 26, at the age of 93.
Born Mary Kathleen Rummenie, she was known to most as Kay.
Kathleen, as her parents referred to her, attended Our Lady of Lourdes Elementary School in West Orange and completed her high school years at Immaculate Conception in Montclair, N.J. Upon graduation, she attended The Katharine Gibbs Secretarial School.
Kay married Joseph William Duff of Orange, N.J., on December 27, 1952, after Joe graduated Seton Hall University and Naval Officer Training School. Nine months later, they welcomed their first son, Kevin Francis. Within the next six years, they added five more children to the family — Kathy Elizabeth, Ellen Patricia, Brian Joseph, Marianne and Joseph Walter. Kay and Joe celebrated almost 62 years of marriage before Joe's death in 2014.
Both Kay and Joe stayed active in the community through their church, St. Bartholomew the Apostle Roman Catholic Church; with the Jaycees and Jaycee-ettes Club, which focused on community, and many volunteer groups.
Kay was involved with several bridge groups, a gourmet cooking club and craft groups. She was an avid knitter, seamstress and crocheter. Kay also enjoyed her job as an office assistant at Coles Elementary School in Scotch Plains.
Mary Kathleen 'Kay' Duff, Longtime
Twp. Resident, Active In Community
Mary Kathleen is survived by her children, Kevin (Elizabeth) Duff, Kathy Duff, Ellen (Steven [dec.]) Berka, Brian (Debby) Duff and Marianne (Michael) Biffel. She is also survived by 10 grandchildren, Michael, Colleen and Kelsey Duff, Katharine and Matthew Berka, Patrick and Sean Duff, Mikey, Sarah and Tucker Biffel, and 10 great-grandchildren, who were the biggest source of joy in her life. Grammy, as the grandchildren and greatgrandchildren called her, traveled hours to attend sporting events, school activities, graduations and parties, out of state and locally.
Kay was preceded in death by her son, Joseph Walter Duff; son-inlaw, Steven Berka; husband, Joseph William Duff, and her two brothers, Kenneth Rummenie and Walter (Chip) Rummenie.
The viewing was set for Wednesday, November 1, from 4 to 7 p.m., at Rossi Funeral Home, 1937 Westfield Avenue, Scotch Plains.
A funeral mass will be celebrated at 10 a.m. today, Thursday, November 2, at St. Bartholomew the Apostle Church, 2032 Westfield Avenue, Scotch Plains.
Donations can be made to Union Catholic High School, 1600 Martine Avenue, Scotch Plains, N.J. 07076, c/o C. Dill.
Interment will be at Hillside Cemetery, Woodland Avenue, Scotch Plains, N.J.
November 2, 2023