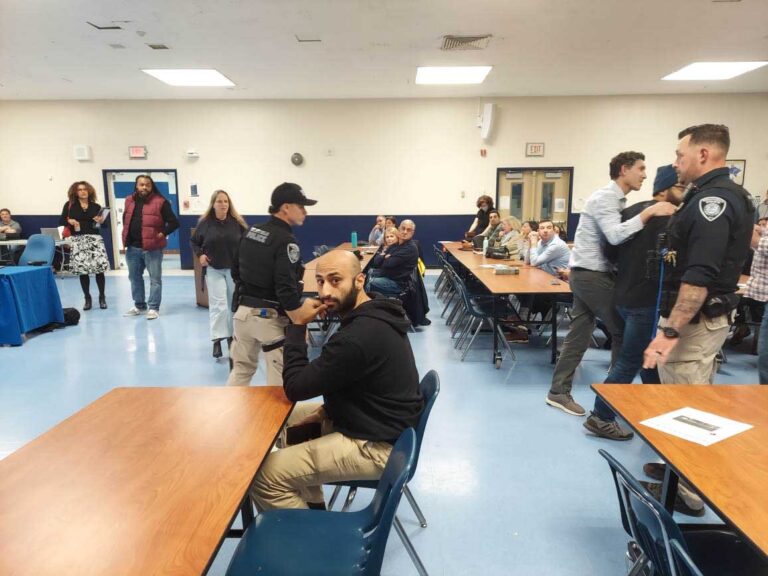 Westfield Residents Demand Action From School Administration, BOE
By KATIE MOEN
WESTFIELD — A chaotic scene unfolded during a regular meeting of the Westfield Board of Education on Tuesday when more than 200 local residents gathered in the high-school cafeteria to demand action and accountability from both the board and the district's administration following the October 7 terrorist attacks on Israel.
Throughout the course of the evening, dozens of parents, students and community leaders took to the microphone to denounce board member Sahar Aziz, a law professor at Rutgers University who has frequently come under fire for using her personal social-media accounts to perpetuate what residents have called anti-Semitic ideologies.
Last week, Ms. Aziz posted or re-Tweeted numerous statements regarding the attacks, including "Turns out there were no rapes or beheaded babies. Israel and its MSM accomplices are making up so many outrageous lies to distract from its carnage in Gaza," and "Can't imprison 2 million Gazans without paying a cruel price."
"As a student of Westfield High School, I cannot overstate the distress that this dissemination of false information has caused," said student Leo Saltzstein. "The Israeli-Palestinian conflict is complex and emotionally charged. I get that. But this rhetoric has no place on a school board, where every student should feel equally represented."
Several speakers, including former board member Michael Bielen, called for Ms. Aziz to resign.
"These meetings are supposed to be about our school district and about educating our students, but the Sahar Aziz sideshow has grown into an unimaginable distraction over the past three years, and it's time for the board to speak up and take action," said Mr. Bielen.
Numerous other residents also expressed anger and frustration regarding a statement issued by Superintendent Raymond González, Ed.D., last week that referred to the attacks as "the events in the Middle East."
"As you can see, the Jewish community in Westfield is hurting," said Rabbi Ethan Prosnit of Westfield's Temple Emanu-El and a parent in the district. "Our fear is great, and as leaders of our local community, you need to know that. We need to hear voices of support, and we need to see actions. But last week, we heard silence, we heard hate, we heard platitudes."
Another resident, Erez Lieberman, echoed similar sentiments regarding the tone of the statement but said that Dr. González was not the only one at fault.
"You are all on the board. You have all had an opportunity to address this inaction," he said. "Ms. Aziz could have easily done what so many others have done — condemn Hamas' action while standing for the rights of Palestinians. The President did that, our mayor did that, so many people did that, but she didn't, and neither did any of you."
Dr. González addressed the crowd before the evening's public comment began.
"My primary responsibility is to ensure the safety and well-being of all of our students and staff in an environment that aligns with the mission of our district to educate all. It is my firm belief that my personal feelings about matters outside of the jurisdiction of the school district on any given topic do not have any place in any of my communications with the school community," he said.
The crowd became more agitated as the evening wore on, with many people shouting profanities at the board, calling for resignations and demanding that an unidentified man at the front of the room stop filming the proceedings.
Board member Mary Wickens stated that both the presence of the man with the camera and the reaction from the crowd were making her "nervous and uncomfortable." Ms. Aziz also recorded portions of the meeting, which drew criticism and concern from several speakers.
Board President Sonal Patel attempted to regain control of the meeting several times, first by gaveling down those who were speaking out of turn and then by calling for two separate recesses to give the board time to decide how best to proceed.
After the second recess, the board moved to stop all recordings except for the official livestream as per a board policy.
Several members of the Westfield Police Department were eventually called in to help mitigate the escalating tension.
Breaking from tradition, immediately after public comment Ms. Patel opted to call for a motion to adjourn the meeting without allowing the board members to make their own comments.
The board's student representative, Casey Isser, was the only person on the dais to share his personal views.
"Last week, the world witnessed a horrific terrorist attack by Hamas," he said, adding that student leadership groups like No Place For Hate worked to coordinate an after-school reflection meeting designed to allow members of the student body to share their thoughts in a safe environment.
"There is a significant Jewish population within our schools, and especially after the issues with swastikas in our school's bathroom two years ago, they are scared right now," Casey continued. "A showing of support from the school itself would go a long way."
The next meeting of the Westfield Board of Education is scheduled to be held at 7 p.m. on Tuesday, November 21, in the high-school cafeteria.