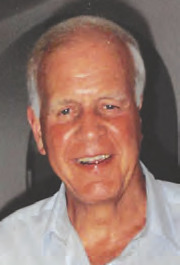 Obituaries
October 19, 2023
Fred Kramps
Fred Kramps, 90, passed away peacefully at home in Scotch Plains on Sunday, October 15, 2023, with his family by his side. Born in Paderborn, Germany, on March 8, 1933, he emigrated to the United States as a baby and was raised in Hempstead, Long Island, and Linden, N.J., before moving to Scotch Plains in 1967.
Fred received his bachelor's degree in business administration from Rutgers University and was very proud to have sung as a tenor in the Rutgers Glee Club. He served as a Quartermaster in the U.S. Army in Germany and France from 1955 to 1957, and loved telling his family stories of his time there. He was employed as a salesman for International Harvester in Linden for almost 50 years before retiring. He enjoyed his job, and he valued his relationships with his customers.
Fred was a longtime member of the Fanwood Presbyterian Church, where he served as a Trustee. He was a volunteer and Advancement Chairman with Boy Scout Troop 33 in Scotch Plains, and served as Co-President of the New Jersey Parents Club of the U.S. Naval Academy. He was also a member of the Deutscher Club in Clark for many years.
He will be remembered as a kind, caring, generous person who always thought of others before himself,
Manfred 'Fred' Kramps, 90, Loving
Husband, Father and Grandfather
right up to his death. Never one to complain, he was an incredibly hard worker and was always willing to help others, particularly with yard work. He loved children, especially his grandchildren, and could always be found spending time with his immediate and extended family. He will be dearly missed. Surviving are his wife of almost 62 years, Eleanor Beyer Kramps; his daughter, Heidi Kramps Fox (and her husband, Larry); his son, Commander Ronald Kramps, U.S. Navy, Ret. (and his wife, Kelley); his sister, Marian King; and six grandchildren, Lauren, Emma and Alex Fox, and Katie, Calvin and Joshua Kramps. He was predeceased by his brother-in-law, George King, and his brother- and sister-in-law, Howard and Dorothy Beyer.
Visitation will be at Memorial Funeral Home, 155 South Avenue, Fanwood, on Friday, October 20, from 4 to 7 p.m. Funeral services will be held at the Fanwood Presbyterian Church, at the corner of LaGrande and Martine Avenues, on Saturday, October 21, at 10 a.m. Interment with military honors will follow at Hollywood Memorial Park in Union.
In lieu of flowers, donations may be made to the Scotch Plains Rescue Squad.
October 19, 2023