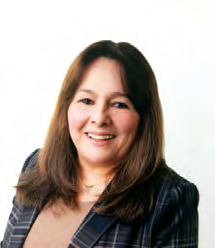 K9 Resorts Taps Consumer Brand Veteran as New COO
FANWOOD — K9 Resorts Luxury Pet Hotel announced the addition of Patti Carr to serve as chief operating officer. With more than 30 years' experience in franchise operations leadership for national consumer brands, Carr brings deep expertise and ability in highgrowth operations and strengthening brand presence.
"We are thrilled to welcome Patti to the K9 Resorts team," said Jason Parker, co-founder and CEO of K9 Resorts. "Patti's impeccable experience will add to our bench strength as our organization continues to grow its national presence with new locations set to open all across the US in 2024. We look forward to reaching new business milestones and growth with Patti's guidance and assistance."
Ms. Carr brings with her a proven track record of managing scalable teams who achieve operational excellence and implementing successful operational strategies. Prior to joining K9 Resorts, Ms. Carr served as vice president of franchise operations for Sports Clips Haircuts and Krispy Kreme Doughnut Corp.
"K9 Resorts brings a distinct brand and luxury experience to the pet boarding industry, and I am excited to join the team, especially during such an exciting time of growth for the company," said Carr. "I've worked in the franchise space for a long time, and I see tremendous opportunity for the K9 Resorts brand and I look forward to contributing to the company's continued and impressive success." K9 Resorts has 148 resorts either currently operating or in development across more than 20 states. To learn more about K9 Resorts Luxury Pet Hotels, visit www.k9resorts.com/. K9 Resorts Luxury Pet Hotel (www.k9resorts.com) strives to offer the best pet care experience for all the dogs in its care and has been honored with four consecutive IBPSA Pet Care Business Excellence Awards from 2019-2023. Founded in 2005, each K9 Resort is custom-designed with hospital-grade ventilation systems, antimicrobial flooring, cage-free luxury boarding and world-class, professionally trained staff members. Recommended by numerous pet professionals and several major publications, K9 Resorts is proud to lead the way in the pet hospitality industry.