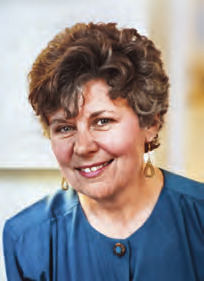 Obituaries
October 4, 2023
Carolle-Ann Mochernuk
Long-time North Plainfield, New Jersey resident Carolle-Ann Mochernuk died peacefully on Sunday, September 10, after a brief stay at Center for Hope Hospice in Scotch Plains. She was 87 years old.
A Canadian, Carolle-Ann Mochernuk (born Craigie) had a lifelong career as a classical pianist, teacher and mentor. While in her teens, she was the youngest piano soloist for the Canadian Broadcasting Company Radio Orchestra. She graduated from the Royal Conservatory of Music in Toronto and then moved to New York to continue her musical studies with Rosina Lhévinne at Juilliard. Later, she studied at the Aspen Music School in Colorado. While studying at Juilliard, she worked part-time as an usher at Carnegie Hall, where she met her first husband, Roman P. Mochernuk, a violinist. Together they built a thriving piano restoration business in Plainfield which they conducted until Mr. Mochernuk's death in 1981. A regular client was the Metropolitan Museum of Art Department of Musical Instruments in New York.
Ms. Mochernuk's performance career spanned nearly sixty years, beginning with her musical début at Carnegie Recital Hall on January 19, 1964. She performed as a soloist, in concert with well-known symphony orchestras, and as part of ensembles locally, nationally and abroad. While touring Europe she performed in London at Wigmore and Queen Elizabeth Halls, as well as in Amsterdam, Oslo, Salzburg and Vienna.
In 1985 she married her second husband, Paul Kueter (1925-2016), also a classical pianist. They collaborated musically and developed a wide repertoire of piano music
Carolle-Ann Mochernuk,
Classical Pianist, Teacher and Mentor
for four hands, which they performed extensively in the United States and Europe. Notable venues in the greater New York area included New York's Library of Performing Arts, Lincoln Center and Trinity Church. Ms. Mochernuk and Mr. Kueter recorded five albums together featuring four-hand arrangements of classical music and standards from the Golden Age of Broadway. She also released two solo recordings which included works by the Russian Romantic composers, who represented a period of music she was particularly drawn to. Ms. Mochernuk taught professionally at Kean College, New Jersey, and was on the piano faculty of the Mason Gross School of the Arts at Rutgers University. She also taught privately for much of her professional life and had many students who went on to establish distinguished musical careers of their own.
Ms. Mochernuk regularly performed as a solo pianist and as an accompanist in concerts for both the Plainfield Musical Club and the Musical Club of Westfield. Her most recent solo performance for the Westfield club was on October 12, 2022, playing three pieces by Sergei Rachmaninoff. Her last public concert was on April 1, 2023, for the Plainfield Music Club's commemoration of Rachmaninoff's 150th birthday.
Ms. Mochernuk is survived by her brother, Norman Craigie, in Ontario, Canada, and by six stepchildren from the Kueter family: David, Kathy, Karen, Erica, Derek and Kristin. A private memorial celebration and concert will be held in late October.
October 5, 2023