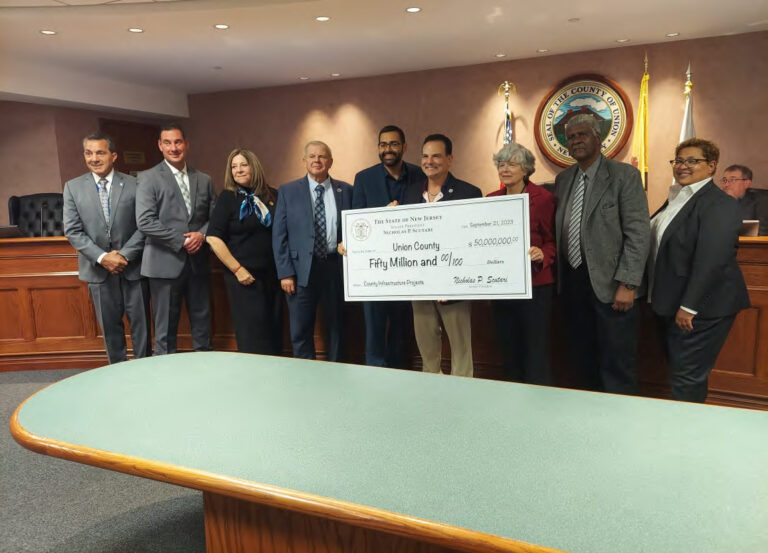 County, Municipal Libraries Get Financial Boost
COUNTY — Union County's libraries got a financial boost last week as part of an ongoing and collaborative effort to provide local residents with better access to books, resources and other materials.
On Thursday, during a regular meeting of the Union County Board of County Commissioners, library representatives from Westfield, Clark, Garwood, Hillside, Rahway, Union, Mountainside and New Providence joined municipal leaders from around the county for a check presentation ceremonyspearheadedbyCountyCommissioner Bette Jane Kowalski and Board Chair Sergio Granados.
"The primary objective of the grant funding we awarded today facilitates each library's participation in a library consortium," Mr. Granados said. "This strengthens the collaborative efforts among libraries across Union County, enabling us to pool resources efficiently and amplify the impact of our library services. We extend our heartfelt appreciation to each of the libraries and their dedicated staff who have continually demonstrated a commitment to providing accesstoknowledgeandresources."
The Commissioner Board received some unexpected funding of its own on Thursday night when State Senate President Nicholas Scutari arrived bearing a check for $50 million. Some of the funds, Mr. Granados explained, will be used to support restoration efforts at the Clark Reservoir, located along the Robinson's Branch of the Rahway River. The county purchased the reservoir, which once served as part of the municipal water supply, from the township in 2008 with the intention of preserving the riverfront property as public open space.
"Preserving open space in our densely-populated area has been a priority for Union County residents for generations. Those who preceded us left a legacy of beautiful parks that are used by residents of all ages, and provided for conservation areas that promote healthful biodiversity," Commissioner Kimberly Palmieri-Mouded said of the project via press release last year.
The funding also will be used to make improvements to various other parks andcounty-ownedfacilities,amongthem the Warinanco Sports Center.
"The Senate President was able to secure this significant funding for essential county infrastructure projects, including renovating Watchung Stables, establishing therapeutic riding rings, building pedestrian bridges, installing baseball turf fields, creating walking trails, and cleaning up our brooks," County Manager Ed Oatman said. "The County of Union is extremely grateful for his continued strong support and advocacy for our community and its residents."
"The state has seen it in its wisdom to provide the county with a multitude of money to support a number of different issues that the county manager and chairman have brought to my attention, which are valid and are helpful for taking care of capital projects for the county of Union," said Mr. Scutari, who served on the commissioner board (then known as the Board of Chosen Freeholders) from 1997 to 2004.
The next meeting of the Union County Board of County Commissioners will be held at 6 p.m. on Thursday, October 12, at the CountyAdministration building in Elizabeth.