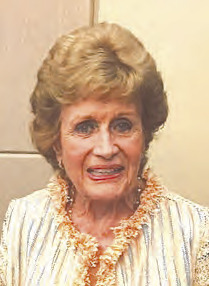 Obituaries
September 27, 2023
Suzanne A. Scott
Suzanne Almeida Scott, affectionately known as Sue, passed away on Sunday, September 17, 2023, leaving behind a legacy of love, compassion and indomitable spirit. Born in Chicago, Illinois, Suzanne's life was a testament to her unwavering dedication to those she loved and the causes she believed in.
Throughout her life's journey, which took her from Westfield, New Jersey, to Centennial, Colorado, Suzanne's warm and captivating personality left an indelible mark on everyone she met. Suzanne was a homemaker par excellence, dedicating her life to nurturing her family and making her home a sanctuary of warmth and love. In her leisure time, she reveled in playing golf, swimming, traveling and participating as an active member of her sorority, Delta Gamma, alumni association. One of Sue's happiest moments was when she initiated two granddaughters (Kelly and Kasha) using her Delta Gamma pin.
A proud member of the Echo Lake Country Club in Westfield, New Jersey, Suzanne was also an active volunteer for many years at Children's Specialized Hospital in Mountainside, New Jersey, where she was honored as Volunteer of the Year, a testament to her selflessness and commitment to service. Sue was a devout Episcopalian and longtime member of St. Paul's Episcopal Church.
Suzanne A. Scott, Beloved Wife, Mother, Grandmother, Great-Grandmother
Sue is survived by her loving son, Mark Scott (Jacki) of Vail, Colorado and Waikoloa, Hawaii, and daughter, Janet Patterson of Charleston, South Carolina, and is preceded in death by her beloved husband, Richard Scott, and her parents, George and Almeida Rohling. Sue is also survived by her grandchildren, Jessica Sokol (Jake) of Charleston, South Carolina, Christian Patterson of New Jersey and Andrew Patterson of North Carolina, as well as Kelly Scott Stone (Taylor) and Katherine "Kasha" Scott (fiancé Casey O'Keefe), both of Denver, Colorado. Sue is also survived by three great-grandchildren, Blanche, Hobart and Frances Sokol, and her long-term loving and devoted caregiver, Leslie Evans, of Denver, Colorado.
Sue will be remembered and celebrated at the memorial service to be held on Friday, September 29, 2023, at 3 P.M. MDT, at Holly Creek, 5500 East Peakview Avenue, Centennial, Colorado, 80121. We invite all who knew and loved Suzanne to share their memories and photo on her memorial page to celebrate a life well-lived and to honor a woman who truly made a difference. As we remember Suzanne, let us strive to embody her spirit of love, service, and joy and keep her memory alive in our hearts and deeds.
September 28, 2023