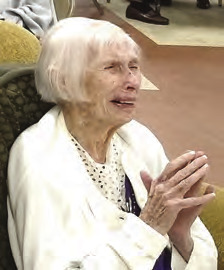 Obituaries
September 27, 2023
Peggy Tristram
Peggy left this mortal world on Thursday, August 24, in the Intensive Care Unit of Overlook Medical Center, after a brief illness.
Peggy was born on April 14, 1923, in her parents' home in Ozone Park, Queens, N.Y. An only child, Peggy had an aptitude for music at an early age. She obtained her Bachelor of Arts degree at NYU during World War II in Music Education, and much later, her Master of Arts degree at Kean College.
She married her neighborhood sweetheart, Ted, during World War II. After the war, they had four children. Peggy's main passion was her family, but music took a close second. She sang soprano, played cello and piano well, and many other instruments. She was a long-time member of the Westfield Musical Club and played in quartets and accompanied
Marguerite 'Peggy' Tristram, 100,
Musician, Teacher and Choir Director
as a pianist. Peggy played cello in the Suburban Symphony as well as in the Plainfield Symphony. Peggy taught music in the public schools and at the Far Hills Country Day School, as well as piano and cello at her home. Peggy was a church choir director and played the organ. Besides music, Peggy was a wonderful cook and loved to play bridge and do crossword puzzles. Peggy's husband, Ted, predeceased her in 2003. Peggy is survived by daughters Stephanie (John) and Pamela (Richard), one son, David (Claire), daughter-in-law, Greta, six grandchildren and one great-granddaughter.
A memorial service for Peggy Tristram will be held on Friday, October 6, at 11 a.m., at the All Saints' Episcopal Church in Scotch Plains. All are invited.
September 28, 2023