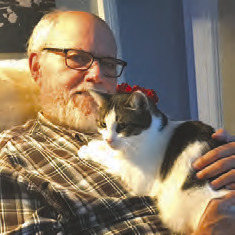 Obituaries
September 27, 2023
Bruce R. Johnson, 77,
Bruce R. Johnson of Langhorne, Pa., died on Thursday, September 21, after a lengthy illness. He was 77.
Born in Long Branch, N.J., to the late Charles H. Johnson and Mathilda Ousterman Johnson, Bruce graduated from Westfield High School, Westfield, N.J., in 1963. He attended Fairleigh Dickinson University in Madison, N.J., where he was the first freshman to play on the varsity men's basketball team.
In 1966, Bruce enlisted in the U.S. Navy and served two years in the legal office of the USS Wasp aircraft carrier, followed by four years in the U.S. Naval Reserves. He was honorably discharged in 1972.
While in the Reserves, he began his 50-year journalism career, working as a sportswriter and copyeditor at newspapers in New Jersey and Pennsylvania, including The Westfield Leader. Bruce was a passionate supporter of Westfield High School athletics, which led to the creation of "Devil's Den," his long-running column in the Leader featuring his take on the school's sports teams.
Leader's 'Devil's Den' Columnist
Bruce was one of New Jersey's winningest swim coaches ever, coaching the boys' swim team at Westfield High School. He was a founder and trustee of the Westfield Athletic Hall of Fame, into which he was inducted in 2010. In addition, he published three books, including "Covered Wooden Grandstands," which was accepted into the library of the National Baseball Hall of Fame and Museum in Cooperstown, N.Y. Bruce is survived by his wife of 42 years, Susan Doan-Johnson, and their beloved cats, Bella and Max; his brother, Craig; his father- and mother-in-law, Frank and Val Doan; his sister- and brother-inlaw, Barbara Doan Guynn and William Guynn, and two nephews, Steven and Brian Guynn, as well as many loving in-laws and friends.
As he wished, no funeral service will be held.
In lieu of flowers, donations can be made in his name to the Northeast Animal Rescue (narscats@gmail.com) or the WestfieldAthletic Hall of Fame.
Bruce R. Johnson
September 28, 2023