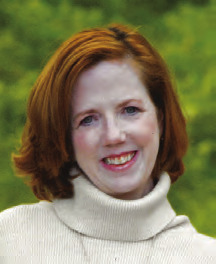 Obituaries
September 21, 2023
Jane Purkis Kearney
With grace and resilience, Jane Purkis Kearney, 56, peacefully departed this world on Monday, September 11, at Overlook Medical Center, surrounded by her family and friends after living boundlessly for over two years with metastatic breast cancer. Jane was a living testament to the endurance of the human spirit. She leaves behind a lasting impact on all who know her.
Born in September 1966 to Raymond, Jr. and Mary Ellen Purkis, Jane was raised in Union, N.J., and attended St. Genevieve's School and Union Catholic High School. She was a graduate of Mount St. Mary's University (Maryland). The unwavering character that Jane displayed throughout her life — which included over 25 years as a leader and mentor in healthcare marketing — earned her numerous honors and a host of loyal, lifelong friends. It was in the bustle of Hoboken, N.J., that Jane met Peter — the love of her life. After marrying in 2001, the couple moved to Madison, N.J., before settling in Westfield, N.J. Her heart's greatest treasure became family, and Jane's love for her children —Aidan, Caitlin and Erin — continued to expand and grow. She reveled in each of their milestones and achievements, instilling in them a wonder for this world.
Jane Purkis Kearney
Adored For Her Kindness and Grace
From the picturesque peaks of Maine to the breathtaking beauty of national parks (Yosemite and Joshua Tree were amongst their favs), to the tall trees of the Pacific Northwest, they explored life together. A legacy of epic summers on Long Beach Island — echoing with the laughter of family and weekend getaways with girlfriends — lives on. In every area of life, Jane radiated warmth, strength, and a nurturing spirit that was constantly reaching out into the lives of others. She understood the joy of being generous with the gifts that God had given her. In that spirit, Jane wished that you donate to Mary's Place by the Sea (https:// www.marysplacebythesea.org/donation) or the scholarship fund at Mount Saint Mary's ( https:// msmary. edu/ give/ online- giftform. html) if you feel so inspired.
Jane was predeceased by her father, Raymond Joseph Purkis, Jr., and is survived by her husband and three children; her mother, Mary Ellen Purkis, of New Providence, N.J.; brother, Raymond J. Purkis III, and sister-in-law, Danette, of Belle Mead, N.J.; and brother, Daniel Purkis, of South Orange, N.J., as well as numerous nephews, nieces, cousins and Millie the family Lab.
September 21, 2023