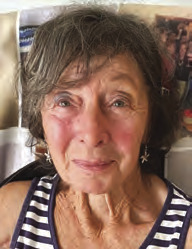 Teresa C. Ciarrocca
Mrs. Teresa Charlotte Ciarrocca (née Cacchione) passed away Wednesday, July 26, 2023, at Autumn Lakes Healthcare at Berkeley Heights. She was 91 years old.
Born in Westfield on Greene Place to Alfredo and Antoinette Cacchione, Teresa grew up in town and graduated from Westfield High School. She worked as an Administrative Assistant and Executive Secretary for a number of firms in New York City over the years and in her family's law practice, Ciarrocca & Ciarrocca, in Union. While her children were young, Teresa was active in the PTAs and was the president of the Jefferson School PTA. She was a founding and active member of St. Helen's Parish in Westfield, serving as a CCD teacher for many years. She was honored at Sacred Heart Basilica for her dedication to teaching children in the CCD program. She was a longtime Eucharistic minister and usher at St. Helen's.
Teresa was known for her love of her family, days at her beach house in Point Pleasant Beach, and collecting sea glass. She also was known for baking cookies and crocheting afghans. She was an avid fan of The
Teresa Charlotte Ciarrocca, 91, Lifelong Westfield Resident
Hallmark Channel and loved nothing more than doting on her grandchildren, her great-grandchildren and her dogs. She has been affectionately known as Mrs. C, The Church Lady, and the Cookie Lady, and loved "makin' memories" with her large family. Teresa Ciarrocca was predeceased by her loving husband, Louis J. Ciarrocca, Jr., in 1993. She is survived by her children, Kenneth (Laura), Mark (Janet), David (Jeanmarie), Lori (Daniel) and Steven (Lisa); her 10 grandchildren; two great-grandchildren; her niece, Leslie Wheeler (James), and her great-nieces and nephews.
Funeral services were entrusted to Dooley Colonial Home, 556 Westfield Avenue, Westfield, N.J. 07090. A funeral mass was held at 10 a.m. on Monday, July 31, at The Parish Community of Saint Helen on Rahway Avenue in Westfield, followed by entombment at Fairview Cemetery in Westfield.
Please consider a memorial contribution to Helping Hands and Hearts (St. Helen's Church of Westfield) and St. Hubert's Animal Welfare Center.
August 3, 2023