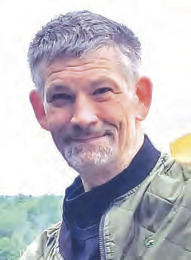 Peter S. Froden
Peter S. Froden, 57, was born March 20, 1966 at Muhlenberg Hospital in Plainfield, N.J., and passed away peacefully at his home in Garwood on Monday, July 24, 2023.
He is predeceased by his parents, Holger and Christine Froden, and is survived by his wife, Melissa; his sons, Christopher and Matthew, and sister, Kirsten, all of Garwood; brother, Eric, of Richmond, Va.; and step-daughters, Jennifer of Mississippi and Ashley of Garwood.
Peter graduated in 1984 from Westfield High School, where he was a member of the Varsity Football team. He owned a successful third party logistics company, KPCM LLC.
Peter was an avid fisherman, and took pride in being the best guide for his family and friends. He preferred watching others catch the big ones, as opposed to himself. What made him happiest was when everyone around him was having fun. Peter always made sure the room was filled with smiles and laughter. He loved playing
Peter S. Froden, 57, Business Owner, Avid
Fisherman, Enjoyed Family and Friends
golf with his sons and his sister, and could still out drive all of them. His most special place was "camp" in Monticello, N.Y., spending time with his wife and family and anyone that showed up to be part of the chaos. He will be missed by many friends and the dozens of kids he coached in both baseball and basketball for the Garwood Recreation League. Every child on his team played, scored and felt part of the team. That will be Peter's legacy: a thoughtful man remembered for his selflessness and compassion.
The visitation and service were held at Gray Funeral Home, 318 East Broad Street, Westfield, N.J., on Friday, July 28, along with a Service of Remembrance.
In lieu of flowers, donations can be made to Tunnel to Towers Foundation (T2T.org) or to St. Jude Children's Research Hospital ( stjude. org). Please go to www.grayfuneralhomes.com to offer condolences.
August 3, 2023