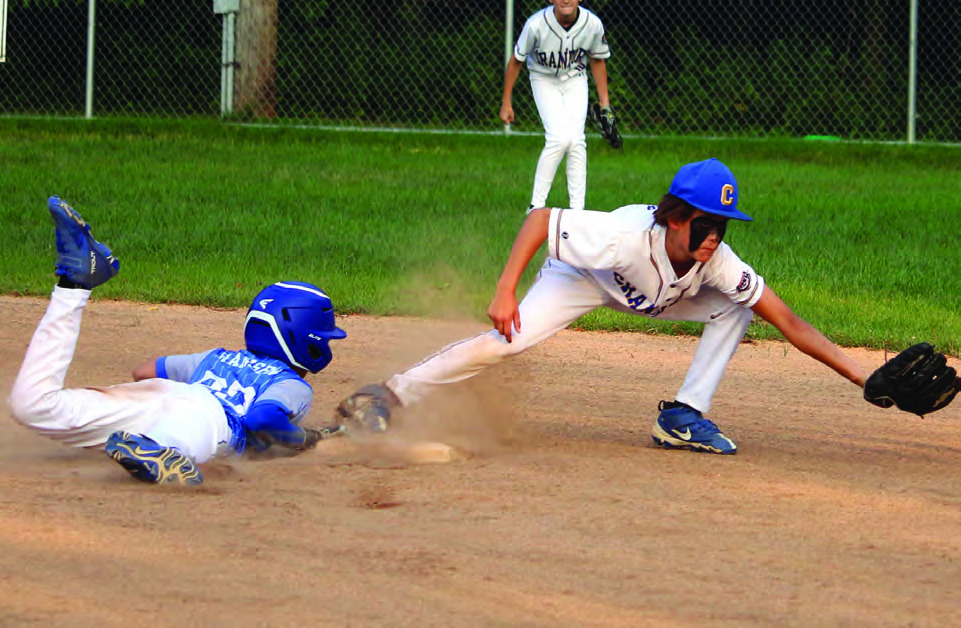 Sports, The Week in Sports
Cranford Nips Westfield, 4-2, For N. Prov. Green 11U Title
PANTELIC 'D', SEMLER, ARATO 2 RBI, HANSEN 2 2BS
Effective pitching, stubborn defense and timely hitting would have been necessary for the top-seeded Cranford 11U Gold to prevail over the second-seeded Westfield White for the New Providence Green League crown at Memorial Field Complex in Cranford on July 31. Having lost to the Westfield White, 7-2, in Westfield on July 13, the Cranford Gold did get all three to emerge with a 4-2 victory and the title.
With such a low scoring game, effective pitching came from both teams. Cranford Gold pitcher Max Semler went the distance, allowing one earned run and six hits, and demonstrated his control by walking no one, while recording three strikeouts. Westfield White starting pitcher Drew Gerlach pitched four complete innings and was relieved by Sean Ehrlich after hitting a batter in the fifth inning. Gerlach yielded four runs on four hits, while walking two, hitting a batter and striking out four. Ehrlich in one inning, allowed no runs and one hit, while walking two batters.
When it came to defense, Cranford Gold leftfielder Parker Pantelic had a banner evening. Pantelic made a chest-diving grab to rob Liam Mroz of a hit in the third inning then snagged a steaming liner off the bat of Gavin Welsh on the very next play. In the fourth inning, Pantelic caught Alex Beebe's liner then quickly fired to first base to nab the base runner for a double play. In the fifth inning, he chased down another liner off the bat of Mason Ropiak.
Cranford Gold centerfielder Tristan Allen robbed Ropiak of a hit in the first inning and Matt Venditti robbed Glassmith in the fifth inning. Shortstop Colton Gardner absorbed Gerlach's scorching liner in the fourth inning. Westfield White right fielder Gavin Welsh hauled in Luke Breslin's difficult popup in the fourth inning and centerfielder Mroz initiated a unique maneuver to double up the runners advancing to third and second, respectively, in the fifth inning.
Only one player on the Cranford Gold, coached by Peter Arato, Joe McComb and Pat Breslin, had more than two plate appearances and Gardner (2 stolen bases) went 1-for-3 with an RBI. Theo Arato led the team with a timely two-run double. Allen tapped an RBI single. Venditti singled and scored once. Brandon Pizzo singled and stole a base. Semler walked and scored once. Matt McComb was hit-by-a-pitch and scored once. Breslin, Ethan Esteves and Chase Meixner all walked once and Pantelic reached base safely once on an error. George Parke was unavailable to play. The Westfield White, coached by Stu Glassmith, JP Ravetier, Peter Hansen and Steve Beebe, fielded only nine players and Luke Hansen led the team at the plate with a pair of doubles and an RBI in his three plate appearances.
Ehrlich went 2-for-2 with an RBI, Mroz singled and scored once, and Beebe went 1-for-2. The nine participants were: Glassmith, Hansen, Ropiak, Evan Ravetier, Mroz, Welsh, Gerlach, Ehrlich and Beebe. Jon Paster, Nick Rossitto and Owen Decker were unavailable for the game. Hansen whacked a one-out double in the top of the first inning butAllen's catch in centerfield and Gardner's scoop of a grounder that he converted to a putout kept Westfield White off the board. Semler drew a one-out walk in the Cranford first and Venditti's grounder back to the mound resulted in both runners being safe. Arato stepped to the plate and launched his two-run double to deep centerfield then Allen yanked an RBI single to leftfield.
Westfield White scored once in the second. Mroz beat out an infield single then after a pair of groundouts back to the mound, he scored on Ehrlich's 20-foot infield single. Westfield White then narrowed the margin to 3-2 in the third inning. Hansen hammered his second double to centerfield, advanced to third on a ground out then later slid under the tag at home.
Pantelic's snag in leftfield that he converted to a double play kept Westfield White silent in the fourth but Welsh's catch in right field kept Cranford Gold off the board in the bottom of the inning. Venditti's grab in right field and another great catch by Pantelic muted Westfield White in the fifth.
Leading by just one run, Cranford Gold needed some insurance and the first hint of a cash in came when McComb was hit on the hip and hobbled to first base. Estevez and Meixner drew back-to-back walks to load the bases. Gardner looped a single into shallow center. McComb scored but confusing base running led to a double play at third and second, respectively. Semler popped up to short for the third out.
The Westfield White's final inning began with Ravetier grounding out to third. Semler struck out the next two batters then the victory celebration began.