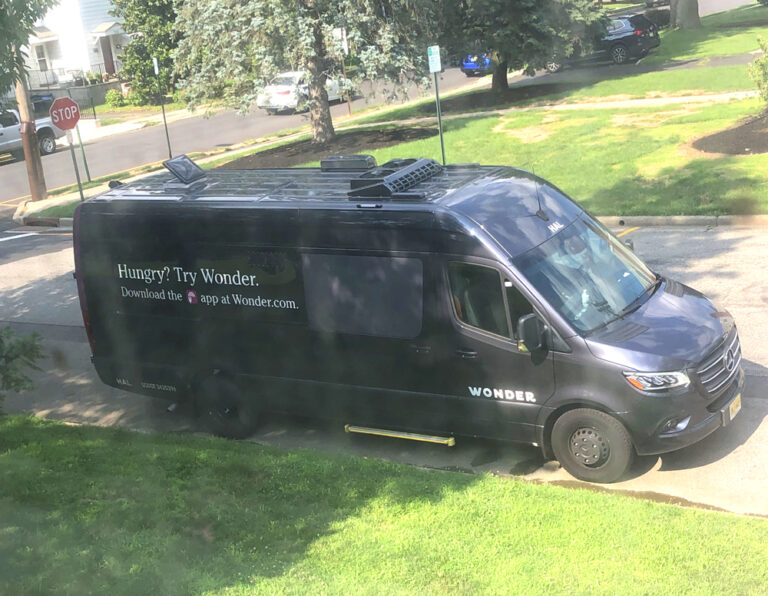 Wonder Changes Business Model, Plans Move to Westfield
WESTFIELD — Wonder, the Cranford-based food-delivery company whose trucks have been circling the area since 2021, recently announced that it will retire its fleet of vans in favor of a new business model.
In an article published on LinkedIn earlier this year, Wonder CEO Mark Lore noted, "as we look to expand into new markets in 2023, we've begun to untap a new operational strategy that will help us unlock these opportunities — reducing the number of mobile restaurants we have in-market, and replacing them with physical locations that allow for delivery, pick-up and limited dine-in options. These locations will give us the ability to offer dozens of different cuisines through a single kitchen, utilizing the same technology from our mobile restaurants, all while making our great food even better, faster and hotter, delivered right to your door."
Visitors to the new Wonder storefronts will be given the opportunity to choose from a wide variety of menu items prepared by 10 different restaurants from around the country. According to the company's website, Wonder has already partnered with Alanza (an Old-World Italian eatery), Barrio Café (a regionally-inspired Mexican restaurant), Chai Panna (which features dishes from across India) and Bobby Flay Steak, in addition to six other international eateries. Each location will offer take-out options, delivery and a small number of dine-in tables.
According to information provided by the company, the new brick-and-mortar spaces will function like "food halls" where people can select from multiple menus as part of the same transaction.
Wonder has already launched one such location, which opened its doors in New York City earlier this year. Two other locations — another in New York and one in Westfield — are slated to begin operations sometime this summer.
On Wednesday, representatives from the Downtown Westfield Corporation (DWC) announced that the company will take over a location formerly occupied by a CVS at 210 South Avenue West.
"They're still going to be able to fulfill their current mission, but this location will give them the chance to offer dine-in or take-out options," Samantha Horning, executive director of the DWC, said.
"Wonder's original thinking was that the only way to possibly get high-quality food delivered fast to your door, was by bringing the entire kitchen directly to you. But its culinary engineering proved to be so effective – and consumer demand so high – that it opened the possibility to consider other delivery alternatives where they could still provide the same (and in many ways better) customer experience," representatives from Wonder told The Westfield Leader." The new Wonder eatery is slated to join a host of other new downtown dining establishments like Maize Cocktails and Cocina, currently under construction at the town's historic train station building; Fortis Coffee, Doner Kabob, and MOCHIMOLY donuts, all of which are set to open their doors in the coming months.
Three other new businesses — Millburn Deli and fresh&co (a New York-based, grab-and-go establishment dedicated to providing healthy, on-the-run options to diners) recently celebrated their own grand openings.
In a recent posting issued via social media, Westfield Mayor Shelley Brindle said the influx of new investors represents "an exciting road ahead" for the community.
"The diversity of the new businesses is encouraging, reflecting a healthy mix of professional services, retail establishments, and restaurants. The new eateries in particular reflect the expectations of residents who have recently relocated from Brooklyn, Jersey City, Hoboken, and Manhattan. Remember when Westfield was considered just a 'pizza town?' Not anymore!" Mayor Brindle said.
In other DWC news, Board Vice Chair Lew Kimble announced Wednesday that work is moving along on a town-wide app that will help connect shoppers, visitors, residents and guests to local businesses and special happenings around the community.
The app, Mr. Kimble said, is expected to launch in April.