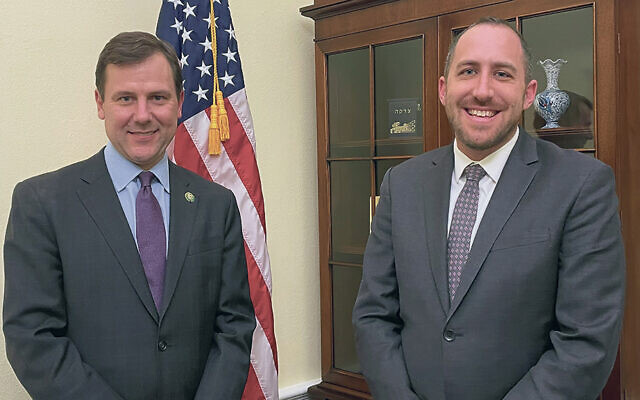 Westfield Rabbi Attends State of the Union
WESTFIELD — When President Joe Biden gave his State of the Union Address in Washington, D.C., earlier this month, Rabbi Ethan Prosnit of Westfield's own Temple Emanu-El had a front-row seat.
Rabbi Prosnit, who has served as the senior rabbi at Temple Emanu-El since 2014, was invited to attend the event as the guest of freshman District 7 Congressman Tom Kean, Jr.
"I am proud to have Rabbi Ethan Prosnit of Temple Emanu-El in Westfield join me in the House Chamber for the President's State of the Union address tonight," Mr. Kean said via a February 7 press release. "Rabbi Prosnit is an outstanding leader in our community, a devoted steward of his temple and a mentor to many young people in his congregation. I am honored he will be joining me tonight and look forward to working with him in support of our community."
Rabbi Prosnit is a graduate of Clark University with a Bachelor of Arts in African History and a Masters in Teaching. He received his Rabbinic Ordination and his Masters in Hebrew Letters from Hebrew Union College — Jewish Institute of Religion (HUC-JIR). Rabbi Prosnit resides in Westfield with his wife, Arielle, and children, Caleb, Zoe and Asher.
"It is an honor to attend President Biden's State of the Union Address, and I am grateful to Congressman Kean for inviting me to be his guest in the House Chamber," Rabbi Prosnit said. "I look forward to working with Congressman Kean to bring people of all faiths together to fight anti-Semitism and keep NJ-7 a strong and safe community."
In his speech, President Biden discussed the lingering need for job creation, the importance of shoring up the economy through European aid, American manufacturing and national infrastructure projects. The speech also covered topics ranging from health-care costs, climate change and immigration to public safety and police reform.
"I stand here tonight having served as long as about any one of you have ever served here. But I've never been more optimistic about our future, about the future of America. We just have to remember who we are," President Biden said. "We're the United States of America, and there's nothing, nothing, beyond our capacity if we do it together."
The experience, Rabbi Prosnit told The Westfield Leader, is one he is not likely to forget.