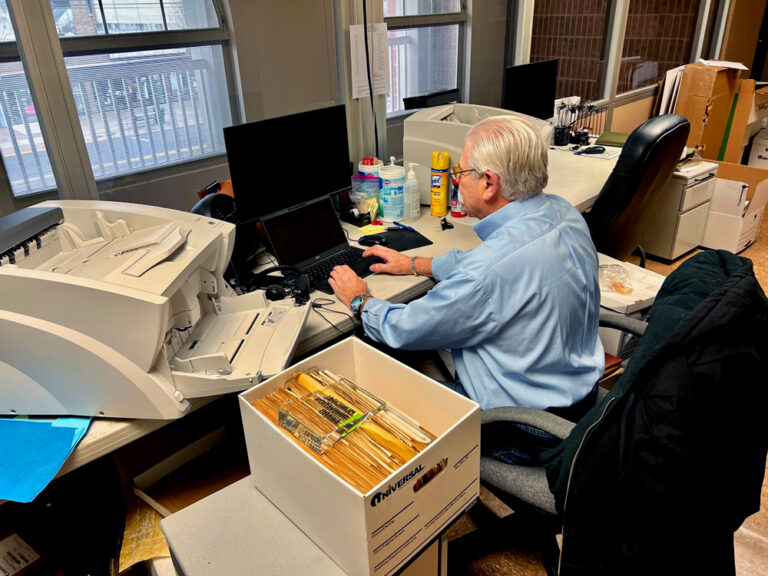 Digitization Will Bring Twp.'s Paperwork Into Modern Age
SCOTCH PLAINS — They are there five days a week, upstairs at the municipal building, sitting at a desk in a hallway piled with bankers' boxes and papers and methodically feeding decades' worth of official documents into a scanner that will bring all that paperwork into the modern era.
It is part of a years-long project by township officials to digitize tens of thousands of documents — meeting minutes, building applications, township maps, licenses, site plans, permits, contracts, ordinances, resolutions, memoranda and the like — amassed by the building department, the clerk's office and the township administration.
The purpose of the effort, according to Township Manager Al Mirabella, is to "declutter, organize and serve residents better." Employees from Mott MacDonald have spent the better part of the past few years — including during the pandemic shutdown — sitting at a long desk facing windows that look out over Park Avenue and digitizing building department documents that in some cases date back a century, according to Construction Official and Zoning Officer Robert LaCosta.
Iselin-based Mott MacDonald has indexing software that allows for the accurate placement of the many documents being digitized and allows easy search methods for those wanting to retrieve documents. At times over the past few years, the hallway on the second floor of town hall has been filled nearly to the ceiling with boxes that have been stored in the building's basement and elsewhere in advance of their being scanned. Both Mr. Mirabella and Mr. LaCosta told Union County HAWK that Mott MacDonald's efforts involve township documents accumulated before 2019 and that township employees are scanning more-current documents on an "as you go" basis. The scanning of the pre-2019 documents is being financed by a $745,000 bond that the township council approved in 2020, and two years earlier, the council included money in the 2018 municipal budget for the building department's efforts to get underway.
Mr. LaCosta called some of the older township documents "invaluable historically." He said the digitizing efforts for his department are about 75 percent completed, but pointed out that, under current state law, his department is still required to retain all the paperwork being digitized — until that law is modified to allow for the papers' disposal.
He said the digitization effort also will help make requests for information filed under the Open Public Records Act easier for township employees to fulfill. Saying he is "a big proponent" of digitizing and that his department has "always had excellent records," Mr. LaCosta stated that it will "benefit the residents and anyone wanting to do development" by also eventually digitizing the application process for a site plan or a development.
Mr. Mirabella echoed Mr. LaCosta, saying that bringing township documents into the digital age, "will make it easier for the public to access information versus having to look for something in this file cabinet or that file cabinet," while also freeing up staff for more productive work. It also will enhance staff safety, since personnel will no longer have to lift large boxes of files or work in a cluttered file room. Further, with the township's municipal offices likely to be moving to new quarters in the next several years, the digitization efforts will free up space in any new location. He said that after the building department's documents are finished, Mott MacDonald will move on to another paper-intensive department, the clerk's office, and then the township administration department.