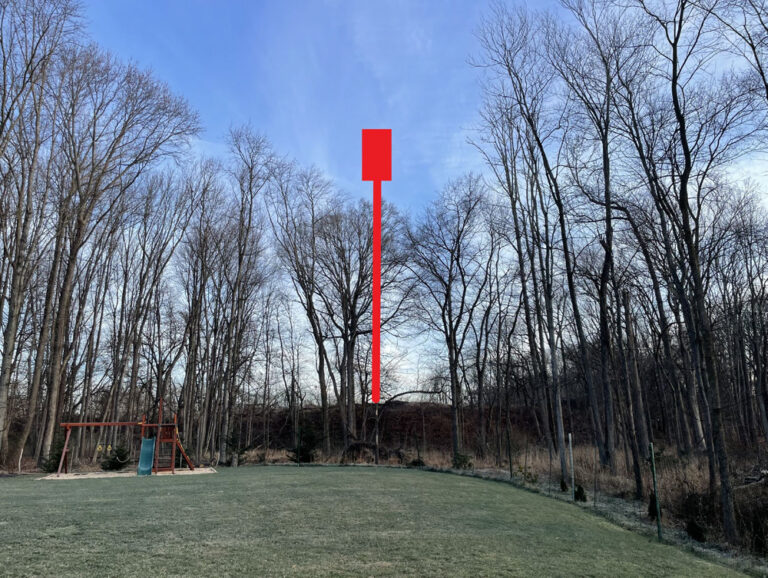 Scotch Plains Resident Files Suit Against Westfield
SCOTCH PLAINS — A Scotch Plains resident has filed suit against the Town of Westfield in response to a proposed 130-foot monopole antenna slated for installation at the Westfield Conservation Center.
The suit, filed in New Jersey Superior Court by attorney Justin Santagata on behalf of Winding Brook Way resident David Munsky, alleges that the town engaged in "arbitrary and capricious municipal action" by failing to hold a public hearing or address residential concerns.
"For whatever reason, Westfield has chosen to lease and erect the tree monopole in an area that will have the most impact on the abutting residential communities in Scotch Plains, rather than the initially proposed location [Houlihan/Sid Fay Fields], which would not have had such significant impact," the lawsuit states.
Though Mr. Munsky could not be reached for comment at the time of publication, the suit alleges that if the monopole was to be installed in its proposed location, it would effectively "tower over" neighboring Scotch Plains residences like his.
"Over the past few months, we have been approached by numerous Scotch Plains residents about this issue, and we share their serious concerns," Scotch Plains Mayor Josh Losardo told Union County HAWK. "We have been engaged in a productive dialogue with our counterparts on the Westfield governing body for months now, and hopeful that an amicable resolution satisfying all stakeholders is reached."
The monopole was approved by the Westfield mayor and council through resolution on November 9.
At the time, the council voted by unanimous decision to award a public bid contract to AT&T for the construction and maintenance of a cell tower facility at the Conservation Center on Lamberts Mill Road.
Councilman Mark Parmelee said ahead of the vote that the project should help to close the cell-service coverage gap on the south side of town, which in turn should provide better access to emergency channels.
"The tree monopole benefits primarily private interests," Mr. Santagata stated in the lawsuit. "While it will provide tangential benefit to Westfield and to emergency services by use of another monopole, Westfield and its emergency services do not need this particular tree monopole to be located at the [conservation center]. There is no significant public purpose served by the tree monopole, other than the otherwise unrelated construction of a bathroom and other facilities in a completely different zone where the tree monopole would more properly be located."
According to the November resolution, AT&T will lease the space from the town for an initial annual rent of no less than $45,000, plus annual rent increases of 3 percent. Mr. Parmelee also noted in November that the provider has agreed to an upfront payment of $100,000 that will be utilized to improve parking and pedestrian safety at Houlihan/Sid Fay Fields.
The resolution states that while the town did solicit bids in accordance with the New Jersey Local Public Contracts Law, AT&T was the only respondent.
Town records indicate that an earlier request for proposals to install the monopole at Houlihan/Sid Fay Fields did not elicit any responses.
According to the Westfield Town Code, the conservation center, located at 1300 Lamberts Mill Road, is situated in a single-family residential zone (RS-24). While the code indicates that the permitted principal uses for property should be limited to "single-family residential uses in detached single-family residential structures, public parks and playgrounds and community residences and shelters," it also includes antennas among its list of acceptable accessory uses.
According to New Jersey state law, government entities have a right to subvert local zoning regulations for projects and installations on their own properties.
Still, Mr. Santagata wrote, "Westfield's lease of the Property for the tree monopole is a primarily profit-making endeavor and therefore not exempt from zoning regulation merely because it is municipally-owned property."
The suit also alleges that in agreeing to lease the property to AT&T, Westfield has violated a 1964 settlement agreement with Scotch Plains that allegedly prohibits any kind of "industrial use" at the conservation center.
Mr. Munsky is seeking (among other judgments acknowledging the "arbitrary and capricious" nature of the lease and the validation of the 1964 agreement), a judgment requiring Westfield to consider "reasonable alternative locations" for the project and to hold public hearings in order to establish a record.