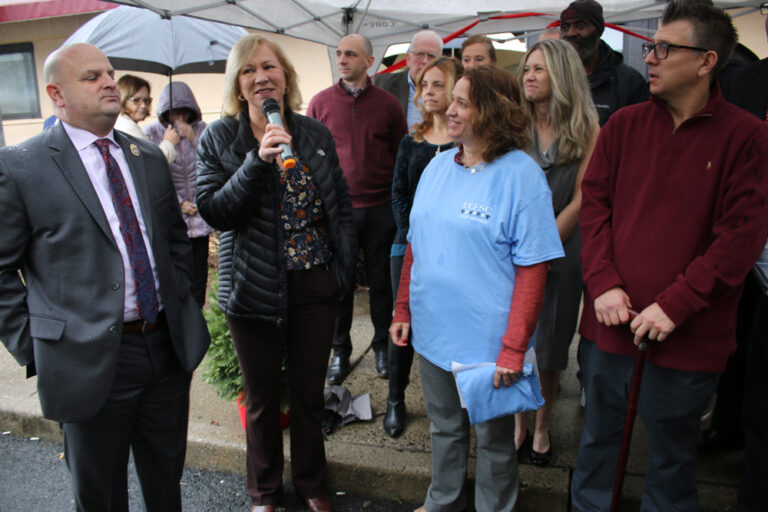 Lamberts Mill School Reopens After Ida Flood Destruction
WESTFIELD — After nearly three years of pandemic-related challenges, detrimental flooding and temporary displacement, the staff, teachers and administrators of the Union County Educational Services Commission (UCESC) were finally able to step through the doors of their school on Lamberts Mill Road on Tuesday to get ready to welcome their students back to class.
To say that the past several years have been a whirlwind would be a drastic understatement, Superintendent Carrie Dattilo said Tuesday, speaking from beneath a rain-soaked canopy.
"I think a lot of us have joked about the rain today being symbolic, but in a lot of ways, it's true," Ms. Dattilo said. "Even though it's pouring right now, our building is standing, there is no water flowing through it, and most importantly, we're all still here. I think this just proves that no matter what the world throws at us, we're going to do what we have to do for our students."
The UCESC building, located at 1571 Lamberts Mill Road, plays host to three separate educational facilities: Hillcrest Academy South (an alternative high-school program for general and special-education students who are unable to achieve success in traditional academic settings); Lamberts Mill Academy (an individualized instruction program for high-school students with emotional and behavioral disabilities); and Westlake School (an academic and pre-vocational program for middle- and high-school students with cognitive impairments, physical and other disabilities and students with Autism spectrum disorder).
"Every single one of our students has their own unique situation to contend with, their own personal challenges to overcome," Ms. Dattilo said Tuesday. "This has never been a one-size-fits-all type of school."
When, on March 13, 2020, the nation shut down due to Covid-19, the administration of the Union County Educational Services Commission scrambled to make the transition to at-home schooling as easy as possible for its at-risk population of children and young adults.
"Some of our students — the kids who were already comfortable with Chromebooks and other types of technology — were able to navigate the change fairly well. We have other students, however, who require a much more hands-on experience," Ms. Dattilo said.
With less than a full day to prepare, teachers, especially those from Westlake School, hurried to assemble personalized take-home education packets for each of their students.
"It was honestly nothing short of madness," Ms. Dattilo said, adding that factors like Individualized Education Programs (IEPs) and the unique needs of each student also had to be taken into consideration. "Teachers were trying to print out workbooks, to grab different materials — they were basically trying to shrink their classrooms down to size to make it work."
At-home instruction proved to be a challenge in and of itself, Ms. Dattilo said, given the already-challenging situations that the students and their families were facing.
"One of the only similarities that exists between our students is that routine can be very important. The pandemic was clearly very disruptive in that regard, and we all just hoped that things would clear up as quickly as possible so that we could get back to something resembling normalcy," Ms. Dattilo said.
Unfortunately, however, in 2021, Hurricane Ida swept through New Jersey, leaving a wake of devastation in its path. The water rose so quickly around the school building, Ms. Datillo said Tuesday, that three members of the custodial staff ultimately had to be rescued from the roof by the Westfield Fire Department.
Despite the best efforts of the staff to save it, the school at Lamberts Mill Road was irrevocably damaged in the storm, rendering the building uninhabitable.
Thanks to some quick thinking by town officials and other community members, however, the UCESC was able to find temporary locations for all three of its displaced programs.
"Westfield Mayor Shelley Brindle introduced the UCESC to HBC, Inc., owners of the vacant Lord & Taylor building on North Avenue West, in an effort to create a collaboration for a fast solution," the UCESC said in a recent press release. "HBC quickly rose to the occasion and facilitated the reconfiguration of the second floor of the former shopping haven into two schools — Lamberts Mill Academy and Hillcrest Academy South."
The two displaced schools were able to open in their new temporary location in January of last year.
Westlake School, meanwhile, was able to transfer its operations to the former site of the Holy Spirit parochial school in Union, which never re-opened following the Covid-mandated shutdown in 2020.
"While these may not have been ideal learning environments for our students, we were able to make it work thanks to the tremendous support that we received from the community," Ms. Dattilo said, adding that once the needs of the students had all been met, renovations to the building on Lamberts Mill Road became a top priority for the commission.
"Basically, the only things that we were able to save were the doors," Ms. Dattilo said, guiding visitors through a tour of the building on Tuesday. "Everything you see in here — the walls, the floors, the desks, the classroom materials — it's all brand new."
Mayor Brindle, who first became involved with the school when Westfield Police Chief Christopher Battiloro asked her to tag along while he spoke with FEMA representatives after the flood, said the transformation in the building was "nothing short of remarkable.
"I think there's a lesson in resilience in this for all of us," the mayor said. "When people come together and work to find solutions, even if they're not the most conventional, we can all come out better for it on the other end."
Throughout the long and arduous ordeal, Ms. Dattilo said Tuesday, no one individual connected to the project so clearly personified the idea of resiliency better than the commission's former superintendent, Michael Kowalski, who was involved in a serious car accident just a few short weeks after the building was damaged.
"After the flood, [Michael] was here at four in the morning, trying to get things put back together. His leadership, his perseverance, were really what got us started on the path to getting back here," she said.
Mr. Kowalski was greeted with a warm round of applause and officially welcomed back to the commission during Tuesday afternoon's opening remarks.
Students were able to return to the building for in-person instruction on Wednesday.