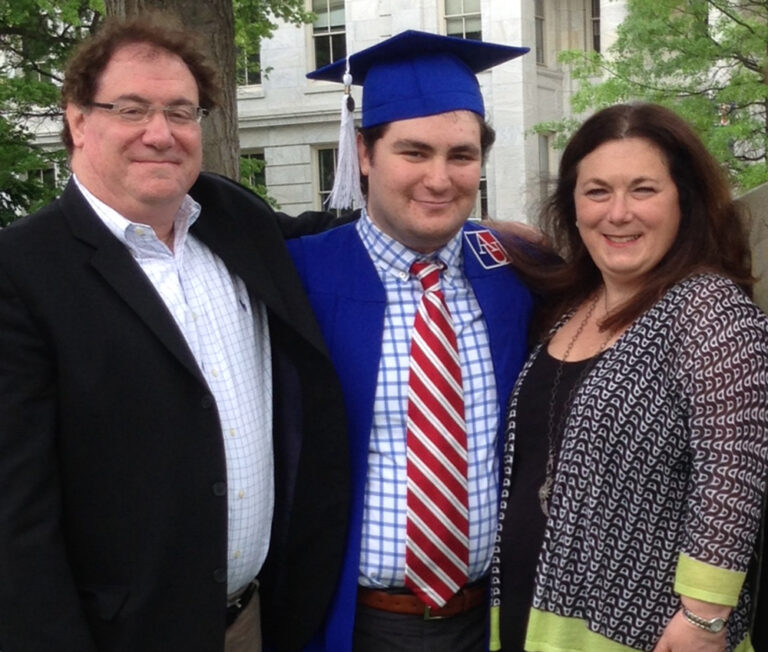 Family Spreads Awareness In Honor of Their Son
WESTFIELD — When David Kabakow, 23, awoke on the morning of August 3, 2015, something felt off.
"He said he wasn't feeling well and had decided to stay home from work," David's mother, Robin Kabakow, said, speaking with The Westfield Leader last week. "I wasn't that concerned. I think I went to the gym, maybe ran to the grocery store, but when I came home, his fever was up to 103.5 and he had a terrible cough."
They decided to get David checked out at a nearby urgent care facility where he was diagnosed with pneumonia and sent home to rest.
The family had no idea how frightening things were about to become.
"He woke us up in the middle of the night saying he couldn't breathe," Mrs. Kabakow said. "We rushed him to the hospital, and they immediately hooked him up to life support. It all happened so fast."
The Kabakows were told that David had double pneumonia and Acute Respiratory Distress Syndrome.
His body was shutting down.
David was put into a medically-induced coma and transferred to Columbia Presbyterian Hospital in Manhattan.
After two weeks of various tests, Mrs. Kabakow said, the doctors performed a bone marrow biopsy and confirmed that David was suffering from a rare and often fatal condition called Hemophagocytic Lymphohistiocytosis (HLH).
According to information provided by the Dana-Farber Cancer Institute, HLH causes certain white blood cells (histiocytes and lymphocytes) to build up in and damage organs, including the bone marrow, liver and spleen, and destroy other blood cells. Some symptoms of the condition include fever, anemia, abdominal pain, weight loss, jaundice and enlarged lymph nodes.
After spending nine weeks in the hospital, David was finally able to come home to his parents' house in Westfield on the condition that he continue outpatient treatments, like chemotherapy, with his doctors in New York.
"Although we knew that we had a long road ahead of us, we were optimistic about his recovery," Mrs. Kabakow said.
Unfortunately, on October 23, 2015, just a few short months after being told he probably had pneumonia, David suffered a bad reaction to his final round of chemotherapy and passed away.
"No parent should ever have to lose a child," Mrs. Kabakow said. "David was an incredible person, a loving son and a young man with a bright future in front of him. There isn't a day that goes by that I don't wish he was still here with us."
Though David's passing was a terrible tragedy, the Kabakows vowed that they would find a way to create a lasting legacy in his name.
Ultimately, Mrs. Kabakow and her husband, Mark, established the David J. Kabakow Foundation to help fund medical education and research about HLH.
"The problem with this condition is that because it's so rare, doctors don't even know to look for it, especially in adults," Mrs. Kabakow said. "Our goal is to raise awareness for HLH among the medical community so that, hopefully, doctors will be able to find the right diagnosis more quickly and give others a better chance for recovery."
Last year, the Kabakows received official confirmation from the Brigham and Women's Hospital (Mass General Brigham) that the hospital would be establishing The David Kabakow Lectureship in Adult Hemophagocytic Lymphohistiocytosis, headed by Dr. Nancy Berliner, M.D.
"We're thrilled," Mrs. Kabakow said. "This is such an important step. We recently made our first donation of 50 percent of the total commitment to establish the lectureship program. Once we reach our goal, the lectureship will start with the first presentation in the Spring. This lectureship will create a legacy in David's name and will continue in perpetuity."