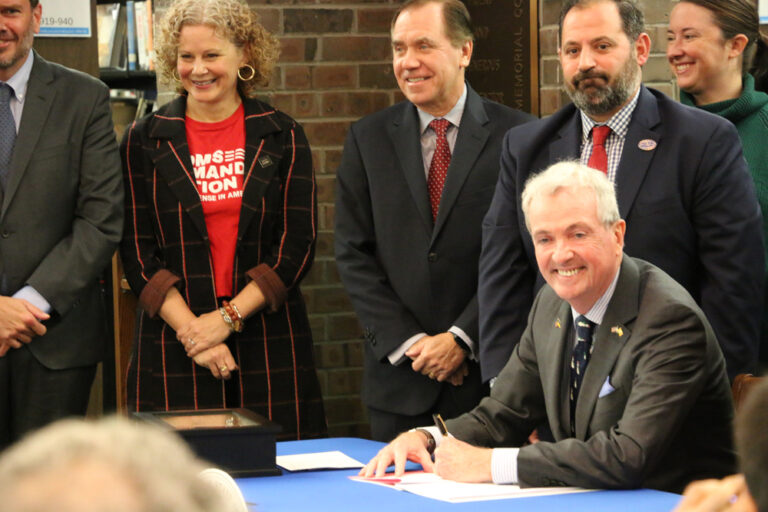 Gov. Murphy Signs Gun-Control Bill, Prepares For Legal Fight
SCOTCH PLAINS — When the Supreme Court ruled a long-standing New York gun-control act as unconstitutional earlier this year, states like New Jersey (historically home to some of the nation's most severe gun restrictions) began to work to reconcile the need for compliance against the safety and security of its residents.
On Thursday, Governor Phil Murphy traveled to the Scotch Plains Public Library to sign off on new legislation (S-3214/A-4769) that will more strongly codify the state's position on concealed weapons, their ownership and their legality in certain spaces.
"Today's bill signing is the culmination of months of negotiations between this administration and our partners in the Legislature, delivering on the promise I made this summer to keep New Jersey safe in the aftermath of the Supreme Court's awful decision," Governor Murphy said.
Among other provisions, the legislation: establishes a thorough vetting process for those who apply for concealed carry permits by increasing the number of non-family references who must vouch for applicants; prohibits permit holders (with the exception of active or retired police officers) from carrying handguns in more than 20 categories of "sensitive safety locations," including schools, government buildings, polling places, bars and restaurants, theaters, sporting arenas, parks, airports, casinos and childcare facilities; requires private property owners to opt into allowing permittees to carry on their premises; requires concealed carry permittees to undergo gun-safety training, including a gun-range qualification; imposes new insurance requirements on concealed carry permit holders to ensure victims are appropriately compensated and protected; and increases permitting fees across the board to cover the cost of stepped-up background checks and these new provisions.
Some of the funds collected through the increased permitting and application fees will be funneled into the state's Victims of Crime Compensation Office.
In the seven months that have passed since the Supreme Court decision, local municipalities have seen a dramatic increase in the number of concealed carry permit applications that are being submitted.
"Adding more guns to a situation doesn't usually make it better," Senate President Nick Scutari, who co-sponsored the bill, said Thursday. "I did not grow up in a New Jersey where people were carrying guns on their hips and walking into the Starbucks to get coffee in the morning. I don't think these people that are waiting in line to get a concealed carry permit in New Jersey understand the responsibility that comes with carrying a firearm."
Others have argued that the state has overstepped its bounds.
On Thursday, shortly after the new legislation was signed, the Association of New Jersey Rifle & Pistol Clubs filed suit against State Attorney General Matt Platkin's office, citing what it alleges to be unconstitutional language.
"The State of New Jersey has, apparently, not gotten the message. Having lost the ability to suppress the fundamental right to bear arms in public through its now dead and buried justifiable need requirement [which, among other restrictions, was struck down by the Supreme Court decision in June], New Jersey has shifted gears and has made a permit to carry a handgun utterly useless," the lawsuit, titled Siegel v. Platkin and filed in U.S. District Court, states. "New Jersey has passed a new law, Assembly Bill A4769, which allows a permit holder to carry almost nowhere in the State. New Jersey has simply changed its approach from one unconstitutional law to another."
Mr. Platkin said Thursday that his office is prepared to stand firm against this and any other lawsuits that could be coming down the pike.
"If a challenge comes, we are more than ready to defend it," he said.
Governor Murphy was joined on Thursday by Mr. Platkin along with Mr. Scutari, Union County Commissioners Rebecca Williams and Al Mirabella, Scotch Plains Mayor Josh Losardo, other elected officials and a host of representatives from Moms Demand Action, a grassroots organization that fights for stricter gun control across the nation.
"Nothing under the Second Amendment prevents us from doing what the legislature and the governor are doing today. These steps are common sense, and they are entirely consistent with the Second Amendment. Saying you can't bring a concealed firearm into a school or a daycare is common sense," Attorney General Platkin said.
The bill, Governor Murphy said, has received support from the New Jersey State Policemen's Benevolent Association, the State Troopers Fraternal Association of New Jersey, the Association of Former New Jersey State Troopers, and the New Jersey State Troopers Non-Commissioned Officers Association.
Governor Murphy said Thursday that he expects the legislation to hold up as constitutional in court.