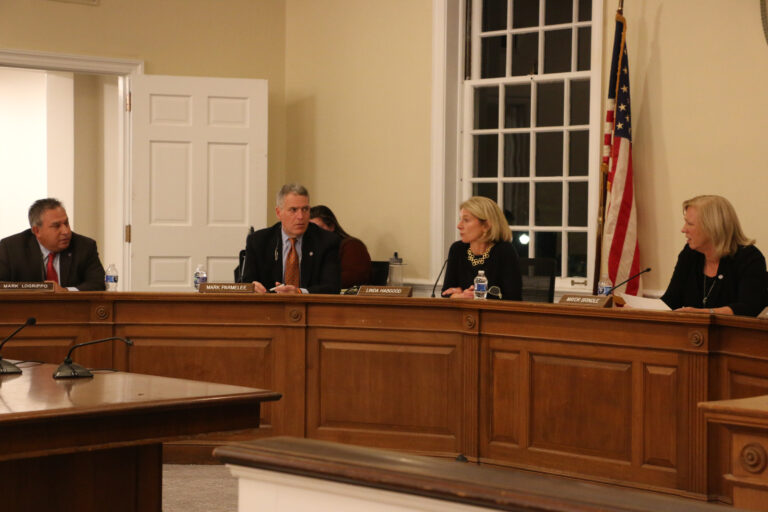 Town Officials Clash Over Redevelopment Plans
WESTFIELD — A regular meeting of the Westfield mayor and council took an unexpected, if not slightly contentious, turn on Tuesday when Mayor Shelley Brindle attempted to engage Councilman Mark LoGrippo in a public conversation about the potential financial impact of the town's proposed downtown development.
Last week, Mr. LoGrippo voiced his opposition both via social media and a letter to the editor published in The Westfield Leader to several components of a major mixed-use redevelopment plan proposed by HBC|Streetworks. The plan as presented calls for the installation of 138 residential apartments and 16 town homes for the 55-plus community; 69 traditional and loft-style apartments; more than 300,000 square feet of office space; 25,000 square feet of retail space; and two public parking garages.
The proposal also includes provisions for open green spaces on either side of the train station, along with numerous pedestrian and vehicular modifications.
"During the pandemic in 2020, the Mayor and Town Council passed an ordinance over my objection designating the Lord & Taylor site and our municipal parking lots as in need of redevelopment. StreetWorks was designated as the sole redeveloper of its property and all those municipal lots without a public and transparent request for proposals process," Mr. LoGrippo wrote in his statement.
He listed the proposed implementation of a 30-year PILOT (Payment In Lieu of Taxes) and the potential impact of the project on traffic and congestion in the downtown areas among his other chief areas of concern.
"I strongly believed then, and still do now, that before entering into such a significant agreement the Town should have participated in a competitive, open bid process, so that we as taxpayers could receive the maximum value in return from interested developers," Mr. LoGrippo's published statement continues.
Mayor Brindle asked him to clarify his position towards the tail end of Tuesday night's meeting, noting that she "saw a letter that Councilman LoGrippo wrote that…was full of many inaccuracies."
"I find it funny that now you want to speak to me, but every time I try to speak over here, you shut me down," said Mr. LoGrippo, who has often been asked by the mayor to limit his comments during public sessions to appropriately-designated time slots.
"Well, that's why I'm offering you the opportunity tonight," Mayor Brindle replied.
The two officials then began a heated back-and-forth conversation about the particulars of the project and its projected costs, specifically those pertaining to a proposed PILOT agreement between the town and HBC|Streetworks.
PILOTs, defined by the state of New Jersey as a long-term tax abatement option to encourage development in areas where it otherwise might not occur, originated in the 1970s. The statute (N.J.S.A. 40A:20-1) provides that a "developer and municipality can agree for the developer to pay a percentage of a development's revenues for up to thirty (30) years rather than pay traditional taxes on the buildings constructed on the site." It should, however, be noted that PILOTS only apply to the value of any improvements made to the property (like residential buildings, office complexes and parking decks), and not to the value of the land itself. The value of any land either already owned by HBC|Streetworks or obtained by the developer through the terms of the as-of-yet-undecided redevelopment agreement, Mayor Brindle said Tuesday, will still be subject to traditional taxation.
Though the terms of the HBC|Streetworks PILOT have not yet been established, the town notes on its website that based upon projected revenue, the project is anticipated to generate payments to the town in excess of $200 million over 30 years, versus $2.7 million if taxed conventionally over the same period.
Still, Mr. LoGrippo said, given the nature of how PILOT funding is traditionally allocated (typically, municipalities are entitled to keep 95 percent of any profit generated by a project, while the remaining 5 percent goes to the county).
"When we did this the last time, the schools weren't included," Mr. LoGrippo said Tuesday, referencing a 2021 PILOT agreement between the town and WC North Urban Renewal, LLC., the development entity behind Westfield Crossing. In certain circumstances where the student population is expected to swell due to the residential component of a given redevelopment project, considerations can be made to include a board of education in the PILOT agreement. In the case of the HBC|Streetworks proposal, however, 154 of the proposed 223 residential units will be restricted to residents over the age of 55, which the town states on its website will be unlikely to lead to any undue financial burden for the Westfield school district.
"Additionally, it's important to remember that the schools will always be fully funded, PILOT or no PILOT. By law, the board of education is guaranteed full funding of its budget regardless of what the municipality collects.
While the Town of Westfield serves as the property tax collector, the School District always receives its full funding first, followed by the County, and the municipality is paid last. Any suggestion that the schools will be under funded as a result of a PILOT is not correct," the town states in a recently-published FAQ section of its website dedicated to the project.
"Why would you write a letter to the editor when you don't have the information?" Mayor Brindle asked Mr. LoGrippo on Tuesday. "I'll give you the facts."
"Oh, okay, are they your facts, or are they real facts?" Mr. LoGrippo countered.
Mayor Brindle said that when she sat down with Westfield Superintendent Raymond González, Ed.D., School Board President Brendan Galligan and district Business Administrator Dana Sullivan following an initial HBC|Streetworks public presentation, "they weren't worried about PILOTS."
"But do they fully understand it?" Mr. LoGrippo asked.
"Of course they do," Mayor Brindle said. "The schools are not worried, and they'll flat-out acknowledge that."
Mr. LoGrippo then turned the conversation to the public bidding process, asking, "if you're going to go out and sell the town's biggest assets [land], and I'm not saying you shouldn't, why wouldn't you see if someone else would give us more for it?"
While public bidding is considered standard operating procedure in most traditional development cases, redevelopment, at least according to the state of New Jersey, is a different animal altogether.
According to the state's official statute on conveyance of municipal property (NJSA 40A:12A-8(g)), a municipality has the legal option to work with any developer that it chooses "without public bidding and at such prices and upon such terms as it deems reasonable" as long as the arrangements are finalized in a designated redevelopment agreement.
"Negotiating with a single redeveloper allows the town to insist that the redevelopment project puts forth consistently-implemented public improvements and amenities for the entire community, something that you would not get with individual offers," Mayor Brindle said.
As town officials continue to work to navigate the redevelopment process, Westfield residents are now invited to make an appointment to speak with the developers directly at a new preview center dedicated to the project and located at 76 Elm Street.