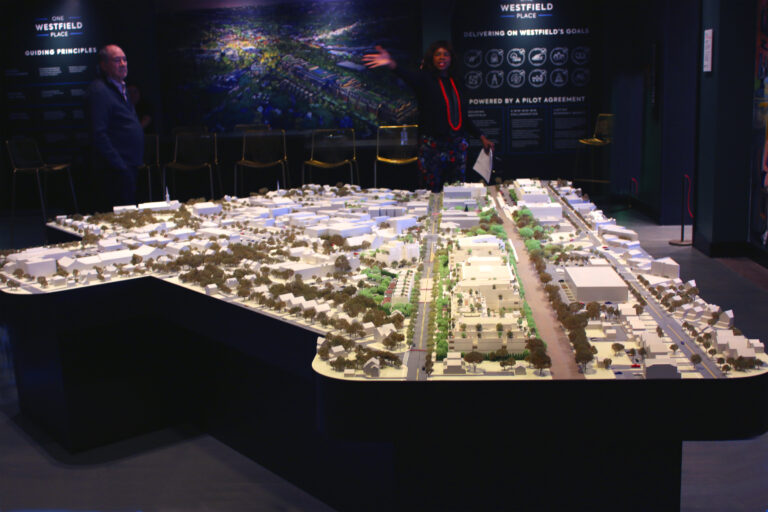 HBC|Streetworks Unveils Preview Center For One Westfield Place
WESTFIELD — Though it will still be quite a while before shovels hit the dirt, HBC|Streetworks Development celebrated a major milestone in its One Westfield Place timeline on Tuesday when it welcomed the first guests to its new preview and information center on Elm Street.
"Our goal with this space was to create a unique and bespoke opportunity for the Westfield community to immerse itself in a conversation about this proposed development," said HBC|Streetworks Development Chief Communications Officer Trenesa Danuser. "We have been working in close collaboration with the town for about three years now, but this is a brand-new opportunity for the community to see that we are very interested in listening to what they have to say."
The walls of the center are decked out with interactive displays, historic photos and digital renderings of the proposed mixed-use redevelopment. The center, which currently is open by appointment only in order to facilitate better foot traffic through the space, also includes numerous ways for residents to leave their comments, questions and ideas about the project.
The undeniable centerpiece of the space, however, is the massive scale model of Westfield's downtown as it might look if One Westfield Place gets its requisite approvals.
"I've been developing for about 25 years, and if I have a specialty, it would probably be large-scale, complicated public-private partnerships like this one. This is what I love," said HBC|Streetworks Senior Vice President Douglas Adams. "You'll see around the walls here all of these different components — the uses that we're proposing, the people that make up the community and all of these interesting things, but the first thing everyone notices is the model. Everyone wants a look at this thing."
The built-to-scale, hand-crafted model covers the downtown area in its entirety, from the South Avenue train station parking lot out to Town Hall and Mindowaskin Park. It features working lights to help illuminate certain aspects of the redevelopment project and tiny detailed replicas of popular Westfield landmarks like the World War I monument, the old train depot and even the town's beloved Christmas tree.
"I've been doing this for a long time, and through a lot of trial and error, I've learned how to get the conversation started," said HBC|Streetworks Co-founder Richard Heapes. "It's a great way to get people in the door, and once they're here, hopefully they'll give us some feedback. I know we keep saying this, but we really mean it — we want to hear from you. We want to hear from residents, business owners, anybody with a vested interest in the future of this community."
The model, which had to be delivered in pieces and assembled on site, took over a year to build, Mr. Heapes said.
And while the model does make for a fascinating visual (it even has tiny cars!), the true purpose of the center is to allow residents to ask questions of the HBC|Streetworks team.
The current proposal, first revealed during a recent meeting of the Westfield mayor and council, calls for mixed-use development at several key sites along the railway line. According to information provided by HBC|Streetworks, One Westfield Place will include 138 residential apartments and 16 town homes for the 55-plus community; 69 traditional and loft-style apartments; more than 300,000 square feet of office space; 25,000 square feet of retail space; and two public parking garages.
The proposal also includes provisions for open green spaces on either side of the train station as well as numerous pedestrian and vehicular improvements to the community.
"Our development really revolves around the train station," said HBC|Streetworks Vice President of Development Carolina Simon. "One of our main goals is to calm the traffic flow along North Avenue by introducing pedestrian-friendly improvements that will encourage motorists to slow down."
Of particular note, Ms. Simon said, is the plan to realign the North Avenue end of Elm Street to feed directly into what is now the North Avenue train station lot.
"We have heard from a lot of people that this is a problematic area, and after looking at the intersection and consulting with our traffic engineers, we have to agree," Ms. Simon said. "We want to connect the Lord & Taylor site to the rest of the downtown area, and we hope to do that by creating a more walkable corridor between the two sites and making it safer for both drivers and pedestrians."
The two proposed parking garages — one on South Avenue and the other on North Avenue West — Mayor Shelley Brindle said, should also help to mitigate some of the town's existing parking challenges.
"We can attribute so much of our congestion to people driving around and looking for a place to park," she said. "What I really like about this is that it would guide people to specific locations and alleviate the need to keep circling the block."
The plan, Mayor Brindle continued, will be to swap out the commuter parking spots lost to the proposed South Avenue office complex at a 1:1 ratio between the two garages and about 168 surface-level spaces.
All of the private developments (i.e. the residential buildings slated for the Lord & Taylor parking lots and the proposed South Avenue office complex) will have their own underground parking garages for use by commercial tenants and residents, Mr. Adams said.
The 500-plus spaces that currently are proposed for underneath the South Avenue office complex, Mr. Adams explained, will also be made available for the public during off-peak hours like nights and weekends.
The development project as presented is not expected to reach all the way to Central Avenue, Mr. Adams said, as several privately-owned parcels abut the proposed boundaries of the project.
"We would hope that a development like this will cause other land owners to come in with plans with their projects, either to improve what's there or create something new, but we didn't want to include anything that isn't in our control," he said.
For now, however, the proposal is still, as Mr. Adams said, "completely conceptual."
Going forward, HBC|Streetworks will need to reach an agreement with the town for the acquisition of certain properties — namely the South Avenue train station parking lot and a portion of the parking lot at North and Central Avenues, slated for residential development.
"Just to be clear, any sale would be subject to an independent audit of fair market value," Mayor Brindle said. "There are obviously still some points of this deal that need to be worked out, but there were some general parameters that we were very insistent about, and one is that we intend to mitigate taxpayer risk at all costs."
The two public parking decks would remain as town property, Mr. Adams said, and any revenue generated by them will continue to go back to the town.
Additionally, the town currently is considering using some of the proceeds from the development to expand the Central Avenue firehouse, allowing the North Avenue firehouse to be converted to community space.
"Ultimately, we hope to be able to accommodate anyone who wants to stop by for a walk-in visit, but for now, we want to make sure that people really have the opportunity to ask their questions and get our full attention," Ms. Danuser said. "We want as many people as possible to stop in and check it out. We're very excited about what this preview center means for us and for the community, so please, make an appointment and come by for a tour."
The HBC|Streetworks Development preview center is located at 76 Elm Street in downtown Westfield.