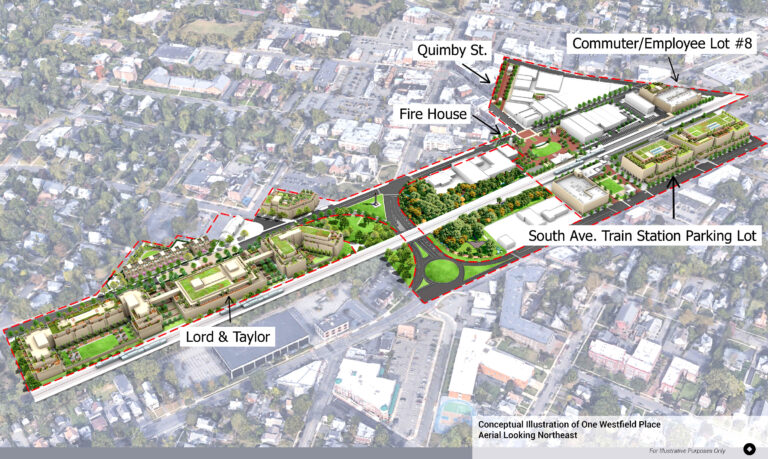 Westfield Unveils Redevelopment Plans
WESTFIELD — After several years of behind-the-scenes planning and months of local speculation, Westfield residents got their first look Tuesday night at conceptual plans for a major redevelopment project that could redefine the community for decades to come.
The project, dubbed One Westfield Place, is being proposed by HBC (a real estate holding company known locally as Hudson's Bay Company) and its development division, Streetworks.
Tuesday night's public presentation, held during a regular meeting of the Westfield mayor and council, detailed preliminary plans for 731,000 square feet worth of residential units, parking garages, office space, public-use areas, restaurants and retail establishments spread across numerous downtown parcels. The sites span the former Lord & Taylor property, including its parking lots, which are owned by HBC|Streetworks; the North and South Avenue train station parking lots and the parking lot at the North and Central Avenue intersection which are owned by the Town of Westfield.
The two-hour presentation, which concluded with a question-and-answer segment between members of the council and the developers, represented, as Mayor Shelley Brindle said, the start of a "lengthy public-input process" that will likely continue well into the new year.
"[Tonight's proposal] is the culmination of over three years of collaboration with and input from residents and community organizations across our town," Mayor Brindle said, noting that the downtown area has been struggling for quite some time due to a number of factors, including the shift to online retail, dwindling foot traffic and long-standing issues like parking and infrastructure. "When Lord & Taylor closed in 2020, it leant an even greater urgency to addressing our downtown challenges," she stated.
According to the HBC team, the Lord & Taylor building (or at least some of its more notable elements) will be preserved as part of an adaptive reuse proposal that would seek to see the structure converted into a mixed-use compound comprised of 100,000 square feet of office space with 13,000 square feet of street-level retail options. The building would serve as one of the project's central hubs, said Doug Adams, HBC's senior vice president of development, and would be flanked on either side by residential, 55-plus complexes.
"The Lord & Taylor building has never fully connected with the downtown business community," Mr. Adams said. "Our project will connect our building with the train station downtown and the downtown commercial area to make a true triangle that brings everything together to create long-term, sustainable vibrancy."
Like all redevelopment projects, One Westfield Place will be subject to certain procedural requirements like an official public hearing and approval by the council, planning board and numerous other entities before construction, or even more detailed site-plan discussions, can begin.
The project is slated to be completed through Westfield's second PILOT (Payment In Lieu of Taxes) program, an incentive tool commonly used in municipal development that allows government entities to, as HBC explained in a press release about the project's launch, "incentivize developers to redevelop key sections of the communities and provide meaningful public improvements that otherwise would not be possible." In this case, Mr. Adams said, One Westfield Place is expected to generate upwards of $200 million for the community over the course of the next 30 years if things play out according to plan.
Some of the proposed public improvements attached to the HBC PILOT include two municipal parking garages; a new "mobility hub" designed to promote easier walking and biking access to the downtown area; new green spaces; streetscape enhancements; traffic improvements (including new signals and a more streamlined ingress from Elm Street to the North Avenue train station); and upgraded storm-water infrastructure in and around the project's main development sites.
Ultimately, Mayor Brindle said, the town also will be able to use some of the funds generated by the PILOT agreement to fund other community projects, like a new firehouse.
In the coming weeks, HBC intends to open a preview center for the project on Elm Street where residents will be allowed to ask questions, weigh in and view a 3D model of the proposed development.
"The final outcome will only be as good as the public input [that the developers] receive, so please let them know what matters to you," Mayor Brindle said. "I would encourage everyone to make time to visit the preview center and provide feedback on the things that matter to you the most."
And while One Westfield Place is still in its most conceptual stage of development, Streetworks representatives were able to provide some early insight on Tuesday as to what the project could ultimately look like for the community.
Housing
As presented, One Westfield Place will include 138 residential apartments (located at the current Lord & Taylor site) and 16 independent townhouses (slated to be constructed across North Avenue on what is now an empty lot) for residents over the age of 55 as well as another 69 traditional and loft-style apartments comprised of one- or two-bedroom units on a separate North Avenue parking lot to the east. The inclusion of so many senior housing opportunities, Mayor Brindle said, will help older Westfield residents to age in place without having to leave the community behind. Given its target demographic, the project is unlikely to have much of an impact on the local school system, according to the mayor.
On average, said HBC representative Carolina Simon, the project will be adding "less than 25 residential units per acre" as development continues.
Though the numbers have yet to be finalized, HBC said in its press release that "all residential housing will comply with New Jersey's Affordable Housing requirements" and should help the town to meet its state-mandated obligations in that regard.
Office Space
One of the largest pieces of the One Westfield Place puzzle will be the 300,000-plus square feet of proposed office space slated to be split between the Lord & Taylor site and the current South Avenue train station parking lot.
While office culture has shifted in recent years due to pandemic-related challenges, Councilwoman Dawn Mackey said Tuesday that there is still a real need for brick-and-mortar space within the local community.
"I'm not sure that the public is aware of this, but over the last couple of years, we have lost several hundred [commercial] tenants," Councilwoman Mackey said. "I've had conversations with multiple high-end companies that would bring a lot of good jobs into the area and who would like to come here, but as of right now, we don't have what they're looking for. When we lost those downtown offices, we lost tenants, we lost foot traffic."
The Lord & Taylor building, according to Tuesday night's presentation, would be converted into 100,000 square feet of leasable space situated over 13,000 square feet of retail establishments and restaurants. The South Avenue site, meanwhile, would be converted from an open-air parking lot into two mixed-use facilities collectively comprised of 210,000 square feet of office space and 12,000 square feet of retail.
Parking, traffic and infrastructure
The project as presented also calls for the installation of two multi-story public parking decks (one of which would be constructed to the west of the proposed South Avenue office complex and the other at the intersection of North and Central Avenues) as well as private underground facilities at the Lord & Taylor site. All told, Mr. Adams said, the development could produce upwards of 600 spaces for residents, visitors and commuters.
As far as traffic patterns are concerned, Mr. Adams said Tuesday that the company will work closely with Kimley-Horn Engineering, a New York-based engineering firm, to conduct numerous traffic-impact studies around the community in the coming months.
Mr. Adams also assured the governing body on Tuesday that HBC and Streetworks would be working closely with local utilities like Elizabethtown Gas and American Water to ensure that the project does not have too much of an adverse affect on the community's infrastructure.