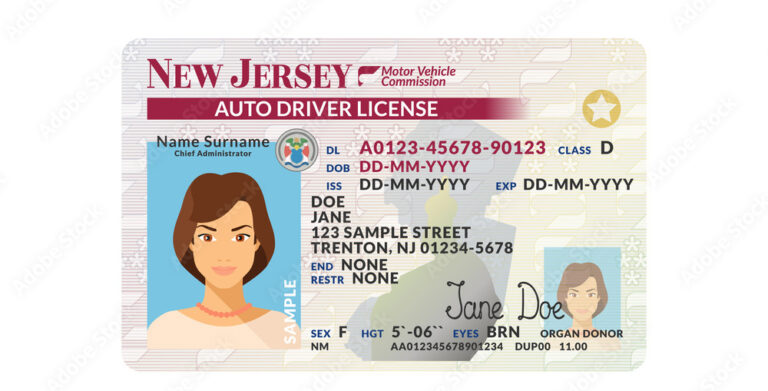 What It Means for N.J. Residents As Real ID Deadline Approaches
STATE – Domestic travelers who either do not have or do not want to carry a passport are coming up against a deadline to obtain the new federally-issued and allegedly more secure Real ID. Though the deadline to obtain the new ID has already been pushed back twice due to complications posed by the pandemic, officials said earlier this year that the current launch date of May 3, 2023 is not likely to be moved again.
As the deadline draws nearer, however, drivers across New Jersey have been left with more questions than answers: who needs a Real ID, how do you get one, and when should scheduling an appointment get bumped up to the top of the To Do List?
To begin with, no one is required to get a Real ID. Standard New Jersey driver's licenses can still be used when operating a motor vehicle, and non-driver IDs will still be considered valid in most circumstances. However, starting May 3, airline passengers on domestic U.S. flights will be required to bring either a Real ID, a passport, or some other federally-recognized form of identification (such as a permanent resident card, a U.S. Department of Defense ID, a Veteran Health Identification Card or a DHS trusted traveler card like Nexus or Global Entry) if they ever hope to make it past security.
The law enacting the new security measures was passed on the recommendation of the 9/11 Commission in 2005. New Jersey started issuing Real ID licenses and non-driver ID cards in September 2019 and has continued to roll out the new design ever since. Real IDs include various security features and digital photographs designed to make them more difficult to counterfeit, the New Jersey Motor Vehicle Commission (NJMVC) notes on its website.
According to information provided by the state, drivers can only obtain a Real ID license or identification card in person at a state Motor Vehicle Commission (MVC) licensing center.
"Real ID is available to all eligible applicants in New Jersey who will need one to fly domestically and enter certain federal facilities after next year's enforcement date," said New Jersey Motor Vehicle Commission Chief Administrator Sue Fulton. "The best way to get one is when you renew your license or ID. Remember, if you're getting a Real ID in New Jersey for the first time, you'll have to make an appointment for either a renewal or Real ID and go to one of the state's 24 Licensing Centers."
New Jersey residents whose standard licenses are set to expire before next year's deadline can upgrade to a Real ID during a walk-in visit to any participating MVC location. All other residents who hope to beat the lines at the airport, however, will have to make an appointment.
"If you don't have it, don't wait 'til April 2023," said Thomas Carter, the Transportation Security Administration (TSA) federal security director for New Jersey at Newark Liberty Airport, speaking during a press conference about the rollout back in May. Though the state has added thousands of appointment slots to its online registration system, the demand for the service still seems to exceed the current availability.
Appointment slots are filling up fast. There currently are no time slots available anywhere in Union County (Real IDs can only be processed at the Elizabeth or Rahway MVC locations within county limits) or any neighboring counties. Residents looking to obtain one may have to travel as far as Camden or Vineland for appointments in October.
Residents who wish to upgrade their standard license to a Real ID also will need to arrive prepared with all of the requisite documentation, including two verifiable forms of address (like a valid New Jersey driver's license, an unexpired lease agreement or first class mail from a government agency dated no more than six months back from the date of the appointment) and six points of primary source ID like passports, birth certificates, bank records or property tax assessments.
Residents also will need to provide proof of their Social Security numbers by either entering the information into a digital database at the MVC or providing acceptable documentation like a social security card, recent pay stub or 1099.
Since appointments are hard to come by, state officials are urging residents to bring along more documentation than may be necessary in order to avoid further delays.
"The NJMVC adds more appointments each day, but if the customer is not able to secure an appointment at a convenient time and is wary of running up against an expiration date, we'd recommend they renew online and secure a Real ID at a later date," said MVC spokesperson William Connolly during a 2021 interview with nj.com.
A standard New Jersey license/ID costs $24 and a Real ID costs $35, Mr. Connolly said.
"If the customer upgrades an existing license to a REAL ID, they will only have to pay the $11 difference, but they will keep the existing expiration date on the license," Mr. Connolly said. "If done at renewal, extending the license expiration out four years, the full fee for the standard license ($24) or REAL ID ($35) would have to be paid."