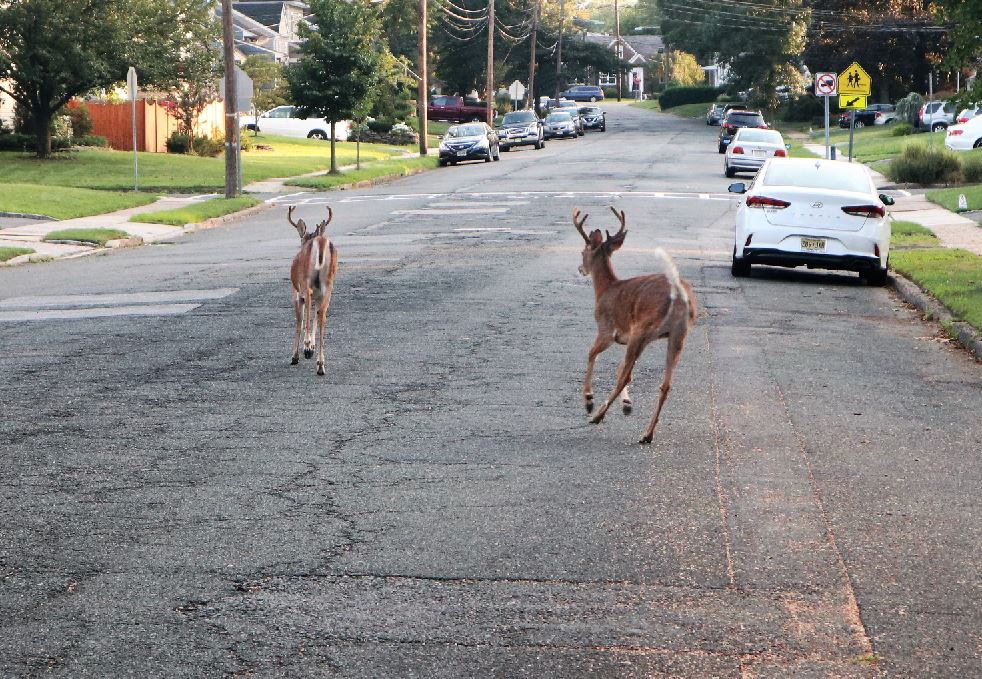 County Is Gearing Up for Deer-Management Season
COUNTY — Now that the summer season is starting to wind down, Union County bow hunters are gearing up for the kickoff of this year's deer-management program.
At a recent meeting of the Union County Board of County Commissioners, Ray Szpond, one of the program's volunteer coordinators, thanked the board for its continued support of the hunt.
"Through your efforts, we were able to provide a significant reduction in deer-related problems throughout the county this year. It was done safely and efficiently," Mr. Szpond said.
The 2021-2022 harvest yielded 229 deer, 120 of which were donated to Community FoodBank in Hillside.
"That number is usually quite a bit higher, but there was a tick-borne illness among the local herds last year that took out about 500 deer around the county," said Ron Zuber, director of the Union County Department of Parks and Recreation.
Even still, Mr. Zuber said, this year's donations helped to provide 3,125 pounds of food and approximately 12,500 meals to local residents in need. Hunters who choose to keep their deer for private consumption are welcome to do so, Mr. Zuber continued.
"We've had some opposition to the hunt from animal-rights groups, but the message that we always try to get across is that this is not a trophy hunt," he said. "This is strictly a wildlife-management program. Nothing is wasted.
When the deer population gets too large, the herds cannot adequately sustain themselves in their natural habitats, and that's when they start wandering into roads and communities."
Each year, up to 60 licensed hunters are selected to participate in the harvest from a pool of applicants by experienced coordinators like Mr. Szpond.
"We're not just handing people cross bows and wishing them luck. There is a careful vetting process involved in the selection. This is a pretty densely populated area, so we want to make sure that we're taking every possible precaution," Mr. Zuber said. "The deer hunt is an important wildlife-management tool for us and we don't take it lightly."
In order to be considered for selection, hunters must be at least 21 years old; be able to speak and understand the English language; possess a valid New Jersey Bow Hunting or All-Around Sportsman License; have at least five years of experience hunting white-tailed deer with archery equipment; and pass a marksmanship proficiency exam administered by the county.
Hunters also are required to attend an orientation session at the beginning of each season.
The 2022-2023 deer-management hunt will take place in two sections — one that will run from October 3 through December 30 and a second that will begin on January 2 and end on February 17. Hunting is only allowed on weekdays, when parks and other approved areas are less likely to be crowded.
According to information provided by the county, the goal of this year's hunt is to remove 50 deer from Watchung Reservation, 53 deer from Lenape and Nomahegan Parks, 70 deer from Ash Brook Reservation and Oak Ridge Park, 12 deer from the Passaic River Park in Summit, New Providence and Berkeley Heights, 10 deer from the Hawk Rise Sanctuary in Linden, and 39 deer from the Hillside and Union sections of Elizabeth River Park and Galloping Hill Golf Course.
"The purpose of this program is to prevent overbrowsing of native vegetation in the park areas and allow forest regeneration, minimize browsing of residential landscaping surrounding the park properties, and minimize the incidence of deer-related motor vehicle accidents," the county states on its deer-management home page. "Additional benefits that could result from this program are a reduction in the incidence of Lyme disease and an increased opportunity for homeowners to use and enjoy their yards for recreating and gardening."
While the 2022-2023 bow-hunting season has already been approved by the commissioners, other changes could be coming to the county's wildlife-management plan as a result of a new county-wide Open Space Master Plan, expected to be completed some time this fall.
The county sought public feedback about the plan and its intentions for the region during the spring of 2021. Once complete, the plan, which currently is being prepared by CME Associates to the tune of $167,500, will outline a new series of guidelines, goals and regulations for the county's 36 parks as well as wildlife-management areas and designated acres of open space for a period of 10 years.