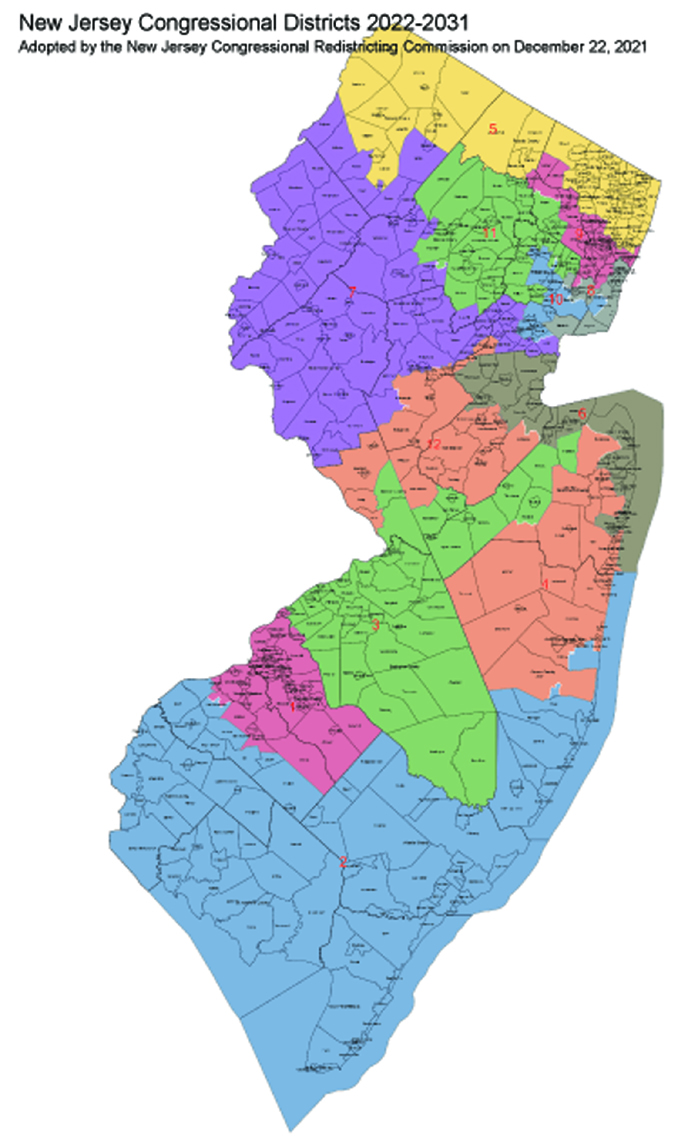 Contributions Pour In Over The Race For District Seven
TRENTON — When New Jersey opted to redistrict its congressional maps earlier this year, political analysts were quick to label 7th District Rep. Tom Malinowski (D-Ringoes) as a sacrificial lamb for the Democrats. As the campaign season ramps up and the donations begin to pour in, however, the race for control over one of New Jersey's most contested districts is shaping up to be a far more interesting one than anyone could have predicted.
To date, Mr. Malinowski, an incumbent seeking election to his third term, has raised $5,863,892 in campaign contributions to Republican challenger Tom Kean, Jr.'s $2,695,213. The numbers seem to support Mr. Malinowski's Primary season claims that while the new maps (which give Mr. Kean a clear advantage) could pose a challenge, his constituency was not ready to give up hope for a Democratic victory.
"We're just getting started," Mr. Malinowski's campaign manager, Stacy Cohen, said in April, noting that Mr. Malinowski managed to submit 3,526 signatures on his qualifying petition, more than all of the other Primary candidates (Democrat and Republican) combined. "Our petition results demonstrate the incredible level of grassroots enthusiasm and support that exist for our campaign, as well as the considerable organizational strength we've built so early on. Voters know what the stakes are this year, and trust Tom Malinowski to have their backs."
Though the numbers do matter, they do not always tell the whole story. At the state level last year, Republicans trailed far behind the Democrats in terms of contributions and spending, but the GOP still managed to pick up seven legislative seats. One of those victories notably went to 3rd District Senator Ed Durr, who spent less than $2,500 during his campaign to unseat longtime State Senate President Steve Sweeney.
Even before the districts were re-drawn (the historically Republican-held 7th District now includes 24 municipalities from Sussex and Warren counties, most of which carry strong Republican voting records), however, Mr. Malinowski's hold on the district was already growing tenuous. When he and Mr. Kean faced off in 2020, Mr. Malinowski won his seat by just 1 percentage point. Shortly thereafter, reports surfaced that Mr. Malinowski, an outspoken advocate for transparency in government, failed to disclose hundreds of thousands of dollars in stock trades in direct violation of federal law, which resulted in an ongoing House ethics investigation into the situation.
And while Democrats still outnumber Republicans in the state by 1,008,645, a recent surge in GOP registration has narrowed the gap considerably. In District 7, the most recent voter registration data reveals a fairly close split — 30 percent Democrats, 33 percent Republicans and 35 percent unaffiliated.
This year's campaign season, meanwhile, has seen both candidates fighting to air their positions on national-level issues like abortion rights and the role of sex education in schools.
In April, Mr. Kean launched a "Parents Voice Coalition" in order to help combat a curriculum that he said "went too far."
"Tom Kean, Jr. voted against this curriculum and Phil Murphy's agenda because as a parent and a legislator he knows it is wrong for these young children to be taught sex education which focuses on gender identity instruction and normalizing pornography," the organization, which links its website directly to Mr. Kean's contribution page, noted on its homepage. "Parents deserve a say as to what is taught in the classroom and they are currently not being heard. America's children, and especially New Jersey's children, have fallen behind after excessive lockdowns. Our K-2nd grade classrooms need to be places where respect for one another and age-appropriate core education are taught."
Mr. Malinowski, meanwhile, has openly voiced his opposition to the Supreme Court's recent decision to overturn Roe v. Wade.
"The Supreme Court has made a radical decision to upend 50 years of settled law that the overwhelming majority of Americans believe should remain in place," Mr. Malinowski said via press release in June. "This decision now allows states across the country to mandate pregnancies for victims of rape and incest, and to punish women for crossing state lines to seek necessary health care. Fortunately in New Jersey, our legislature passed and Governor Murphy signed a law codifying Roe v. Wade earlier this year. But our daughters, sisters, loved ones and dear friends living, working, and studying in other states will now be at risk. And our law in New Jersey would be eviscerated if a future Republican majority in Congress passes a nationwide abortion ban — which Republicans tried to do repeatedly when they were in the majority before, and have already told us they will try to do again."
In July, a political group calling itself the Moderate Party asked a state appellate court to consider re-instituting a process called fusion voting, which, in essence, would allow Mr. Malinowski to appear on two separate ballot lines in the upcoming election. Fusion voting, which has been banned in New Jersey since 1922, allows more than one political party to support a common candidate at the same time. Consequently, information provided by Ballotpedia explains, the name of a single candidate can, under this structure, appear on the same ballot multiple times under multiple party lines.
Though the courts have not yet reached a decision, Mr. Kean and other Republicans have called the push a "dishonest stunt."
"Perhaps Tom Malinowski simply thinks nobody would notice, or perhaps this is a more brazen attempt to subvert democracy and benefit his own political stock," Mr. Kean said in response to the proposal. "However you cut it — this is a dishonest attempt to fool voters in an astoundingly tough election year for Washington Democrats."