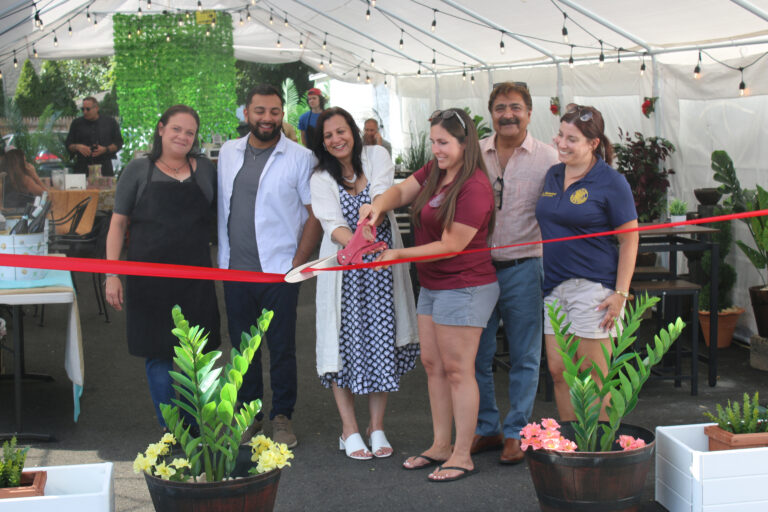 Dittrick's Celebrates Grand Opening of Beer Garden
GARWOOD — After a remarkably tough couple of years, the close-knit family behind Dittrick's Wines and Liquors raised a glass in celebration of some good news on Friday when they cut the ribbon on their new outdoor beer garden and community space.
"This, all of this, is our legacy," said Yash Jagad, who moved back from California several years ago to help his parents, Della and Utpal, run the store. "I have watched my parents put their souls into this business. They really believe in this community, and we're so excited to start this new chapter."
The Jagads purchased Dittrick's, a Garwood legacy business that has been in steady operation since the mid 1940s, about 15 years ago and have been working hard to improve and expand the establishment ever since.
"There used to be a bar here many years ago, but it was taken out before we bought the business," said Mrs. Jagad. "We have older customers in their 80s or 90s who have very fond memories of it, though, and they always tell us about their experiences here."
The new garden, however, is a far cry from the little shot-and-beer counter that once graced the back of the store.
The beer garden, situated on a previously under-utilized section of the Dittrick's property, is a cozy, welcoming space under a new white canopy tent. The garden, which includes misting fans and plenty of seating, features a full menu of beer, wine and cocktails. It is a simple space, highlighted by comfortably rustic furniture and design elements that leave plenty of open areas for bar games like Jenga and table-top ring toss.
"We're very proud of it," Mr. Jagad said, smiling. "This has been a lot of hard work, but our family, our staff, everyone has been pitching in to make this happen, and we're so glad to be able to finally welcome everyone in."
Going forward, the family plans to use the space to host live music, trivia nights, special events and fundraisers to help benefit local organizations.
"That doesn't surprise me in the slightest," said Mayor Sara Todisco, who, along with Councilwoman Jen Blumenstock, joined the family and their staff to celebrate the garden's grand opening on Friday. "The Jagads have always been huge supporters of the community; they have always gone out of their way to get involved and give back…we're very lucky to have them here in Garwood."
The idea for the garden came about just before the start of the pandemic, Mrs. Jagad said, but everything was put on hold when the business, like everything else, was forced to shut down for three months in 2020. Even once they were given the go-ahead to reopen their doors, however, the family still had a long and difficult road ahead of them.
"I caught the virus and almost died from it," Mrs. Jagad said. "I had to quarantine in one room of the house for two and a half months. They just couldn't get my oxygen levels up. My family was always there, always trying to keep my spirits up. We got through it after a long time, but it was very, very frightening."
Mr. Jagad sadly lost his father to the virus shortly thereafter.
"We know we are not the only family to have suffered during the past several years," Mr. Jagad said, "that's why this space feels so important to us. People have stayed apart for too long, and we wanted to find a way to bring everyone back together."
Dittrick's Wine and Spirits is located at 2 North Avenue, Garwood. For more information, including hours of operation and upcoming events, visit: dittrickswines.com.