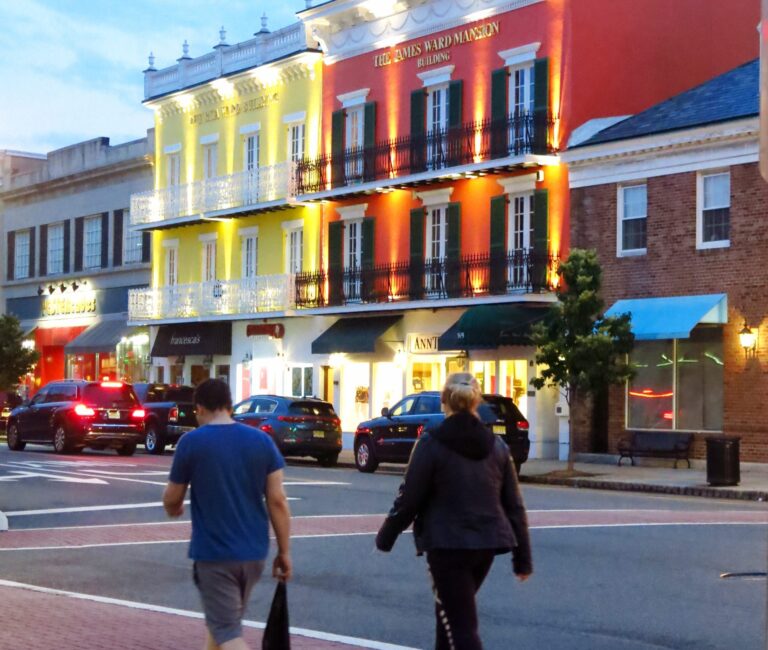 Retail Advisory Board Offers Free Help to Local Businesses
WESTFIELD — Between the growing popularity of internet retailers like Amazon and a number of complications and challenges left over from the Covid-19 pandemic, running a brick-and-mortar business in the digital age can feel like an uphill battle. In Westfield, however, one local advocacy group is trying to make things a little easier.
The Retail Advisory Board (RAB), an impartial volunteer group that provides guidance and assistance to Westfield business owners, was established in 2019 by two local residents — Darren Mass and Jeff Greenhouse — who wanted to find a way to help the community thrive.
"Darren [Mass] and I had both had separate conversations with Mayor [Shelley] Brindle and Councilwoman [Dawn] Mackey," said Mr. Greenhouse, RAB chair and founder. "They suggested we work together, and once we connected, it turns out that we were on the same page of the same chapter of the same book."
According to information provided by the town [the RAB is not a government entity, but its members are appointed by the mayor as part of a working partnership], the RAB "serves in an advisory capacity to leverage the talent and experience of Westfield residents who can provide a collectively valuable resource to the Town's retailers. The Board's goal is to help the retailers tackle specific business challenges in an effort to attract customers, run more efficiently and enhance the Westfield experience."
The RAB is comprised of 10 members, all of whom bring their own unique talents to the table. Its services (which include site visits, consultations, strategic planning, marketing tips and professional advice) are available to any brick-and-mortar business in Westfield completely free of charge.
"I moved to town in 2017 and fell in love with it right away," Mr. Greenhouse said. "I loved being able to walk down the street and feel like I was a part of something. After a while, though, I started to notice that a lot of businesses would open up, hang around for a few months, and then shut down. We had a lot of vacancies at one point, and I remember thinking, 'this town is literally chock full of people who could help — we've got business owners, financial advisors, interior designers, chefs, lawyers…you name it.' So I went to the mayor and that's when she hooked me up with Jeff."
The organization, Mr. Greenhouse said, has been growing ever since.
"The first year was a little tough," said Mr. Mass. "We had trouble getting the word out. People assumed that we were trying to sell them something, and even though that couldn't be further from the truth, I think folks were a little unsure about who we were and what we were trying to do. Now that we have a few years under our belts, though, things are swinging back in the right direction."
The goal of the organization, Mr. Greenhouse continued, is to help business owners "learn what they don't know" in a confidential setting.
"We never release the names of any of the businesses that we work with," he said. "We jump in pretty hard — if we're going to help, we need to know the details. We'll ask about revenue, profit, costs, staffing, design elements…it's a very thorough process, but we also respect and understand that for business owners, especially new ones, these can feel like pretty invasive questions for a group of strangers to be asking. That's why we're so protective of the business owners that we work with. If they're looking for ways to improve, that's very commendable. We would never jeopardize anyone's privacy just because they tried to find a way to better their chances at success."
In the last year alone, Mr. Mass said, the RAB has worked with seven different Westfield businesses to help them identify strengths, weaknesses and potential challenges.
"This has been a great year," Mr. Mass continued. "I think we're really hitting our stride."
One of the biggest challenges for any new business owner is a simple lack of experience, Mr. Mass said.
"They say it takes 10,000 hours to get good at something," he said, "and that includes running a business. We meet people all the time who have incredible skill sets — bakers, stylists, chefs, designers, you name it – that could be very marketable under the right conditions. It takes a long time to master those skills. It also takes a long time to turn a skill or a passion into a viable business, and that's what we're here to do. Our ultimate goal is to help people learn how to navigate these challenges in a way that will allow their businesses to thrive and succeed."
Though the RAB is happy to work with any Westfield business with a physical location, including those that operate outside of the downtown area, Mr. Mass said the board is likely to be of the most use to businesses that are just starting out.
"We'll work with anybody who wants our help regardless of how long they have been in business, but if we can get in on the ground floor and help people figure out how to navigate those first few months, that first year…that's huge," he said.
Though the board is comprised entirely of volunteers, Mr. Greenhouse said, RAB members are held to some fairly strict professional standards. Board members cannot currently own businesses in Westfield (this helps avoid any conflicts of interest or preferential treatment, Mr. Greenhouse said); divulge any information about the businesses that they work with to anyone not directly involved in a given project; or solicit anything from any of the individuals who they advise.
"We're all very passionate about what we do," Mr. Greenhouse said. "We really believe in this community and we want to do everything we can to help it thrive. But in order to do that, we have to hold ourselves accountable."