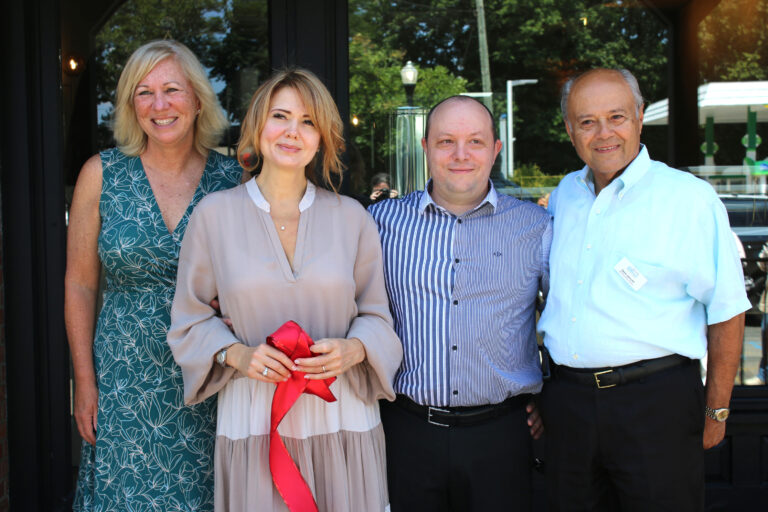 Guilt-Free Treats on the Menu At Westfield's Newest Eatery
WESTFIELD — For Dennis and Viktoria Seiz, life is naturally sweet. On Friday, the couple celebrated the grand opening of their new downtown patisserie, Viktoria Seiz. The café, located at 407 South Avenue West, boasts a wide array of homemade vegan, raw, organic, dairy and gluten-free desserts along with an assortment of specialty coffees and drinks.
"We can't really call it a bakery because we don't have an oven," said Mr. Seiz, laughing. "We don't need one. All of our desserts are naturally sweet and are made with organic materials. That was very important to us. But since we're using these different ingredients, we never have to cook anything. We just let the flavors of the food do the work."
Mrs. Seiz, a classically-trained pastry chef, said she wanted to find a way to eliminate preservatives, GMOs and other harmful additives from her desserts.
"You don't need all of that stuff in there," she said. "Everything tastes better without it, anyway, and it's just not good for you."
The shop's guilt-free confections, like the Avocado Surprise and the TiRAWmisu, are all handcrafted from simple, natural ingredients like raw nuts, mangoes, blackberries, acai, oat milk, seeds and seasonal fruits.
"You wouldn't know the difference," Mr. Seiz said. "My wife is an artist, and she will spend hours and hours getting these recipes right. It's a different way to look at dessert — there's no cream, there's no sugar…there's no milk chocolate. But that doesn't mean these desserts aren't sweet and delicious. That was the whole idea — natural foods, natural ingredients, and a ton of great flavor."
Viktoria Seiz began four years ago in New York when Mrs. Seiz began to partner with a number of high-end restaurants. Just when things were starting to pick up, however, everything shut down.
"We had 17 different restaurants that we were working with in New York, but then the pandemic hit and…well, you know the rest," Mr. Seiz said. "We moved out of the city and were very fortunate to find Westfield. It's a wonderful community, and hopefully, our shop will be a good fit."
Mayor Shelley Brindle, who attended Friday's ribbon cutting along with Councilwoman Dawn Mackey and several members of the Greater Westfield Area Chamber of Commerce, said she thought Viktoria Seiz should make an excellent addition to the downtown roster.
"I think your timing is perfect," Mayor Brindle said, speaking with the couple outside of their new storefront on Friday. "This shop is one of 30 new businesses here in town, all of which will be opening by the end of the summer. Westfield is becoming a real high-end food destination, and I think that what you're offering here is right in line with that transition. It's very exciting."
Going forward, Mr. Seiz said, the shop plans to offer everything from in-store, grab-and-go treats to catering services and special White Label products that can be integrated into other local restaurants.
"This has been our dream for a long time now, and we're so excited to welcome everyone to come in and give us a try," Mr. Seiz said. "Trust me, you will be pleasantly surprised."
For a full menu, as well as hours of operation and other details about the business, visit www.viktoriaseiz.com.