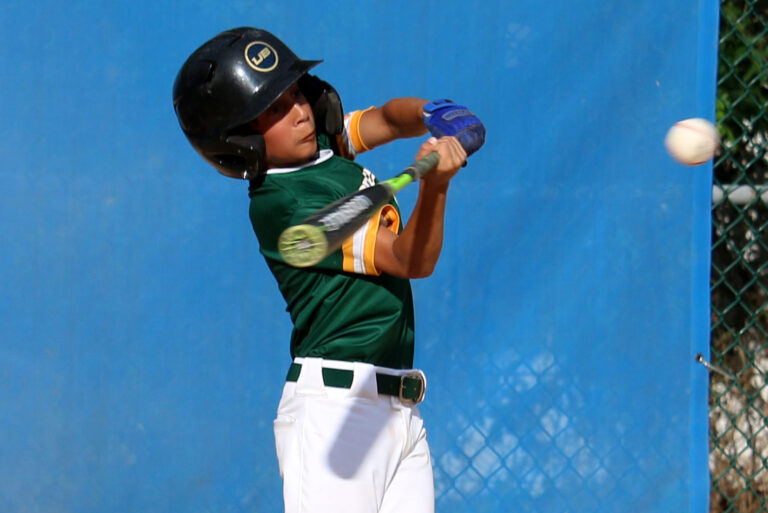 Young Westfield Baseball Player Seriously Injured In N.Y. Tournament
WESTFIELD — For 12-year-old Anthony Labin, a much-anticipated trip to Cooperstown, N.Y., with his traveling baseball team took a violent and unexpected turn last week when the young pitcher caught a line drive to the temple. The boy was knocked unconscious by the blow and was airlifted to Albany Medical Center, where he was admitted to the pediatric intensive care unit.
Although Anthony's condition currently is stable, the road to recovery could still be a challenging one.
"His mother and I saw it happen," said Anthony's father, Ron Labin, speaking with The Westfield Leader shortly after the accident. "It was instantaneous. That ball came at him so fast that there was no way he could have ducked out of the way. It was heartbreaking."
Anthony was severely concussed by the impact, Mr. Labin said, which caused a dangerous amount of swelling in his brain. Doctors removed part of Anthony's skull to try to alleviate some of the pressure.
"It's still so early that we don't have a real prognosis yet, but we're hopeful that he'll make a full recovery," Mr. Labin said. "The doctors here have been wonderful, but this whole thing has felt like one big nightmare. I just want to tell my kid that everything is going to be okay, but we just don't know."
The accident occurred on July 11, during a tournament held each year at Cooperstown Dreams Park in Cooperstown. According to Anthony's coach, Roger Askins, the response to Anthony's accident, both by the facility itself and the tournament organizers, was "severely lacking."
"When Anthony got hit, his neck cracked backwards, hard," Mr. Askins said. "It was terrifying. We had been told that there would be medics and an ambulance on site, but there was nothing there other than an understaffed infirmary."
The weeklong tournament, Mr. Askins said, attracted approximately 1,000 participants along with countless spectators.
"In a crowd that big, you would think they would be prepared for an emergency, but they really weren't. It was very disorganized, very chaotic," Mr. Askins said. "When Anthony got hurt, somebody came out with a [spine board] and got him strapped down, but then they tried to load him on to a golf cart to get him to the infirmary instead of just calling for an ambulance right away. It was handled really poorly. It took at least 45 minutes for an ambulance to show up, and I honestly think it was because nobody called."
Anthony was originally transported to a nearby medical facility but was quickly airlifted to Albany when it became apparent that the local center was not equipped to handle such a serious head
injury. He will remain under the care of Albany Medical Center until his doctors feel that he can safely be moved closer to home.
So far, Mr. Labin said, Anthony has been able to demonstrate full mobility in his arms and legs, but has had some trouble speaking.
"The doctors told us that he was hit in the part of the brain that controls speech, and it may just take some time for him to be able to heal," Mr. Labin said. "Part of the reason that they did the operation was to limit the potential for brain damage. It's all very scary, but like I said, he is in great hands and we're very hopeful."
Well-wishes have been pouring in ever since the accident, Mr. Labin said, noting that "his teammates, his friends, his coaches, our neighbors and our church community" have all been reaching out to the family with promises to keep Anthony in their thoughts as he begins to heal from his trauma.
"We have been overwhelmed by support," Mr. Labin said. "When something like this happens, you don't really know what to do, so it has really meant a lot to us to know that we have so many people pulling for him."
In addition to family and friends, Mr. Labin said, Anthony even received a special message from Aaron Boone, manager of the New York Yankees, wishing him a speedy recovery and a quick return to the pitching mound.
"Every kid on that team, along with all of the coaches, the parents, everybody…we're all just hoping he comes through this okay," Mr. Askins said. "Anthony is an amazing kid, and we all really want him to know that we're thinking about him."
Anthony's team decided to finish out the tournament in honor of their friend. While the team did not do too well overall, Mr. Askins said, their show of solidarity was very "genuine and moving."
When asked if friends or neighbors could do anything to help, Mr. Labin said only, "keep Anthony in your prayers. We don't know what this is all going to look like, but knowing that so many people are thinking about him and praying for his recovery helps. It really does."
Surprisingly, Mr. Labin said, the only group that has not reached out is the one he would have expected to hear from first.
"I have not heard one word from Cooperstown since Anthony was injured," he said. "Not one word. Nothing."