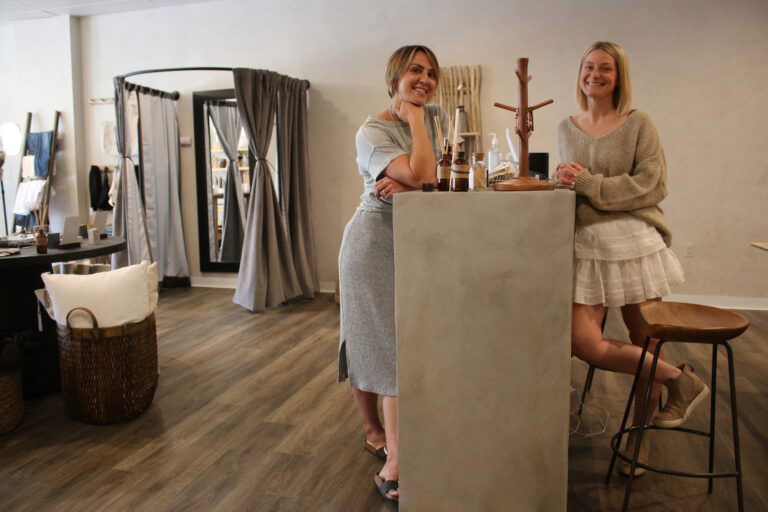 Lifestyle Boutique Opens In Downtown Westfield
WESTFIELD — For Paige Koff and Alli Reff, owners of a new lifestyle boutique and event space in downtown Westfield, the decision to go into business together was an easy one.
"We have been close friends for years, and it's something that we always talked about doing," said Ms. Koff, an interior designer. "We work well together, and we're very likeminded when it comes to aesthetics, so we're very excited to see where this all leads."
The Life by Alli and Paige, located in the Elm Street storefront formerly occupied by Castle Bootery, celebrated its grand opening on April 30.
"We're just about hitting the two-week mark, and so far, the response has been really positive," said Ms. Reff. "The Castle Bootery was a legacy around here, so we know we have some big shoes to fill, but people seem to be really happy with what we've done with the space."
The Life by Alli and Paige is a two-fold venture comprised of a retail shop filled with home décor, wellness products, accessories and apparel and an adaptable event space that can be reserved for customizable private functions.
"Paige and I travel together a lot, and when we do, we always find ourselves in these beautiful places," said Ms. Reff, who brings more than seven years of experience as an event planner to the team. "Our goal with the store was to create something that made us feel that same way. Lots of positive energy, lots of unique products…our thought was that if we can find things that make us happy, they'll probably make other people happy as well."
The store's retail element is stocked with as many fair trade, organic and responsibly-sourced items as possible, Ms. Koff said, noting that The Life will look to partner with a number of Westfield businesses as things progress.
"This took a lot of legwork," Ms. Koff said. "We did a lot of research before we started looking for vendors. It was important to us to find products that we believe in, and I think we've got a good mix."
The shop's inventory is likely to shift somewhat over time as its co-owners continue to find new items and products of interest.
"We want to keep it interesting," said Ms. Reff. "We'll keep adding things as we go along so people always have a reason to stop by and see what's new."
The back of the store is dedicated to a private event space that can be rented out for parties or gatherings.
"The event space can be customized for whatever you need," Ms. Reff said. "We're open to whatever ideas people want to bring to us. So far, we have one group that requested live music, another that is going to come in and lead a yoga class, a hairstylist who is going to host a special event for her clients…we can do dinners, we can do brunch…the idea is that if someone comes in with a sense of the type of event that they would like to host, we can help them figure out the details and take care of all of the arrangements for them."
Visitors to special events at the boutique also will have access to a private shopping experience during which they can browse the retail space without interruption.
"When we work with caterers or musicians or whoever we might end up bringing in as part of these events, we try to pull from as much of a local pool as possible," Ms. Reff said. "We both love Westfield, so we want to make sure to showcase as much of what the town has to offer as we can."
For more information, including how to reserve the event space, visit www.thelifebyalliandpaige.com.