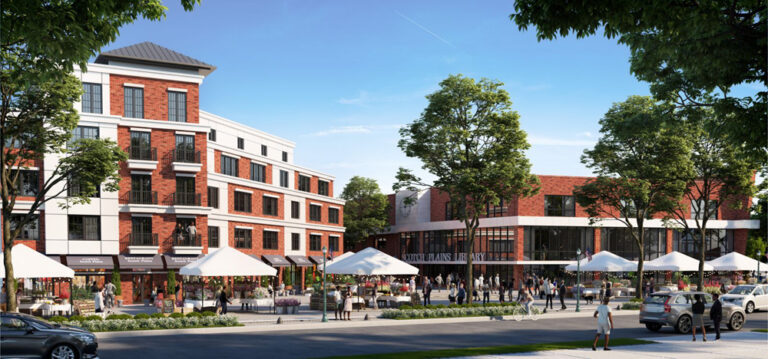 Judge Denies Township's Request To Dismiss Redeveloper's Suit
SCOTCH PLAINS — A judge last week denied the township's request to dismiss a lawsuit filed by one of the former downtown redevelopers.
PS&S, LLC, a Warren-based engineering firm, along with Advance Realty Investors of Bedminster, had been named the township's conditional redeveloper for the publicly-owned properties in the downtown business district in September 2019. Last June, the township council voted to sever that relationship, with Mayor Joshua Losardo saying that the two sides had "worked very hard to close the gap between the town's development requests and vision and the developers'." He added that, ultimately, it became apparent to council members that the redevelopers had "a different vision than we do."
Late last year, PS&S filed its lawsuit, asking for at least $1 million for "the cost of time, materials, and manpower provided by PS&S for the benefit of the Township." The suit claimed that the township, "unlawfully used the concept plans, drawings, analysis, and other documents and information developed and prepared by PS&S to serve as the basis for a new redevelopment plan" that was approved by the council last November.
The suit further claimed that, "rather than retain its own professionals and expend its own funds to create a redevelopment plan, the Township enticed PS&S to expend extraordinary time,, materials, and manpower to develop concept plans and development and zoning standards. Furthermore, the Township coerced PS&S to deposit money in an escrow account to pay the Township's professionals to review the work prepared by PS&S. The Township used PS&S to educate it regarding the redevelopment process and structure of a viable redevelopment plan. In fact, the Township has admitted PS&S provided them with a valuable 'learning experience'."
Part of Superior Court Judge Thomas Walsh's 20-page decision issued on April 29 included PS&S' questioning of the actions and procedures of the township planning board last October when it found the redevelopment plan to be consistent with the township's master plan. PS&S alleges that Mayor Losardo blocked the board from issuing comments and concerns related to consistency issues of the redevelopment plan. During the board's two October meetings to discuss the redevelopment plan, then-chairman Joseph Doyle "made multiple statements about the inconsistencies of the redevelopment plan and the Master Plan," PS&S alleges.
PS&S further claims that, "Mr. Doyle also stated that he wanted an opportunity to raise additional concerns or suggestions for revisions to the Redevelopment Plan, but the Mayor stopped the Planning Board from providing additional comments by stating the plan was evolving and could be revisited at a later date, but not at the current meeting."
In denying the request to dismiss the lawsuit, Judge Walsh said he found "that a strong public interest exists in determining whether the Township of Scotch Plains acted arbitrarily in the endorsement and subsequent adoption of the redevelopment plan."
In a statement provided this week to Union County HAWK, PS&S confirmed that it is, "alleging the Planning Board and Town Council failed to properly adopt the redevelopment plan pursuant to the Local Redevelopment and Housing Law. The Mayor and Council filed a motion to dismiss the complaint and the court denied the motion. The court will now decide whether the redevelopment plan was properly adopted. In the complaint, PS&S seeks to have the redevelopment plan returned to the planning board for further review and analysis as required by the Local Redevelopment and Housing Law."
PS&S CEO John Sartor said in a statement to HAWK that his firm, "feels it's in the public's best interest to receive full transparency from their officials on such an important topic." He said that with downtown redevelopment efforts having been talked about for the past 30-odd years, "it does not seem appropriate to force it through without the proper public process." He added that based on PS&S' "long history in Scotch Plains, we believe the residents deserve more information than this administration has offered to date."