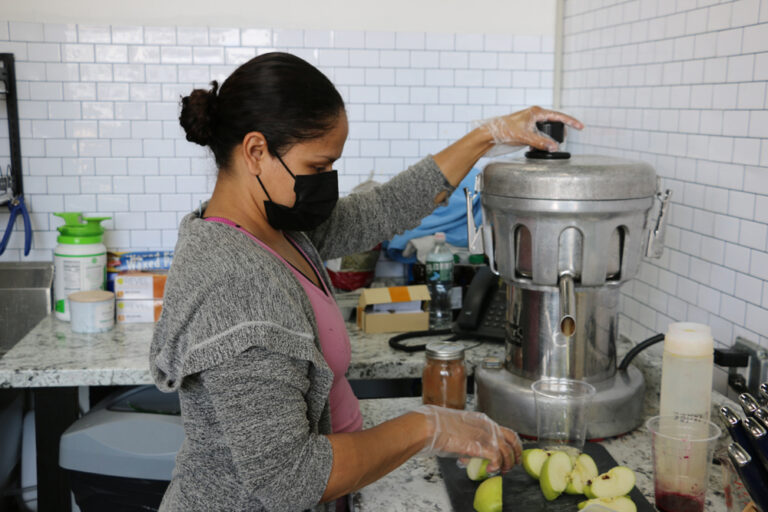 Hot Yoga, Fresh Smoothies On The Menu For New Garwood Studio
GARWOOD — Garwood residents have a new way to get healthy and stay fit thanks to the efforts of one local business owner who says her new whole body wellness center on North Avenue is a judgment-free zone.
Firepoint Yoga and Juice opened its doors in January. Though challenges presented by the Covid-19 pandemic threatened to get in the way, business owner Jasmine Ramirez said the re-sponse from the local community has already been a strong one.
"For the last two years everything has been about getting through the pandemic," she said, "but now it's time to get back to thinking about health and wellness in a more positive light. It has been hard – a lot of people have been unable to maintain their regular diets or exercise routines, but I think everyone is eager to start getting back on track now that things are fi-nally starting to get better."
Fire Point is a joint venture that combines a new custom-built hot yoga studio with fresh grab-and-go meal options including juices, smoothies and healthy protein bowls.
"I think the big difference in what we do is that all our ingredients are fresh," Mrs. Ramirez said. "We don't add extra sugars or preservatives to anything. The ingredients you see listed on our menu are the only ones you will find in our smoothies."
Fire Point is the third such business for Mrs. Ramirez, whose husband, Arturo, runs two other juice bar loca-tions in Rahway and South Orange. Most of the juice bar's selections, in-cluding the popular Peanut Butter Joy smoothie (made with almond milk, banana, dates, peanut butter, cinna-mon and a dash of sea salt) and the Supreme Green smoothie (a healthy mid-day pick-me-up made with ba-nanas, apples, chia seeds, lemons, dates and cucumbers) are of Arturo's own creation.
"He's always introducing new items and trying things out to see what works," Mrs. Ramirez said. "We also offer a make-your-own option so people can pick the specific flavors or ingredients that they're looking for."
Some of the other options currently on the menu include acai bowls like the Beach Side Bowl (made with ba-nanas, blueberries, strawberries and hempseeds) and plenty of fresh-squeezed juices.
"We know people are busy so we wanted to give people some good healthy options that will still be quick and easy," Mrs. Ramierez said.
The hot yoga studio, meanwhile, is the first of its kind for the business, and something that Mrs. Ramirez, a certi-fied instructor, has been hoping to incorporate for some time.
"Hot yoga is great because it allows you to loosen up your muscles and get into deeper poses than you would in a traditional studio," Mrs. Ramirez said, adding that the classes also provide a "great way to get in touch with your bodies" in a safe and supportive envi-ronment.
"There is absolutely no judgment here," Mrs. Ramirez said, "Whether you have never taken a yoga class in your life or have been practicing for years, we are prepared to offer a num-ber different classes designed to meet you where you are."
Fire Point yoga classes are being offered daily. The studio is regularly cleaned and sanitized in accordance with all state-recommended Covid guidelines. Masks are optional.
For more information, including online orders and yoga class package rates, visit: https://firepointyoga.com/.