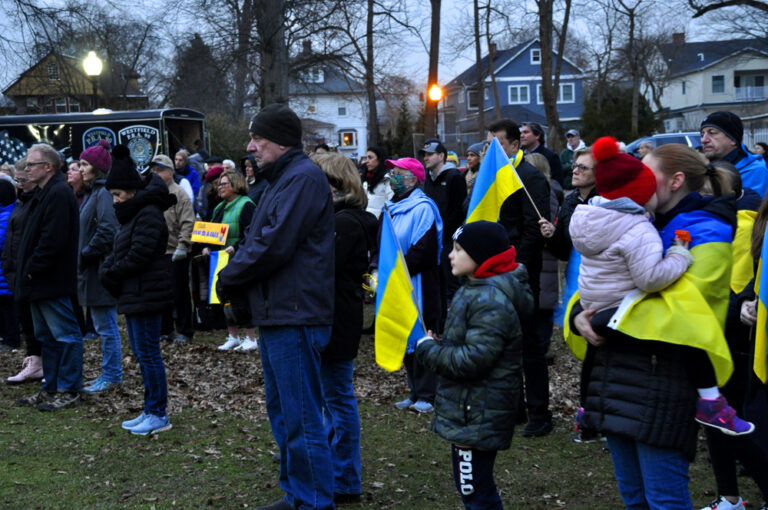 Want To Help Ukraine? Here's How to Do It Safely
COUNTY — As news reports continue to flood in from Ukraine, government leaders, charitable organizations and New Jersey residents alike are stepping forward in record numbers to find a way to help those personally affected by the invasion.
As of Monday, the Office of the United Nations High Commissioner for Human Rights (OHCHR) was reporting 902 civilian deaths as a direct result of the conflict, 75 of which were children. Another 1,459 individuals have been injured and upwards of 10 million have been displaced from their homes. In New Jersey, which has one of the highest Ukrainian populations in the country, the response has been swift.
Donations of cash, supplies, clothing and personal items have been pouring in from across the Garden State since the conflict began in late February, and while support is certainly needed, officials warn against letting big hearts get in the way of level heads.
"Unfortunately, there are always going to be people who exploit crises and take advantage of other people's misfortune for their own goals," said Laurie Doran, director of the New Jersey Office of Homeland Security and Preparedness (NJOHSP) in a recent press release. Scammers, some of who may be posing as Ukrainian residents or officials, are using various methods "to try and collect information" or to "get money or items" from well-intended residents, Ms. Doran said in the release. She noted that some individuals also may use malware or other phishing software to damage or corrupt personal devices.
"They're using the same methods that other people use for other, more well-known scams," Ms. Doran said, listing phone calls, emails, text messages, social-media posts, online forums and banner ads among some potential points of contact between scammers and their victims. However, while the threat of fraud may be all too real, it should not stop residents who want to get involved. The key, Ms. Doran said, is learning how to weed out legitimate organizations from "bad actors" who may be looking to take advantage.
According to information provided by the Federal Trade Commission (FTC), there are a few steps that well-meaning residents can take to protect themselves while making sure that their donations are getting to where they are meant to go.
The first step, authorities say, is to search online for the cause you care about, like "hurricane relief" or "homeless kids," with phrases like "best charity" or "highly rated charity" thrown into the mix. "Once you find a specific charity you're considering giving to, search its name plus "complaint," "review," "rating," "fraud" or "scam." If you find bad reviews, it might be best to find another organization," the FTC suggests.
Then, check out the charity's website directly. Does it give specific details about the programs you want to support or how it uses donations, or does the information feel too broad or vague? "If you can't find detailed information about a charity's mission and programs, be suspicious," the FTC warns. It also is a good idea to run charity groups through verified reference agencies like the Better Business Bureau's Wise Giving Alliance, Charity Navigator, CharityWatch or Candid before committing to a donation.
"Let's be clear — the people of Ukraine need our support and help. Lives are disrupted, infrastructure is destroyed and people's health, welfare and lives are at risk," The New Jersey Advocates for Aging Well (NJAAW), a statewide nonprofit organization that provides help, education and assistance to senior citizens, said via its website. Seniors, unfortunately, tend to be targeted by scammers in disproportionate numbers, the organization states, due to the fact that older residents tend to be more willing to answer the phone or respond to emails from unknown sources.
"If you get emails asking for donations, check the address it came from. Do not open an email or click on a link unless you really know where it is from. If you go to a website to get information or to donate, make sure you are going to the site you want and have not been redirected to another site with a similar name," the NJAAW said via its website.
Scammers are not only targeting online audiences, the NJAAW said. "Telemarketing has become an easy way for fraudsters to scam seniors. Many seniors will always pick up the phone — and have been doing so all of their lives. Since we are in our homes more because of Covid or the cold weather, we hear that phone ringing. If you receive a call and you do not recognize the caller's telephone number, do not pick up the call. Let your answering machine screen all of your calls," the organization stated.
One of the safest ways to get involved, Ms. Doran said, is to participate in a fundraiser or drive held under the direction of a trusted leadership organization.
Locally, for example, the Union County Board of County Commissioners and the Union County Prosecutor's Office have partnered to organize a county-wide donation drive for the people of Ukraine.
Members of the public are invited to bring donations of first-aid supplies, toiletries, flashlights, blankets, batteries, clothing, shoes, diapers, formula, and more. According to a recent press release, the program will run for the foreseeable future for as long as continued aid is needed.
"In support of the international effort to aid Ukraine, we encourage Union County residents to help ensure that life-sustaining emergency supplies reach those in desperate need of assistance," said Union County Commissioner Chair Rebecca Williams.
Drop-off boxes will be available in the lobbies of police departments in Berkeley Heights, Clark, Cranford, Fanwood, Garwood, Hillside, Kenilworth, Linden, Mountainside, New Providence, Plainfield, Rahway, Roselle, Roselle Park, Scotch Plains, Springfield, Summit, Union, Westfield and Winfield. Additional drop-off locations will be available in the lobbies of the Union County Sheriff's Office, the Union County Police Department, the Kean University Police Department, and the Union County Prosecutor's Office.
Many local police departments and municipalities have vowed to continue to host their own drives, as well.
The following vetted organizations also are hosting ongoing fund-raising drives to help the people of Ukraine:
CARE: an international humanitarian group that is providing food, water and other items to families fleeing violence in Ukraine.
CORE. The emergency response nonprofit is on the ground in Poland, distributing hygiene kits and thermal blankets, as well as emergency cash assistance to help families resettle.
Doctors Without Borders: The medical relief organization remains on the ground in Ukraine and is seeking to respond to medical and humanitarian needs as the conflict evolves.
International Committee of the Red Cross: The Swiss-based organization is supporting the work of the Ukrainian Red Cross in helping those impacted by the war.
UNICEF: The global group devoted to safeguarding children is working to provide humanitarian supplies to families without safe water or electricity due to the conflict.
United Way Worldwide: The world's biggest privately-funded nonprofit has set up a relief fund in response to the intensifying humanitarian crisis to provide transportation, shelter, food and medicine, including infant supplies such as baby formula.