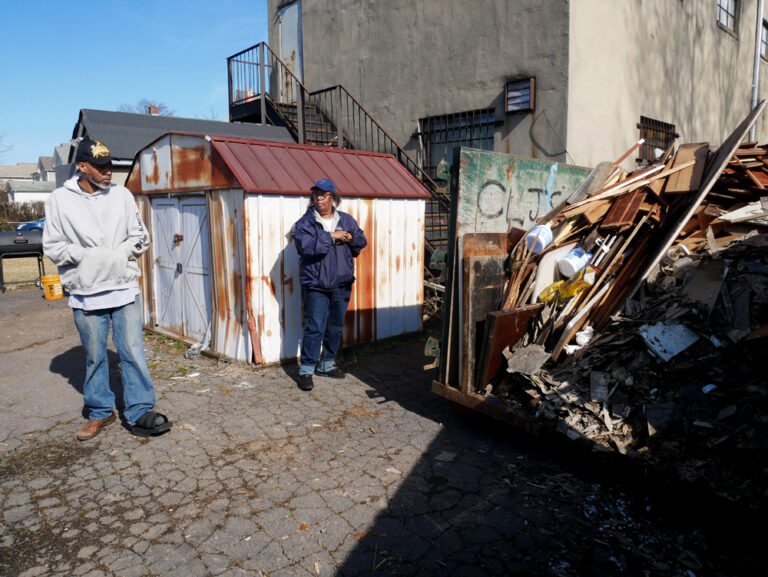 Community Support Needed To Help Elks Save Lodge
WESTFIELD — A civic organization that has stepped up to the plate for Westfield at numerous points throughout its long and storied past is now in need of some assistance from the community that it has served so well.
The Elks Centennial Lodge, located at 444 West Broad Street, was established in 1923 as a fraternal organization of African-American men who wanted to enact positive change within the community through charitable works and civic engagement. Later, in 1954, Westfield Mayor Emerson Thomas donated a nine-room home to the organization that would eventually become its headquarters.
Now, almost 70 years later, that same building has fallen into disrepair.
"I was notified by the fire officials that there was a sewage backup in the basement [of the lodge]. I reached out to [the Elks] and they said they were going to get everything cleaned up, but it's taking a very long time," Westfield's Principal Health Inspector Helen Mendez said during a recent meeting of the board of health. "I went up there to take a look and conditions were really bad. It has been declared an unsafe structure. Until they can get the repairs done, they can't be in the building."
Although the Elks have been working to clear water and debris from the property since it was declared uninhabitable last month, Ray Edwards, president of the Westfield Elks Management Team, said the organization will have "a long road ahead of itself" if it hopes to be able to save its historic headquarters.
"I'm not going to lie; we're in over our heads over there," Mr. Edwards, who joined the organization about two years ago, told The Westfield Leader. "The building has had a lot of water damage over the years, and they've always just sort of patched things up the best they could, but now things have gotten to the point where a couple of guys with mops and buckets just aren't going to cut it. We're going to need to get the professionals in there."
The building's water problem — which has led to further challenges, including rot and mold — was further exacerbated by Hurricane Ida last September, Mr. Edwards continued. He noted that, unfortunately, the building did not qualify for FEMA relief due to the preexisting nature of its condition.
"This building really does need to be preserved. It is included in the [Dr. Martin Luther King, Jr. Association of Westfield's] historic walking tour as an important Black landmark, and I think it's very important that it be repaired and brought back up to code so we don't lose this piece of our history," Mr. Edwards said.
According to information provided by the Benevolent and Protective Order of the Elks of The United States of America (the organization's national association), Elks lodges like the one here in Westfield "are places where neighbors come together, families share meals, and children grow up. Elks invest in their communities through programs that help children grow up healthy and drug-free, meet the needs of today's veterans, and improve the quality of life."
In Westfield, the organization has historically worked to facilitate various humanitarian efforts, ranging from youth and family services to senior programs and education.
In 1952, the Centennial Lodge sponsored a housing development on Windsor Avenue that helped to provide affordable housing for returning African-American World War II veterans.
Most recently, the organization managed to raise some much-needed funds to help member Lisa Middleton's granddaughter recover from a traumatic accident that left her badly burned over 80 percent of her body.
"The thing about the Elks and the Daughters (the organization's female auxiliary which also is known in Westfield as Centennial Temple 246) is that they will be there when nobody else will," Ms. Middleton said. "Things may not always go according to plan, but it's there. It's always there."
Still, Mr. Edwards said, the future of the organization, much like the building that it is trying to save, currently is up in the air.
"I got a call from the Exalted Leader of the Westfield Elks (a high-up leadership role within the organization currently held by member Warren Ward), who said he needed some new men to step in and revitalize the organization. So, I got a group of guys together and we came in and we started doing some different things, but because we're new to the group, it has been kind of difficult," said Mr. Edwards. "Lately, it has been a fight. I get it, I do. This is a 100-year-old club and people are very protective of it, but we need to get back to our roots and start being a part of this community again. We've been so busy trying to save this building that some of our other projects are taking a backseat. It's time to do the work we need to do so we can move on."
For some members, however, the history of the organization matters just as much as its future.
"My family has lived across the street from the lodge since it first opened back in the 50s, so we have a very close and personal relationship with it," said Kimberly Handy, leader of the Daughters. "My mother has been a part of this organization for 50 years, so I really grew up with it. There is so much of our past wrapped up in this building, not just for my family, but for all of us, and we need to do whatever it takes to save it."
The organization currently has set a fund-raising goal of $100,000 that will be used, as Mr. Edwards explained, to cover the cost of professional repairs to the water-damaged basement and give the rest of the building "a bit of a facelift."
"At the end of the day, we're just trying to find the best way forward," Mr. Edwards said. "We don't all agree on everything, and that's fine, but we do all agree on that. This organization, and this building, are a very important part of Westfield, and whatever else happens, we need to find a way to come out on top."
In addition to monetary contributions, Ms. Handy said, both the Elks Lodge and the Centennial Temple are always on the lookout for new members.
"Our membership dropped a lot during Covid. People just didn't want to come out while all of that was going on, but we need to get the word out about what we do so we can start to build our numbers back up," she said. "When you join an organization like this, not only are you helping your community but you're also becoming part of something really special and unique. There is a camaraderie here that you won't find anywhere else."
Donations to the Elks Centennial Lodge or Centennial Temple 246, both registered nonprofit organizations, are 100-percent tax deductible.
To learn more about how to get involved or to make a contribution, visit: https://gofund.me/54ae2c2d.