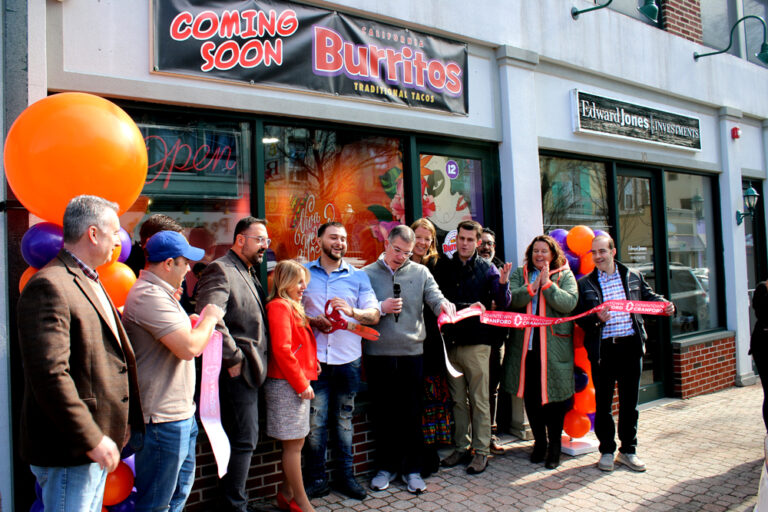 business spotlight
March 9, 2022
Wanna Taco 'Bout It?
California Burritos Opens In Cranford
By KATIE MOEN
For The Westfield Leader and Union County HAWK
CRANFORD — A bit of southwest flavor is on the menu in Cranford thanks to the efforts of two local businessmen with big ambitions and even bigger appetites.
California Burritos held its grand opening at 12 North Union Avenue on Thursday to introduce residents, local officials and the community at large to its fresh grab-and-go Mexican menu.
"We have a real passion for this," said co-owner William Palacios, 26, "We're keeping the menu nice and clean – the food really speaks for itself. Everything is fresh, everything is authentic, and we think it will be a great fit for the community."
Mr. Palacios, who has worked in the restaurant industry for over 10 years, said the decision to partner with local restaurateur Rafi Namroud was an easy one to make.
Mr. Namroud, who also owns and operates the Old City Café & Grill, has been a long-time supporter of Cranford's downtown.
"I love Cranford, I really do," said Mr. Namroud, "We are getting a strong response here so far and we are so grateful for that."
The menu at California Burritos includes plenty of traditional Mexican staples like tacos, empanadas, nachos, rice bowls, quesadillas, and of course, burritos. Guests are invited to choose their own proteins and can also pick from a selection of fresh-squeezed juices and other unique beverages.
California Burrito has a trendy and eye-catching interior that was designed to entice hungry patrons into the store, Mr. Palacios said.
"We noticed that things around here tend to be very old-school, very traditional," he said, "We thought it was time to bring a little bit of that Hoboken vibe to Cranford, and so far, people have really been enjoying it."
Plans are already in the works for a second location in Plainfield, Mr. Namroud said.
"We actually started building that one before we started working here," Mr. Namroud said, "but it's a much bigger space and it took more time. We had this space ready here in Cranford and we didn't want to wait."
Looking to the future, Mr. Palacios said "anything is really possible."
"We've had a lot of people asking if we are a franchise, because we've got the look and we've got the vibe, but we're not, at least not yet," Mr. Palacios said, "I think it's definitely possible, but for right now we just want some time to prove the concept and get it off the ground."
Caren Demyen, Director of Downtown Cranford, said the shop represents good things to come for the community.
"We've had a lot of businesses opening up in the last two years. WE have smaller spaces so it's a less-risky option for investors, but that does mean that people have to get creative with the space. We've been very lucky. We have amazing property owners that are very supportive. Hopefully it continues," Ms. Demyen said, "This place has a great energy, and it's very eye catching. Plus, if the doors are open, you'll get to smell all of the amazing food that they're making in here. They have a lot of enthusiasm and we're really grateful that they chose to invest in Cranford.
California Burritos is open for takeout and delivery seven days a week from 11 a.m. to 11 p.m.