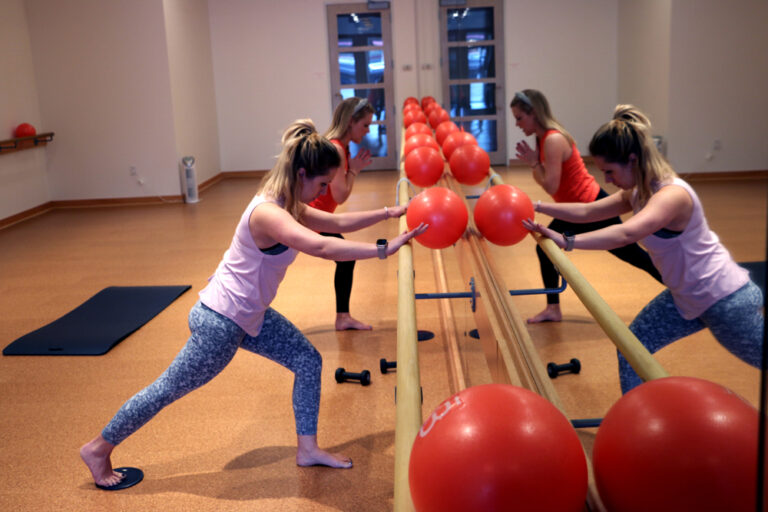 Time To Limber Up! Barre3 Studio Opens
WESTFIELD — We've all found our own ways to cope with the isolation, the depression, the daily adjustments and the worry wrought by this pandemic. Some of us have found new hobbies. Others have launched new careers, learned new skills, started families or adopted too many cats. Some of us just watched a lot of TV and tried to wait it out. Personally, I took those hard feelings, those lonely days and each of those 80 million little challenges…and I ate them. I'm not proud of this, not at all, but I've probably gained about 20 pounds in the last two years. As it turns out, my feelings taste like pizza. Is anyone else having trouble zipping up their winter coats this year? Oof.
Last week, I had the opportunity to meet with one of Westfield's newest fitness gurus — Lauren Stone, owner of Barre3, who convinced me that it's time to make some changes.
"Barre is a full-body, balanced workout that combines strength conditioning, cardio and mindfulness. Each class incorporates small movements like pulses and inches to get deep into the muscles but also large-range movements that flush the muscles out and get the heart rate up. We end every class with stretching and breath work to help you feel more grounded and centered. Think low impact, high intensity," said Ms. Stone.
Ms. Stone, who moved to Westfield from California at the start of the pandemic, said the decision to bring Barre3 to town was an easy one to make.
"I was working as a teacher and I found a Groupon for a Barre3 class," said Ms. Stone. "I had never done any kind of group exercise before, so I was a little nervous, but I fell in love with it. When we moved here, I realized what a good fit it would be for this neighborhood, so I decided to pull the trigger and make it happen."
Barre is a comprehensive workout that combines strength training, balance, body awareness and mindfulness. What really sets it apart, however, are the modifications.
"We provide a modification or a less-impactful option for every single posture we do in class, and we encourage people to take those options. We don't think 'no pain no gain' here. We want you to be smart, we want you to listen to your body, and also, you're going to get stronger and see the results you're looking for when you choose to take advantage of those different options rather than hurting yourself," said Barre3 trainer Nicole Peters.
The ultimate goal of the class, Ms. Stone said, is to help people meet their goals "in a way that makes sense at the time."
"If your back is bothering you, work up higher on the bar. If you're having a problem with your wrist, come down to your forearms instead.
The point is to make sure that everyone has the chance to feel successful at the end of a class without getting hurt," she said.
Barre classes are not just for dancers, said Ms. Peters, noting that the studio is ready to provide beneficial instruction for everyone from professional athletes to…well, me.
The studio, located in the Walgreens parking lot at 276 North Avenue East, also makes it easier for caregivers to take a moment for themselves thanks to the establishment's fully-staffed kids' play area. The childcare option, which is included in the price of the class, was one of the reasons that Ms. Stone decided to turn her passion into a career.
"I kept taking classes while I was pregnant with my first daughter, but then there were some complications and I had to stop. I ended up as a stay-at-home mom for a while, and I couldn't hack it. I felt really isolated. Eventually, I found my way back to Barre3 because I knew I could bring my daughter with me and still take an hour out of my day for myself," she said.
The studio currently is operating at half-capacity due to lingering Covid regulations, but, Ms. Peters said, the smaller class sizes (only 12 students are allowed to participate at a time) make it easier for the instructors to provide individualized assistance to newcomers.
The studio and all of its equipment are fully sanitized throughout the day. Courses also are being offered online.
"You don't need to have any special gear to take an online class," Ms. Stone explained, "that's the great thing about Barre3. If you want to use weights, you can. If you want to use resistance bands or weighted balls, you can do that, too, but you certainly don't have to. Again, this is all about helping our clients to meet their goals in whatever way makes the most sense."
They have me convinced. I will be attending my first Barre3 class at some point in the very near future, and while I'm a bit nervous to start something new, I'm also ready and excited to get back to being me.
Barre3 Westfield is located at 276 North Avenue East. Classes range from 45 minutes to an hour based on the time of day.
The studio offers flexible and competitive pricing packages, including a new-client special which entitles new members to take two weeks of unlimited classes for $49.
For more information or to make a reservation, visit: www.barre3.com or call (908) 264-8038.