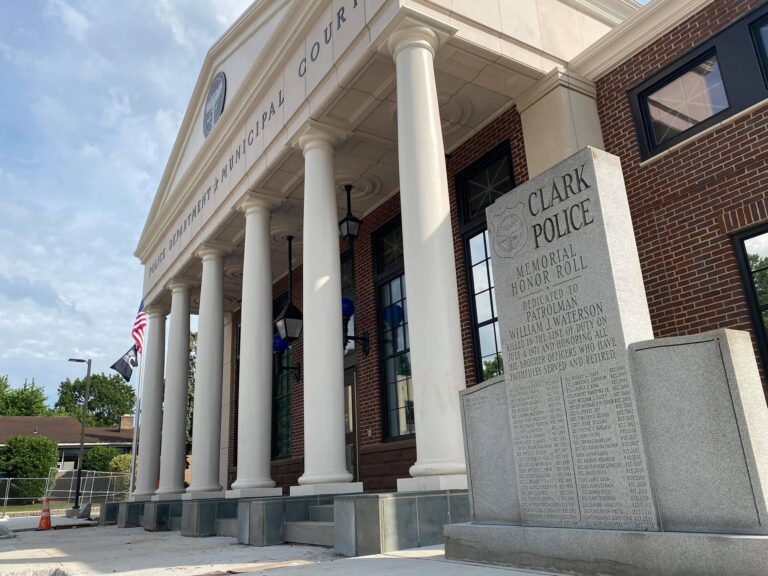 Clark Police Department Swears in New Members, Honors Good Deeds
CLARK — During Tuesday's meeting of the Clark governing body, Lieutenant Christian Lott swore in new officers and presented rewards to police officers who performed heroic deeds or deeds worthy of praise in 2019.
Lt. Lott spent the first part of the meeting highlighting the actions that the Clark police officers had performed in 2019. He said that the recognition had been pushed back due to the pandemic. "So I'm happy to present these awards, all from 2019," said Lt. Lott.
The lieutenant praised the officers for saving two unresponsive people in motor vehicles, in separate incidents, through CPR and AED. He also praised officers for catching three burglary suspects, tracking down a man who currently is awaiting trial for attempted murder, and apprehending people with illegal drugs.
Lt. Lott specifically commended Patrolman Michael Hernandez, Sergeant Michael DeAngelo and Sergeant Ricardo Oliveira for their work on July 14, 2019. In this case, Patrolman Hernandez saw two males run across five lanes of traffic during his routine patrol on Raritan Road. Patrolman Hernandez drove to the Exxon Station at the corner of Raritan and Central, where the gas attendant informed him of a robbery. Patrolman Hernandez was able to trail the suspects into Rahway, along with Sgts. DeAngelo and Oliveira, before the suspects got into a car wreck and the officers were able to cut off any escape.
"To me, this is the one that really sticks out as a job where these officers really put themselves in harm's way to make an apprehension," said Lt. Lott.
All officers who were honored at the council meeting were given certificates for a job well done and had their picture taken with Mayor Sal Bonaccorso and Lt. Lott.
Mayor Bonaccorso also officially swore in new Clark police officers. Patrolmen Michael Mazzula, Teriq Ricks, Patrick Delome, Michael Fabianczuck and Timothy Lisowski were sworn in by the mayor surrounded by their families before having their badges pinned to their shirts. Patrolmen Ricks and Delome are both hires from the Irvington Police Department. Patrolman Ricks worked in the Housing Unit, which deals with emergency calls in a high-rise building known for gang activity, while Patrolman Delome worked as a detective, where he received praise for his job performance. Patrolman Mazzula previously worked in the Middlesex County Sheriff's Office with the Bureau of Criminal Investigation.
Patrolman Lisowski previously worked as a police officer for Kean University and holds certificates in Bicycle Patrol and water rescue. Patrolman Fabianczuck is a hometown officer who graduated from Arthur L. Johnson High School in 2009. He previously worked in the Union County Sheriff's Office.
After the police officers were honored and sworn in, the Clark Council honored the memory of William B. Harrison. Fifty years ago, on February 6, 1972, Mr. Harrison dove into the Clark Reservoir to try and save two teenagers caught in the frigid waters. Mr. Harrison was able to save one of the teenagers before he and the second teenager succumbed to the icy waters.
Councilman Brian Toal said that the heroism of Mr. Harrison should not be forgotten as his actions were those of a brave man and a good neighbor. He wrote the resolution to make sure that Mr. Harrison's actions were commemorated. "And that's why we've got to tell that story…Unfortunately, it's very bad memories, but we have to make sure it's never forgotten," he said. He also thanked Mr. Harrison's children, Tommy and Jeannie, for coming to the meeting in order to recognize the selfless actions of their father 50 years ago.
Mayor Bonaccorso said that it was important for the residents of Clark to remember Mr. Harrison. "I think Mr. Harrison goes back a long time in showing that I know there's a lot of good people in this town that give of themselves every day to help others in all kinds of situations. And Mr. Harrison did it in the ultimate situation," he said.