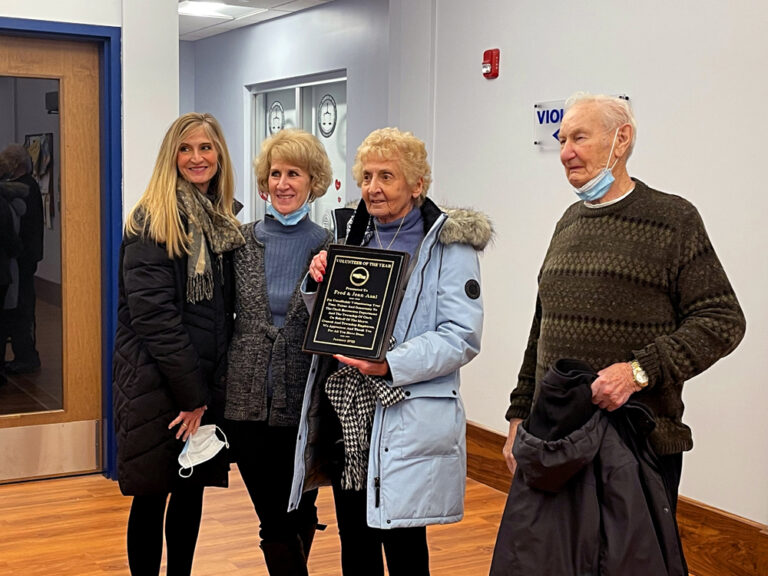 Clark Council Lauds Family Of Volunteers; Eyes Weather
CLARK — The Clark mayor and council took a moment out of their first regular meeting of the year, held on January 18, to thank one local family for their many years of dedicated service to the community.
Fred and Jean Asal and their daughters, Patty Palmer and Lisa Dunn, were collectively recognized as this year's Volunteers of the Year for their continued efforts to make Clark's holiday season as special as possible.
"Anything these four do is always done with a smile and enthusiasm," said Clark Recreation Director Ralph Bernardo. "They are assets to the rec. department and to the Township of Clark. They exemplify the meaning of hard work, dedication and [generosity]."
The family has been volunteering for the recreation department since 2005, Mr. Bernardo said. Mr. Asal, a retired member of the Clark Police Department, is known around town for his beautiful, hand-lettered signs, many of which have been used to enhance the township's annual Winter Festival. Mrs. Asal and her daughters, meanwhile, can often be found setting up decorations, coordinating volunteers and lending a hand with whatever other projects might pop up along the way.
"Jean is affectionately known as the sergeant of [the decoration crew], but the respect that our youth show her while taking her direction is a true testament to her demeanor and character. On a personal level, I have known this family for over 20 years. I have a special place in my heart for them, especially for Freddy, who has always been like a father to me," Mr. Bernardo said.
In moving on from the holiday season and the volunteers who help to make it stand out, Mayor Sal Bonaccorso said local residents should start getting ready to face the rest of the winter season.
"We might have a couple of weeks of bumpy weather coming up," he said, before reminding residents to check the township's website to determine which streets have been labeled as snow emergency routes. "If you live on one of these streets, you have to move your car when it snows. We don't want to get heavy-handed and send the police up there, but it's a safety issue."
Mayor Bonaccorso also asked residents to remove any basketball hoops or hockey nets from township streets.
"If one of our trucks hits something like that, we're not going to pay for it. It doesn't belong there," he said.
In other news, Mayor Bonaccorso said Covid-19 transmission rates have started to level out. As of the meeting on January 18, the township was reporting 270 positive cases, with the majority of those reported among people between the ages of 25 and 54.
"Clark is wide open. They are calling us the Florida of New Jersey, and honestly, I like that. We have been going through this for almost two years together. You know the dos, you know the don'ts, and you certainly do not need me telling you how to run your life, nor will I," Mayor Bonaccorso said. "Take your precautions, get your shots if that's what you want to do. Hopefully, this thing will start dying off real soon and we can all get back to a better way of life."
The council also unanimously approved two new township ordinances during the meeting, one to amend this year's policies and procedures manual to reflect recent changes (22-01) and the other (22-02) to allow the township to exceed the municipal budget appropriation limits and establish a cap bank in preparation for this year's upcoming financial-planning discussions.
Former council member William Caruso addressed the governing body during the public-comment section of the meeting to urge township officials to implement harsher restrictions on gun owners whose firearms are used for illicit purposes with or without their permission. Mr. Caruso stated that he had already spoken to "several state officials" who thought the idea was a good one.