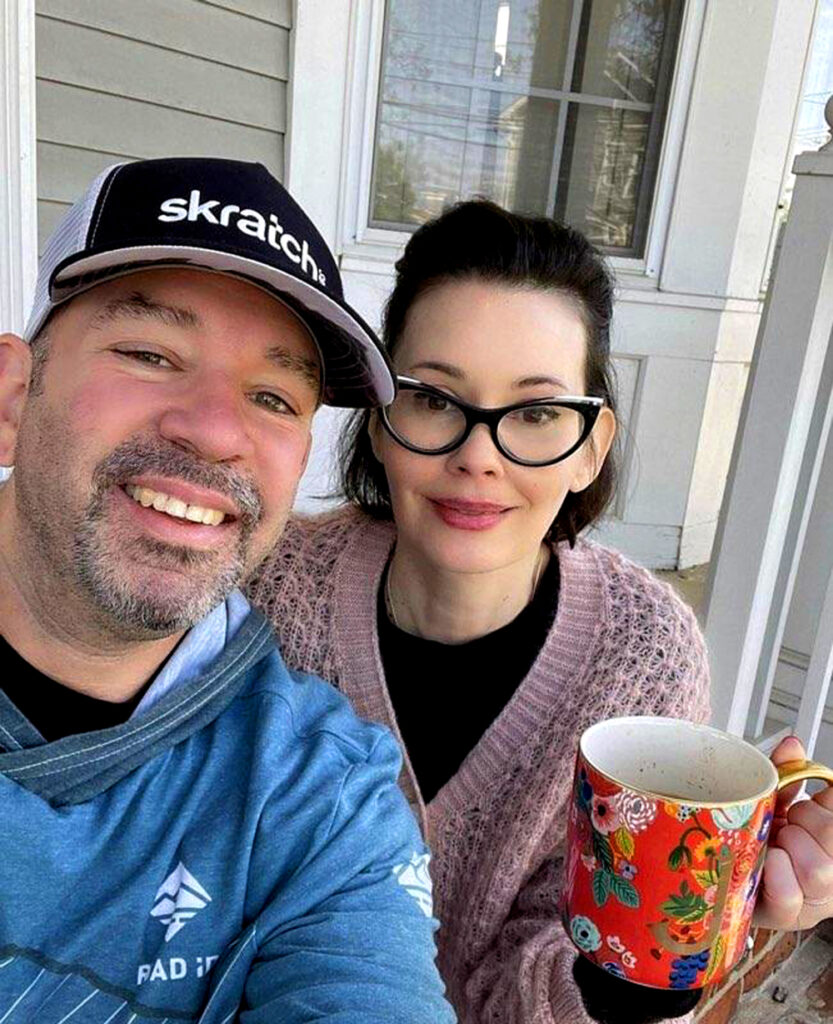 Local Family Launches Fund-raising Campaign For MS Treatment
WESTFIELD — Of the many words that she could opt to use to describe her life with multiple sclerosis (MS) — words like fear, pain, frustration, anger or confusion — one Westfield mom says the generosity of her friends and neighbors has recently inspired a far better option: hope.
Jamie Utitus, a special-education teacher and mother of two, was diagnosed with MS in 2010 after doctors discovered a series of lesions in her brain and along her spinal cord.
"It's kind of hard to explain what was going through my head at the time," she said. "At first, I wanted my kids to think I was a fighter, that I was some kind of superhero or something. Eventually, I realized that I would rather teach them to be honest, and to let them know that it's okay to find real ways to be happy even when things are hard, or that it's okay to find peace in the middle of chaos. It's not always easy, but I really believe in trying to stay positive."
MS is a chronic and typically progressive disease that causes irrevocable damage to certain nerve cells. Symptoms can include numbness, changes in speech or motor function, blurred vision and extreme fatigue.
For Jamie, a mother of two and former marathon runner, the diagnosis was particularly life-altering.
"As a teacher, writer, children's book author, [Jamie] was always on the go, picking up the kids from school, grocery shopping, tutoring her special-ed kids after school, just doing the so-called 'normal' things we take for granted as able-bodied human beings. Then MS came to town and turned things upside down for her and us as a whole," said Jamie's husband, Tony. "In the last three years, her mobility has diminished to the point that she now spends most of her time in one room in our home."
Though Jamie was eventually able to come to terms with her new reality and find inner peace, she and her family have never stopped looking for a way to make things better.
"Most of the treatments for MS, at least most of the options that are available in the U.S., are designed to lengthen the time between flare-ups," Jamie said. "There is no cure for MS, not yet, so the best you can do is try to mitigate the symptoms any way you can."
In addition to the physically debilitating nature of Jamie's condition, the family has faced numerous financial hardships in the years following her diagnosis. At one point, Tony Utitus said, they were being asked to pay upwards of $13,000 per month in medical expenses that insurance would not cover.
"It has been hard," said Tony. "Jamie's MS prevents her from working, so we're down to one income. We have two kids to support. It's a lot to figure out."
Then, in August of last year, actress Selma Blair, who also suffers from MS, announced that her condition was officially in remission following an experimental combination of chemotherapy and stem cell treatment.
"Remission," said Jamie Utitus. "Actual remission. I had never heard anyone use that word in connection with MS before. It felt like something in me woke up for the first time in years."
The procedure, known as Hematopoietic Stem Cell Transplantation (HSCT), can reestablish blood cell production in patients whose bone marrow or immune system is damaged or defective in some way.
"The treatment allows for the production of new stem cells from her own blood," Tony Utitus said. "It's a pretty invasive process that involves chemotherapy and 30 days of isolation, but the outcome of this treatment is that her own new stem cells can be administered back into her body, which would reset her immune system."
The procedure, though not without complications, could possibly do for Jamie Utitus what it did for Selma Blair — restore her mobility and send her MS into remission.
The problem, however, is that HSCT is not yet available in the United States. It also is wildly expensive and not covered by insurance. Treatments can range anywhere from $50,000 to $150,000, not counting the expense of having to travel to and stay in another country for the duration of the process.
In addition, Jamie said, time is running short.
"We have a limited window to make this happen," said Jamie. "I would need to get the treatment before my MS progresses much further in order to see any results, so if I'm going to do this thing, I need to do it now."
Earlier this year, the family launched a GoFundMe drive to try to raise the necessary funds as quickly as possible to give Jamie her best shot.
So far, the site has raised $30,679 out of its $56,000 goal.
"I'm blown away," Jamie Utitus said, "…no, that doesn't even describe it. I'm humbled and so, so grateful. It's starting to feel like we might actually be able to make this happen. This could change my life, my family's life. I don't even know what that would look like, but I'm starting to let myself imagine it."
In the event that the stars align and the treatment goes well, Jamie Utitus said she would like to start by reconnecting with the little things.
"I want to take a walk around the block with my husband and my dog," she said. "I want to take my kids to the park. I want to go to the grocery store. I don't know. You start thinking things like 'maybe we could travel, or take a real vacation together,' and yeah, that might all be possible, too, but really, I just want to live out in the world again, good, bad or otherwise."
After years of learning to navigate the healthcare system and its numerous challenges, Jamie said that, given the chance, she would like to go back to school to get her doctorate in public policy in order to help make it easier for people to get the care that they need.
"It's not running a marathon, but I think it would be more my speed these days," she said.