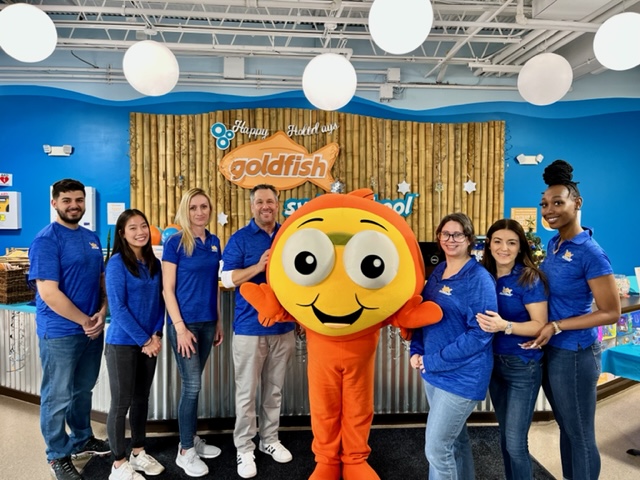 Goldfish Swim School Hosts Ribbon Cutting in Springfield
Goldfish Swim School, the country's premier learn-to-swim school, is pleased to announce the opening of a new 8,550 square foot learn-to-swim facility in Springfield, NJ. Located at 275 US-22 E, this new location joins a thriving Goldfish Swim School location in Livingston and provides swim and water safety instruction to families in Union County.
On Friday, December 3, 2021, the Goldfish Swim School Springfield team joined together with the Springfield Chamber of Commerce and the Greater Westfield Area Chamber of Commerce to host a ribbon cutting event.
Chamber officials and other local business owners celebrated the opening of this new community water safety resource. Guests enjoyed the opportunity to meet the Goldfish team, tour the new learn-to-swim facility, learn about the curriculum and enjoy light refreshments.
Owners Jeffrey and Larisa Posner are so grateful for the overwhelming reception they have received from local families in their first month of business. "We have already welcomed over 1,000 children into our learn-to-swim facility to teach them the skills that they need to be safer in and around water. We are passionate about bringing water safety skills and education to Union County and we look forward to meeting more families in the coming months. Give us a call to learn more about getting your children into swim lessons this winter," says Larisa Posner.
Goldfish Swim School Springfield provides indoor, year-round swim instruction to children ages four months to 12 years-old in a safe, family-friendly setting with highly trained instructors, small class sizes (max 4:1 student to teacher ratio), shiver-free 90-degree pool, and a state-of-the-art water purification system. Goldfish Swim School's renowned proprietary curriculum, The Science of SwimPlay®, helps to build life skills both in and out of the water using play-based learning in a fun and safe environment.
Goldfish uses a perpetual lesson model so families can enroll at any time and kids progress through the curriculum at their own pace. Goldfish offers convenient scheduling options and families can easily book makeup classes when necessary.
In addition to swim lessons, Goldfish Swim School Springfield offers weekly family swims (for both members and non-members) and party packages. Facility highlights include an air-conditioned viewing gallery for parents to watch lessons, individual/private changing rooms, a blow dry station, snack bar, retail shop and warm, tropical décor.
Families can register for lessons now by visiting goldfishswimschool.com or calling (973) 671-5544.