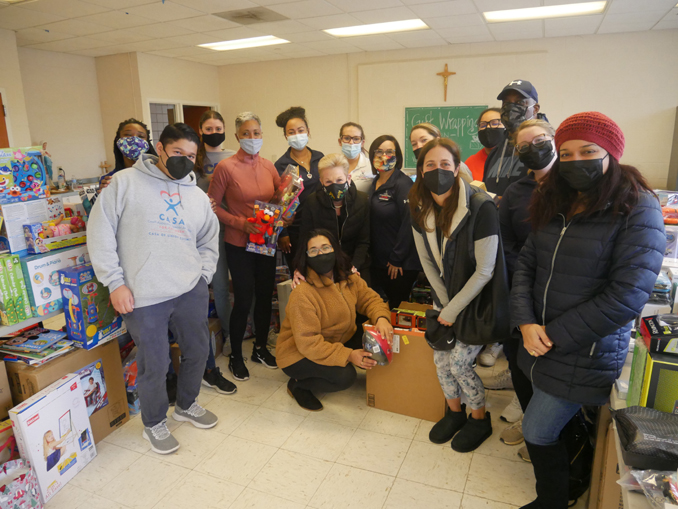 CASA Volunteers Change Lives Of Foster Kids
AREA — For kids in the New Jersey foster-care system, life can feel like a never-ending series of unanswered questions — where is home? Am I safe? Who can I trust? Will anyone be there to listen? Thanks to the efforts of one dedicated volunteer group, however, Union County's most vulnerable residents will never have to weather the storm alone.
Court Appointed Special Advocates (CASA) of Union County has been working with the state judiciary to recruit, train, supervise and support community volunteers to advocate for abused, neglected and abandoned children since 2005.
"No two cases are the same," said CASA of Union County's Executive Director Mariel Hufnagel. "You could have a child with a developmental disability who has not had any educational support. You could have a child in a home with no food. You could have a child who lives in a situation where they are still being abused. Our job as advocates is to look at each child holistically to ensure that their best interests are being met."
The organization was originally founded in 1977 by Judge David Soukup of Seattle, who worried that he was being asked to make impactful decisions about children's lives without knowing all of the facts.
"I was consumed by the fact that I didn't have enough information about each child and I just didn't know if I had done the best job I could," Judge Soukup told The Los Angeles Times.
After a good amount of early success, CASA eventually took root in Union County in 2005 to form a stable bridge between the judiciary, the Division of Children and Family Services and the children who all too often wind up caught in the crossfire.
"The (CASA) advocate may very well be the first trustworthy, consistent adult that some of these kids have ever come into contact with, so building a relationship with them is really important," Ms. Hufnagel explained, adding that all volunteers, also known as CASAs, are well-vetted and highly trained before taking on a case of their own.
In addition to providing a stable adult presence for the children that they serve, CASA volunteers also report back to the judiciary with recommendations on housing, education, intervention services, counseling, nutrition and housing permanence.
"I'll be honest, I didn't really understand the importance of CASA until I got involved with it myself," said volunteer Shelly Grobe, of Cranford. "Now that I'm a few years in, I get it. You can't successfully advocate from the outside. You have to get to know these kids before you can speak to their best interests, and that's what CASA is all about."
CASA of Union County has served over 900 children since 2005. The organization's 200 volunteers have logged more than 16,000 hours with their charges and, last year, Ms. Hufnagel said, the courts accepted 99.7 percent of the organization's need-based recommendations. Still, she added, there is always more work to be done.
"People always ask me if I like what I do," Mrs. Grobe said, "and the honest answer is 'no.' This is hard. When my kids [Mrs. Grobe works with two teenage siblings] need something, I'm there. When they call in the middle of the night because they don't have anyone else to call, I'm there. So, no, I don't always like it, but I'm so glad that I do it. I tell them all the time, 'I pick up this phone because you are important to me.' Everyone needs to hear that once in a while. That's why this matters so much."
Last week, volunteers from around the county met at the Immaculate Heart of Mary Roman Catholic Church in Scotch Plains to pick up toys, books, art supplies and gifts to bring to the children that they support.
"For a lot of our kids, these may be the only gifts that they get for the holidays. We are very grateful to everyone who has donated; it makes a huge difference," Ms. Hufnagel said.
Although the CASA toy drive may be finished for the year, Ms. Hufnagel said CASA is still "in desperate need" of gift cards and other items that can be given to older youth who find themselves having to fill adult roles at an early age.
"We're not going to give a block set to a teenager," Ms. Hufnagel explained. "Our older kids have very different needs, especially those who are trying to support younger siblings through a difficult time."
Of particular need to the organization, Ms. Hufnagel said, are gift cards to establishments like Amazon, CVS, Walmart and Target, grocery stores, food services like WaWa or DoorDash, ride services like Uber or Lyft and clothing stores like Old Navy, Kohls, Footlocker or Forever 21.
CASA of Union County also always is looking for dedicated volunteers to join the program.
"We host information sessions for all new volunteers so they can get a sense of what sorts of time commitments and other responsibilities will be involved. This is not the easiest volunteer job out there, not by a long shot, but it can definitely be one of the most life-changing."
For more information about volunteering or to learn more about the organization itself, visit casaofunioncounty.org.
To donate directly to CASA of Union County, visit the organization's homepage or contribute via PayPal: Court Appointed Special Advocates of Union County.